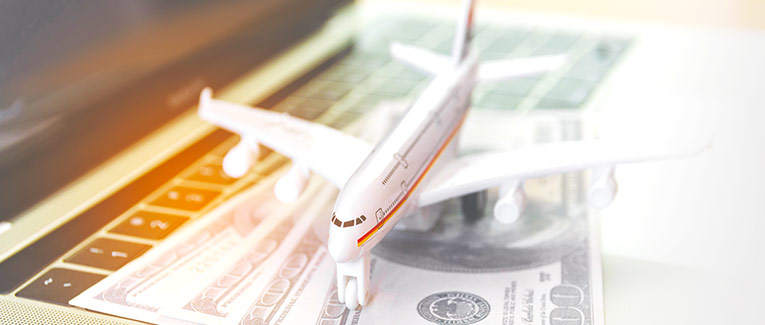 So, your plans are underway for that next trip. Understandably, you are excited, but also slightly jittery about the airfare you have to pay. More often than not, airfare forms a large chunk of our total travel budget – more so, if you are on an international trip. But that need not be the case always.
Amidst all the confusion and complexities regarding how airlines set fares, there are certain ways you can get lower fares. Spot deals, promotions, mistakenly published fares, competition-forced rate slashes – there are several ways whereby airlines can offer substantially low fares. We will take you through some of these search methods which can enable you to save on air travel.
1. Keep Your Travel Dates Flexible
Winter in the Northern Hemisphere, and the holiday season around Christmas, New Year's, and Thanksgiving are usually when airfares are highest. So, while searching for fares, keep your travel itinerary flexible, and check out the prices for an entire month, instead of just a week or 10 days. Weekends, school breaks, etc. are also times when fares rise. So, be prepared to fly out on any day of the month when the fare is lower.
2. Sign Up for Reward Programs
Reward programs can go a long way in helping you fly for less. You can redeem the accumulated points for free miles on your upcoming trip. Several U.S.-based airlines like American Airlines, United Airlines, etc. have attractive reward programs for their frequent fliers. You can redeem your miles for international flights as well through their partner airlines.
3. Begin Your Search Early
Be the proverbial early bird that catches the worm (read: low airfares). Airlines release their fares almost a year in advance. So, your travel plans should also start taking shape by then. Keep checking the airfares regularly, and sign up for email alerts. That way, you can stay updated as to suitably low fares well in advance and go for it immediately.
4. Choose Budget Airlines and Smaller Airports
Gone are the days when flying internationally meant only using costly, traditional airlines. Now, many budget airlines like AirAsia, WOW Air, etc. offer cheap flight tickets from the U.S. and Europe to other continents. Carry your food and drink with you, and be prepared to sacrifice amenities like ample legroom and movies onboard. Save those precious dollars on the flight tickets so that you can splurge on your vacation.
Quite often, these budget airlines choose smaller airports that are some distance away from bigger cities. Remember to check for ways to reach these airports from where you will be staying during your trip. If it so happens that the cost of local travel to the airport is too high, booking this airline may not be advisable. However, this is not typically the case.
5. Avoid Direct Flights
Yes, we understand how comfortable it is to reach your destination directly by flying nonstop. All those long stopovers can add to jetlag and drain you. However, being flexible with flying options can save you a lot of money.
You can spend your layover time catching up on some sleep, or watching a movie. Though airport terminals aren't the most comfortable places to spend time, the financial savings can make it worth the inconvenience.
However, it is important that you make sure there is enough time between connecting flights. At some airports, different gates can be very far apart. You do not want to be rushed trying to make it to your connection.
6. Don't Stick to Only One Online Travel Agency
Always shop around when you are looking for cheap rates. Different Online Travel Agencies (OTAs) have different arrangements with multiple airlines, and some of these deals might be exclusive to one OTA. This is why it's important to check out various OTAs and compare their prices and the dates on which they are available. If they are compatible with your travel plans and your budget, go for it.
7. Be Alert for "Error Fares"
Due to a technical glitch or data entry error, airlines sometimes end up displaying astonishingly low fares. Think of a New York City-Paris roundtrip for under $280, or a San Francisco-Buenos Aires roundtrip for less than $240. Yes, these are for real.
But the catch is – you need to book immediately. Period. The moment the airline notices its mistake, it will rectify it. However, almost every airline honors these incorrect rates. There are several sites like Secret Flying, Airfare Watchdog, Hack Flight, etc. that you can refer to for finding error fares.
If you find an error fare that fits your travel schedule, book it without hesitation. Do not call the airline to verify it before purchasing. Doing so will likely result in the error being corrected, meaning you'll miss out on the extremely low fare.
8. Combine Airlines
Using the same airline for all of your flights may be convenient, but it could cost you more money. Instead, choose the most economical options on two different airlines (e.g., New York to London on airline 1 and London to Paris on airline 2, for a New York-Paris journey). Yes, it means additional hours spent in front of the computer, but the savings can be worth it.
9. Buy Tickets as Individuals, Even for Groups
You might be traveling with family or friends, but it would be wise for you to book each ticket individually. This is because, if you buy it in a group, you will end up paying an amount for the tickets based on the highest-priced ticket in the group. This is because airlines list the highest ticket prices when they group some tickets.
To give an example, suppose A, B, C, and D are traveling together. If the tickets are booked together, the airlines will determine the highest-priced ticket and base the fare on it. So, if the tickets are priced at $80, $100, $120, and $140 respectively, then each ticket will carry a price tag of $140. In total, it might make a substantial difference to your budget.
So, you might not sit together on the same flight. But that's a small price to pay for the considerable financial savings that you would end up making.
10. Consider Buying Tickets in Other Currencies
This works well if your country's currency is stronger as compared to many others around the globe. Check for the fare through your country's sites, and then through the version of the site in the country whose currency is weaker than yours. More often than not, you will find a lower fare in the second case.
Before You Book
To conclude, you need to be flexible about your travel itinerary if you want cheaper fares. Also, let your creative juices flow when you search for lower fares. Do a lot of mixing and matching. Shift between airlines. Compare prices from several sources. Also, be sure to purchase travel insurance. The extra connecting flights and budget airlines could increase the possibility of a flight delay on cancellation, so you'll want to give yourself the opportunity to be financially compensated if necessary. This way, a travel mishap won't result in you losing out on all your hard-won savings.
These techniques of searching like a pro will fetch you lower fares for sure. Happy searching!
We are sorry that this post was not useful for you!
Let us improve this post!
Tell us how we can improve this post?