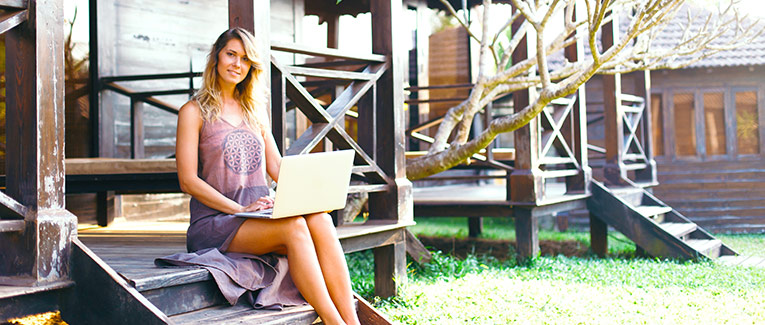 You have not gone on a vacation for the past two years, and every time you see the beach wallpaper on your laptop, you want to cry.
You think of the bills you must pay. You fear your clients will fire you.
You tell yourself to stop thinking about vacations, and you begin to work on a new project.
Never allow the aforementioned situation to arrive. You can take a vacation and finish your work.
In the next five minutes, learn the ways pro freelancers relax at the beach without losing their clients.
Inform Your Clients a Month in Advance
You typically deliver impressive amounts of articles each week a week as a freelance writer. While on vacation, your numbers might decrease, causing your clients to allocate the remaining articles to another freelancer.
Inform your clients about your vacation a month in advance. If this is not possible, inform them as early as you can.
Why inform your clients early?
Your clients won't demand any urgent work. They will know when you'll leave for vacation, so they'll wrap up pending projects before you go.
Furthermore, you'll appear professional. Your clients will realize you care about the work. They tend to prefer freelancers who care about their businesses, rather than the ones who treat it as just another job.
Send reminder emails one week before you leave for vacation, and be sure to inform the client when you go on vacation as well.
What if a client fires you after reminders and clear communication?
Never work with these types of clients. You deserve your personal space, too.
Plan a Vacation When Work is Slower
Every freelancer experience phases when they're overworked. They also experience phases when they are receiving less work.
You'll notice the pattern the more you work in the freelancing field.
Freelancers use this time to pitch to new clients or learn new skills. However, why not use it for vacations as well?
Plan your vacation in months when work is slower.
Remember, though, you'll likely earn less during the months you go on vacation.
Submit Bulk Work Before Leaving
Let's say you write 10 social media posts for your client each week. However, when you go on vacation, you'll miss an entire week. The clients lose prospects, and you lose out on the money you would've earned if you had posted as you usually do.
Never allow the aforementioned situation to arrive.
Why not write those 10 posts before you leave? You must put in more work hours to write them, but you will benefit in two ways:
Your client receives the work on schedule.
You receive the income you would have missed otherwise.
This is a win-win situation for both parties.
Be sure to check with your client first to see if they agree with the arrangement.
What if you post content for your clients as well? Scheduling apps offer the solution.
Write and schedule content including articles, blogs, and social media posts. The scheduling app posts the content at the selected time.
Apply the technique to your personal social media accounts and website as well.
Potential clients will continue to see your content while you eat at an exotic restaurant in a different country.
Inform Clients of Your Availability
Set up an out-of-office message on your email, stating that you are on vacation, and the date on which you will return. Whenever a client emails you, they'll receive this automatic reply. Be sure to provide your mobile number in case there is an emergency.
However, what if you never opt for the standard out-of-office message?
Explain to your clients when you'll check the email on vacation. Mention a 24-hour turnaround time for each email response.
Furthermore, clarify whether you'll respond to urgent emails, or every email. This way, they'll know when to expect a reply from you.
In addition, mention when you'll receive calls. Ask them to drop a text before calling, if they're calling outside the mentioned timeframe.
Request your clients choose email over calls except in an emergency, and try to travel to places where there's a strong internet connection.
Inform your clients in advance if you are traveling to a remote place. Nothing frustrates a client more than a freelancer who vanished into a jungle without any notice.
Maintain a Flexible Schedule
Regardless of your usual working hours, prepare to change your schedule while on vacation.
Vacations offers some challenges, and your internal clock won't help if you travel to a different time zone.
If you're traveling with family or friends, they deserve your time and company as well.
A vacation is supposed to take you away from the ordinary. Make time to visit sights, talk to locals, and take photos. This might mean changing up your work routine.
Work when everyone else in your group takes an afternoon nap. Work early in the morning, or late at night when others sleep.
Be sure to inform your friends and family when you'll check emails or answer calls, and never discuss your work with friends and family while on vacation.
Make time for emails and calls if you travel solo as well, and restrict your time doing this to only certain hours. You won't want to spend your vacation staring at your phone and laptop.
Buy Travel Insurance
An international trip is rife with uncertainties. Flights can be cancelled or delayed, baggage can get lost, or you could even become sick or injured. These are unfortunate scenarios for any traveler, but even more so if you're a freelancer.
You don't have "sick time" to recover from an illness or injury you sustained on your trip, nor can you take a "personal day" if your luggage goes missing and you need to replace its contents. When you aren't working, you aren't earning. This is why it's important to position yourself to get back to freelancing as soon as possible, whatever the travel mishap.
If you purchase travel insurance before you depart, you can be financially covered in case of a medical or travel mishap that occurs during your trip abroad. This allows you to travel with greater peace of mind.
Put Your Vacation First
Remember you went on a vacation to enjoy yourself, so never work all day.
Visit the exotic restaurant. Sip your drink. Lie down on the beach.
Nothing ruins a vacation more than when you think about work back home constantly.
Cherish the time with your friends and family. They matter more than any project.
We are sorry that this post was not useful for you!
Let us improve this post!
Tell us how we can improve this post?