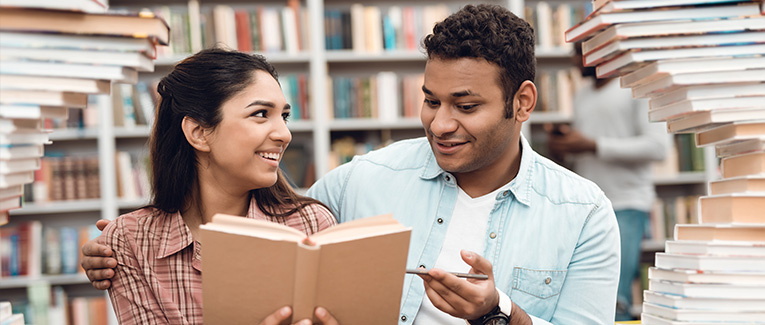 The U.S. is one of the top countries in which to study English literature. Many U.S. universities are a consistently ranked as the best universities for studying English literature. These top-ranked universities include Harvard University, Stanford University, The University of Chicago, Yale University, and the University of California, Berkeley.
Literature is an expansive, engaging field of study that leads to vast, varying career paths. Today, the scope of employment with a literature degree isn't limited to the education sector. A degree in literature can help you land a lucrative job in virtually every industry, including media, journalism and marketing.
How to prepare yourself for an English literature degree in the U.S.
An undergraduate literature course in the U.S. is typically known as Bachelor of Arts in English. The curriculum is usually comprised of the history of the English language, literary theory, literary criticism, American literature, classical literature, advanced grammar, and composition.
There are two criteria you can use to select a university for pursuing your literature course. If you're looking to stay in a particular region, research which local university has the best literature program based on your areas of interest. If you're not concerned with the geographical aspect, you should base your search solely on the literature program that is the best fit for you.
Select the right literature course for you
Bachelor of English literature courses are designed to develop students' understanding of literary history and theory, and to improve their critical and analytical skills. The core focus of literature programs offered by different universities can vary significantly.
Some examples of the popular specialties for literature programs are African-American literature, American literature before (and after) 1865, and 18th through 20th century British literature. Research different programs and select the one that covers the fields you want to study, and can provide you with the education and degree that best fits your career goals.
Find the right major, minor and elective subjects
Your major subjects will give you in-depth theoretical knowledge in your field of study. Minor subjects form the secondary area of your education. These can be unrelated to literature. For example, you can pick journalism as a minor with your English major. You can also pick a foreign language you want to learn as a minor with your English major.
Your electives can be complementary subjects that support your core studies, or subjects that you have a personal interest in. Elective subjects also contribute towards achieving the net credits required to complete your degree.
Find the right course concentrations
You can major in English literature with concentrations such as literary theory, gender studies, creative writing, cultural literature, British literature, and American literature. You can gain information about a literature course's concentrations by contacting the professors that teach the respective courses, or by looking at your course guide.
Course catalogs and descriptions can give you valuable information about the offerings of each course being taught at a particular university.
Focus on your interests and career path
Make sure you choose a program that suits your strengths, interests and career aspirations. If, for instance, you're interested in becoming an educator, you should consider concentrations such as classical, English, or American literature based on the country and education field that you want to pursue a career in.
What to expect from an undergraduate literature course?
Bachelor of English literature courses focus equally on reading and writing exercises. Expect to spend a lot of your time reading and attending seminars and lectures. You'll be provided with assigned readings for every subject at the start of the course. You'll need to read, critically examine and discuss the assigned texts in the class.
The course's primary focus is getting the students to individually and meaningfully contribute to the course, identify and examine the core concepts and themes, and evaluate the language and historical relevance. Materials you study during the course of the semester typically share common themes. You'll be expected to identify and examine the relationships between different topics you cover during the semester.
Student assessment is primarily done by means of writing essays. In addition to taking notes during lectures and reading course materials, you may need to do your own research to generate new ideas and support your statements.
Tips for choosing the right university for your literature studies
University rankings are just one way of finding the best U.S. university for your studies. Here are some other excellent ways:
Study the faculty profiles
Go to the universities' websites and look into the faculty profiles. This will inform you of the professors' areas of specialization. You should ideally look for a university that has at least two professors who specialize in the course that you intend to study.
You should also search online and look into the published works of the faculty. This will help you gauge their knowledge and writing styles, and compare different universities.
Look for preferred electives and concentrations
The electives and concentrations that interest you can help you decide the best university for you. Look into all the elective courses and concentrations included in different universities' programs. You may be interested in an elective such as Asian American literature, and find out only one of the universities on your list offers the subject. This can help you make your final decision.
Understanding what to expect from your curriculum and how to find the right programs and university is just the beginning of your preparations for studying your dream course in the U.S. Make sure you devote time and focus to your research and subsequent education.
We are sorry that this post was not useful for you!
Let us improve this post!
Tell us how we can improve this post?