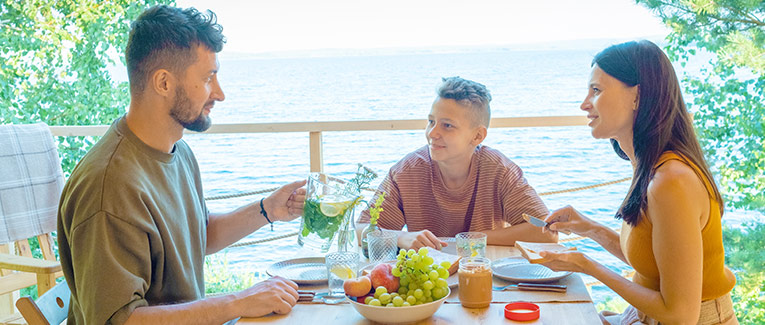 Managing a gluten allergy from the comforts of your home can be a challenge. Doing it on vacation is usually even harder. But, it doesn't need to be.
No matter if you are going on a weekend getaway or a weeklong vacation in a far-off country, it is possible to do so on a gluten-free diet. More and more travel destinations are becoming tolerant of, and catering to different food choices. It is just a small matter of preparation on your part.
If you want to know how to properly prepare for your vacation, keep reading.
Managing Food During Air Travel
• Obtain a Doctor's Note
If you have Celiac disease, a doctor's note is your safety net. It will allow you to carry food through airport security, that others cannot, because your food will be classified as a medical necessity.
A doctor's note can even allow you to carry liquids through the security checkpoint.
• Research Airline Menus
Ever since being gluten-free became a diet choice and not just a restriction, the options have opened up. More and more airlines are catering to the diverse palates of the world.
Select your meal option immediately after you book your flight. If you want to be extra cautious, you can call customer service to verify that your selection went through.
When you're checking into the flight, ask them again if they have your meal on the flight. If not, you can buy food at the terminal.

For visitors, travel, student and other international travel medical insurance.
Visit insubuy.com or call +1 (866) INSUBUY or +1 (972) 985-4400

• Carry Backup Snacks
It's always better to err on the side of caution, so always have a couple of energy bars in your bag. In a pinch, these could save you.
Make sure your snacks aren't perishable items. You don't want to deal with a rotten banana on a flight.
Snacks aren't just for the flight either. Carry enough snacks to eat throughout the trip. If you cannot find anything that will suit your diet, your snack will be your knight in shining armor.
Setting Sail on a Cruise
Most cruise lines have equipped themselves to deal with various dietary choices and needs. But, to reassure yourself, call the cruise line before you book your ticket. See if the ship you're planning to sail on caters to your dietary needs.
Cruise lines have a Food Allergies or Special Requests department. Get in touch with them to set your requirements straight.
Managing Language While Traveling Internationally
Eating gluten-free is a pretty new concept in many parts of the world, so you can't always trust that a waiter will know what gluten-free means.
Having travel cards is a way around this issue. Learn how to say the words allergy, wheat, and flour. To make it easier for yourself, you can download apps that have disease language cards. This will be an extensive list and will get you out of a sticky situation.
But, don't rely only on the app. Either make or purchase gluten-free travel cards. This way, even if your battery drains, you can get a safe meal.
Your cards should mention cross-contamination as well.
• Hotel Room Tips
The safest option for those who eat gluten-free is to cook for themselves. That's the only way to know exactly what you're eating and ensure you don't have allergic reactions.
• Microwave
A microwave is a very versatile piece of equipment that can save you. Phone your accommodation ahead of time to check if they have microwaves or hot plates available. If they don't, you may want to consider switching to one that does.
As soon as you get to your destination, visit the grocery store. Pick up fruits and snacks that you can eat. Rice and oats are gluten-friendly options that can be cooked in a microwave. If you're lucky, you may even find gluten-friendly microwaveable meals.
• Choose Airbnb's When You Can
Most Airbnb's have a kitchen. If not a full one, you'll at least have a kitchenette. If you're going to an Airbnb, take a selection of collapsible utensils with you. You don't want to go on vacation only to go utensil shopping.
Since you're probably not going to make full-course meals on your trip, a small range of pans should suffice.
You can also check with your host to see if they have pots and pans already in the kitchen that are available for use.
• Learn To Read the Fine Print
Having a dietary restriction gives you one superpower. That is being able to read and decipher the ingredients section of packaged food. However, since the food safety regulations change in every country, you need to do a fair bit of research.
First, visit the website of the FDA counterpart in the country you plan to visit. Check what its rules are about mentioning gluten-containing ingredients on food labels. Also, check if they use different nomenclature than what's normal in your country.
This way, when you make your grocery store run, you will know what to look for.
• Don't Eat Things If You're Doubtful
Celiac reactions can be anything from a minor stomach ache to painful rashes. Even if the food you've ordered is gluten-free, cross-contamination can still get the better of you.
So, don't eat anything if you're doubtful of the ingredients. This is the only way to completely avoid allergic reactions.
Another precaution you can take is purchasing travel medical insurance before your trip. This way, at least your finances can be protected if you end up in the hospital with a severe reaction. A small investment before the damage is done is always better than paying expensive medical bills later.
Compare insurance plans on Insubuy, and select the best option for you. If you can't decide on what plan is the most suitable, you can consult an Insubuy specialist. They will take the confusion out of insurance jargon for you. Once you decide, you can make a secure purchase on Insubuy in a few short minutes.
• Carry Your Medication
To avoid the prospect of a doctor's visit, carry both prescription and over-the-counter drugs with you. Hunting down a good pharmacist in a foreign country is easier said than done.
In the unfortunate circumstance that you do run out of medication, research good pharmacies in your area.
Your Destination Plays a Huge Role
Some countries are more gluten-friendly than others. That's just the simple fact of the matter. So, you'll be doing yourself a huge favor if you travel to destinations that are gluten-friendly.
That doesn't mean you have to miss out on the rest of the world, but you have to be less on-guard if you choose one of the following locations.
• Sri Lanka
The diet that residents of Sri Lanka traditionally eat is largely rice and coconut-based. It's a good option for lactose-intolerant people as well.
Do not worry; you won't be served bland dishes made from boring ingredients. Sri Lankan cuisine is a wonderland of rich gravies and spices that will surely make your taste buds dance.
The country has numerous scenic places to visit, with beach towns and mountainous regions. So, there's something for everybody.
• Mexico
Mexico has a delicious corn-based diet that everyone falls in love with. They have a variety of innately gluten-free dishes that you'll find hard to resist.
Mexico City, Mexico is one of the most popular tourist destinations in the country. Dubbed the city of palaces, the city has a rich history that every tourist can immerse themselves in. Even if the sights don't impress you, the food definitely will.

For visitors, travel, student and other international travel medical insurance.
Visit insubuy.com or call 1 (866) INSUBUY or +1 (972) 985-4400

• Costa Rica
Whether you like tropical beaches or quaint mountains, Costa Rica is the place for you. It's also very celiac-friendly, as the diet is dominated by rice and beans.
Though most tortillas are made from corn, a wheat tortilla may surprise you. Specify that you can't eat wheat and you'll be in the clear.
• India
India, especially South India, is a haven for people with celiac disease. Most of the popular food items here are made from rice and lentils. You will have to stay away from the very popular naan and roti, but when you have delicacies like idli and dosa, you really don't need to worry.
Traveling with celiac disease isn't a hard feat to accomplish. Just be on your guard and take a few small precautions, and you'll be good to go.
We are sorry that this post was not useful for you!
Let us improve this post!
Tell us how we can improve this post?