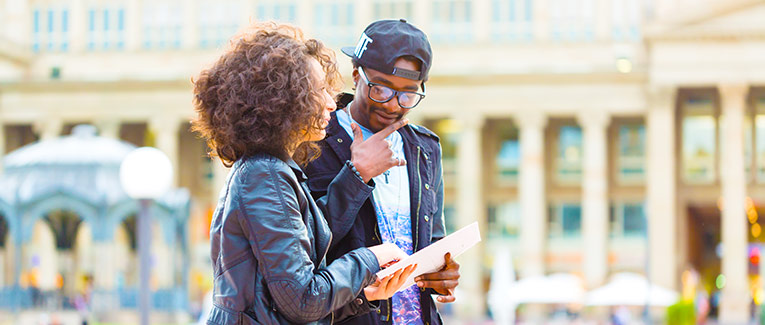 The popularity of international travel has skyrocketed thanks to competitive airfare and the opening up of low-cost destinations.
For quite a few, though, travel is stressful, and many tourists find their experience to be quite disappointing. How to not feel let down by your first international vacation? We discuss the strategies.
What to Expect From Your First International Vacation
Overcoming culture shock in tourism is a nifty strategy. It refers to the unease we feel when suddenly exposed to a foreign environment.
No matter how globalized the world is, it is a shock when you reach out your hand to a hotel receptionist in Mumbai, and she modestly withdraws into a chaste Namaste.
For most English-speaking tourists, it is a shock to walk down a street in Kota Kinabalu and be unable to read street signs because they are in Malay.
There is sudden anxiety at not being understood. This intensifies when exposed to unknown cuisine, art, and mannerisms.
Coping Strategies for Newbie Globetrotters
1. Before traveling to a new place, learn about it
This has become so easy. No longer do you have to rely on a bulky travel guidebook.
International travel tips for beginners about every nook and cranny of this planet is available at the click of a mouse.
Do you have to dress in formals when dining on a cruise ship?
What snacks can I carry into Japan?
Can I find tea in New York?
You can find the answer to every one of these unconventional queries on the internet.
Obviously, one can't become an expert on local culture before travel, but you can certainly learn enough to avoid being surprised.
Read up on tips for vacation abroad from travel resources like Wikitravel, YouTube, Lonely Planet, Fodors, and even Reddit.
2. Embrace the differences
You won't enjoy Australia if you keep complaining about the heat. The same goes for food and all else.
A vacation is not only about having fun, but also broadening your horizons a little bit.
A 2,000-year-old culture won't budge an inch because you are having a secret hissy fit. Don't force others to see the world through your eyes.
If you feel the differences are too large to cope with, choose a destination that matches your temperament.
3. Don't feel miserable if it is not what you thought it would be
Destinations often under-deliver.
Up close to the Giza Pyramids, you might find them to be an unattractive pile of stones. The smooth white sandstones they were encased in fell off over the three millennia they have been standing.
The marble dome of the Taj Mahal is yellowed by acid rain.
Nepal is cloudy, and it is rare to get a clear view of the mountain ranges.
The problem does not lie with the destination, but the travel industry. For decades, it has based itself on hype while marketing. Most destinations are far from perfect.
But, if you wanted to eat pancakes with maple syrup and watch Good Morning America, why travel 5,000 miles?
Important Tips for First International Vacation
International travel is different from domestic. A different country and language mean you have to be careful not to add to usual travel woes.
Keep up-to-date with international travel restrictions and world news. The last thing you need is to visit a place suffering from an outbreak of violence or political turmoil.
Get your passport and visa in order. Of course, you may not need a pre-approved visa to travel everywhere, but whatever your travel documents, make sure that you have enough copies, both paper and digital.
Can you access your bank account from where you are going? If you are traveling to the U.S. or Europe, it is quite easy to use your international credit card or a prepaid card. But, that might not hold true for all countries. If needed, you may have to resort to a mix of cash and old-fashioned traveler's checks.
If it is your first time abroad, book hotels in advance.
You need travel insurance or travel medical insurance. Nothing can be more stressful than falling ill abroad. Evacuation from another country can be an expensive proposition, if it is required. Buy the right insurance policy so you have sufficient coverage.
Be aware of international travel dos and don'ts from travelogues. Quite strange laws exist on the statute books.
Get Past the Hype
We all experience travel differently. Some love to haggle souvenirs at the bazaar, while others are repulsed by the thought.
When your perception meets reality, there might be disappointment.
It is best to have an open mind and an accommodating temperament if you want your first international vacation to be a success. Expectations are just that. There is no need to expect, just experience.
We are sorry that this post was not useful for you!
Let us improve this post!
Tell us how we can improve this post?