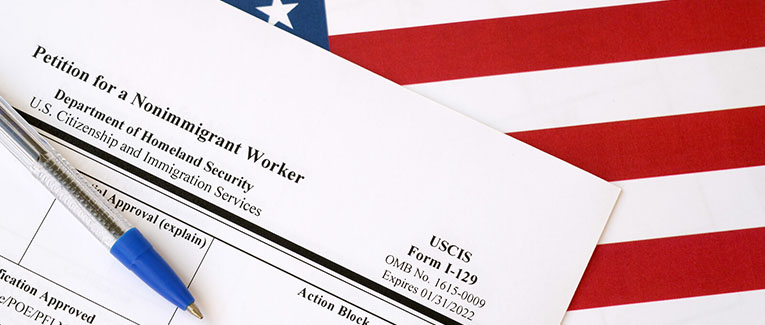 An H-1B visa is for temporary workers sponsored by an employer that allows the employee to work only for a specific employer in the U.S. An initial H-1B visa duration is for 3 years and can be extended further with the same employer. Also, H-1B employees can file an H-1B transfer with a different employer. Additionally, if there is a material change in the H-1B petition filed earlier, the employer is required to file an amendment. All of these petitions are to be filed with the USCIS.
As USCIS typically takes a very long time to adjudicate such petitions, there are certain rules regarding how long such an employee can continue to work and stay in the United States.
Even though this article describes continued employment while extension or transfer is pending for an H-1B visa petition, the same rules apply to other nonimmigrant categories: A-3, CW-1, E-1, E-2, E-3, G-5, H-1B, H-1B1, H-2A, H-2B, H-3, I, J-1, L-1, O-1, O-2, P-1, P-2, P-3, R, and TN. These nonimmigrant categories are included where the holder is authorized for employment with a specific employer incident to status and no separate work authorization (such as EAD) application (I-765) needs to be filed.
Slightly different rules apply to different scenarios, as described below.
H-1B Extension
An H-1B extension is filed with the current employer. In order for the H-1B extension to be filed in a timely fashion, the following conditions apply:
H-1B holder must be in valid legal status at the time of filing the H-1B extension petition.
Employer should file and the USCIS should receive the H-1B extension petition before the expiration date of the current status.
H-1B employee must continue to work for the same employer that filed for the extension.
While an H-1B extension petition is pending with USCIS, an H-1B employee is authorized to work for up to 240 days or until the time that USCIS denies the petition, whichever comes earlier.
The 240 days are counted from the date of the expiration of prior legal status, not from the date of the petition filing.
Even though an H-1B employee can no longer work after 240 days, they can still continue to stay legally in the U.S. until the decision is made.
If the H-1B employee runs out of 6 years and no extension application has been filed in time, there would be no 240 days allowed for the employee to work. If the employee qualifies for H-1B extension beyond 6 years (based on filing of PERM or I-140), that must be done.
If your H-1B extension is pending for 210 days or more, counted from the date of application, you can submit an inquiry with the USCIS and let them know that your H-1B extension petition has been pending for too long and to see if there is anything additional you can provide for them to work on the petition.
H-1B Transfer
When a new H-1B employer files for your H-1B transfer, as soon as USCIS receives your petition, you can immediately start working for your new employer. You don't have to wait for the transfer petition to be approved first.
Also, as long as the petition is pending, you can continue to work for the new employer, as the 240-day limitation does not apply.
To qualify for this benefit, the H-1B transfer petition must be filed on time and properly, which means:
The H-1B worker is in legal status and was lawfully admitted.
H-1B transfer petition is not frivolous.
H-1B transfer petition was filed before the expiration of the current H-1B period of stay.
The H-1B worker didn't perform any unauthorized work before the H-1B transfer petition was filed.
H-1B Amendment or H-1B Amendment + Extension
With respect to the approved H-1B petition, if there is any material change, the employer must file for an amended H-1B petition.
Sometimes, the H-1B amendment is done along with the H-1B extension petition.
In both of these cases, the 240-day rule does not apply, and the employee can continue to work as long as the petition is pending with the USCIS.
H-1B Petition Decision
Once an H-1B extension, transfer, or amendment is filed, it can either be approved or denied.
Approved
If your H-1B petition is approved, the approval will be from the date of your previous I-94 expiration date, and you will get a new I-94.
You will be considered in legal status while you waited for UCSIS to work on your petition, even after your previous I-94 form had expired.
Denied
If your H-1B petition is denied, you must stop work (if you were allowed to work) and leave the United States immediately. From the date the USCIS denies your petition, you will immediately start accruing "Unlawful Presence".
However, the time duration between the expiration of your previous I-94 and the USCIS decision on the new petition will still be considered as "period of authorized stay".
Also, once your H-1B petition is denied, your current H-1B visa stamp in your passport (if you have any) will become void. To enter back into the U.S. on a new H-1B petition, you would have to first get the H-1B visa stamped from your home country, not a third country such as Canada or Mexico.
H4 and L2 Visa Holders
Typically, H4 and L2 visa extension for derivative beneficiaries would be filed at the same time as the H-1B or L1 petition for the primary beneficiary.
While H4 and L2 extension petitions are pending, they can stay in the U.S., and there is no restriction on 240 days.
However, if any of them have work authorization (EAD), they can work only once the EAD is approved—not when it is pending.
I-9 Requirements for Employer
When an H-1B extension is pending after the expiration date of the current I-94, the employee should complete a new I-9 form and write "240-day Ext" and the date that Form I-129 was submitted to USCIS in the Additional Information box in Section 2.
Additionally, the employer should keep the following documents with the Form I-9 to show that extension of stay was filed on behalf of the employee:
A copy of the new Form I-129
Proof of filing fee payment
Proof of having mailed the petition to the USCIS
Once USCIS sends the receipt notice I-797C, the above documents no longer need to be kept with the I-129 form. Instead, only the receipt notice needs to be kept with the I-9 form.
Once USCIS approves the petition, they will send the approval notice I-797A. That should be kept with I-129 with the note that the employment is authorized until the expiration of the new I-94. The employer should give the original I-797A to the employee that would have the new I-94 form.
Premium Processing
As it takes a very long time for the USCIS to adjudicate H-1B extension or transfer petitions, many H-1B employees wonder whether their employers should file for premium processing, in which the USCIS processes the application within 15 days.
Not only does this trigger additional fees that many employers may not be willing to pay, but more importantly (in the experience of many immigration attorneys), premium processing for H-1B petitions almost always results in a Request for Evidence (RFE)—where a lot more documents are required to be submitted and can take a few more months to reply. As a result, the petition may not be approved quickly, anyway. There also have been instances where some H-1B petitions were simply denied without first issuing an RFE or giving any chance to the employer or employee to clarify any problems that USCIS saw with the petition.
Therefore, premium processing is highly discouraged by many immigration attorneys.
We are sorry that this post was not useful for you!
Let us improve this post!
Tell us how we can improve this post?