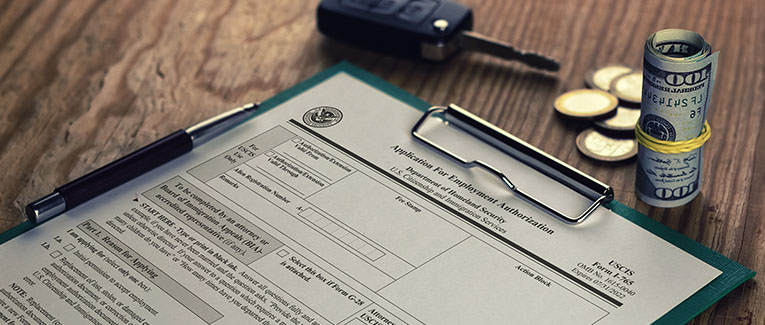 H-4 visa holders (namely, spouses of H-1B visa holders) are still eligible to obtain and renew Employment Authorization Documents allowing them to work in the United States—for now.
In Spring 2019, the Department of Homeland Security underneath President Donald Trump announced a proposed ruling to remove H-4 dependent spouses from the classes of aliens eligible for employment authorization. In September 2019, the U.S. Department of Justice affirmed that it had set a time frame of mid-2020 (between March and June) to introduce rules that would revoke EADs from H-4 visa holders.
However, this move appears to have been delayed during the ongoing coronavirus pandemic. Although all USCIS offices are currently closed to the public, the USCIS website states that it is continuing to process valid EAD applications through Form I-765, Application for Employment Authorization extensions. Similarly, they will also continue to process newly filed eligible H-4 EAD applications. They have cancelled all bio-metric appointments and will reuse previously submitted bio-metric data. The website states that this procedure will remain in place until Application Support Centers resume normal operation.
In short, for the duration of the pandemic, extensions and new filings will continue as usual for H-4s seeking to work in the United States. Beyond that, the future remains uncertain. In November of 2019, the U.S. Court of Appeals for the District of Columbia did announce that it would not move forward with the proposal and sent it back to a lower court for reassessment. However, this decision is not the final say in the matter.
Background Information
The proposed change comes as the result of a lawsuit filed by a group of IT workers from a utility company in Southern California who claim they were replaced by H-1B nonimmigrants. They further argue that holders of H-4 EADs are competing for jobs with local citizens. Unlike the H-1B visa, which is reserved for workers with special skills, the H-4 EAD allows people to work in any job, including local minimum-wage or entry-level jobs.
The primary beneficiaries of H-4 EADs have been qualified Indian nationals, most of them women, who have received about 90% of the H-4 visas issued since 2015. The ban would affect more than 100,000 spouses currently working or eligible to work in the U.S.
About H-1B Visas and H-4 Employment Opportunities
The H-1B visa allows U.S. employers to employ foreign workers with special skills and bring them to the country on a temporary basis. These H-1B visa holders are, in turn, allowed to bring their immediate family members (spouses and children under 21 years old) with them on an H-4 visa.
The Obama Administration passed a law that took effect on May 26, 2015, allowing certain H-4 dependents of H-1B nonimmigrants to file Form I-765, Application for Employment Authorization. If approved, these H-4 dependents are allowed to work in the United States and are issued an Individual Taxpayer Identification Number (ITIN) for tax-filing purposes.

The law as it stands now applies to the spouses of H-1B nonimmigrants who are the principal beneficiary of an approved Form I-140, Immigrant Petition for Alien Worker, or who have been granted H-1B status underneath sections 106(a) and 106(b) of the American Competitiveness in the Twenty-first Century Act of 2000 as amended by the 21st Century Department of Justice Appropriations Authorization Act (AC21).
We are sorry that this post was not useful for you!
Let us improve this post!
Tell us how we can improve this post?