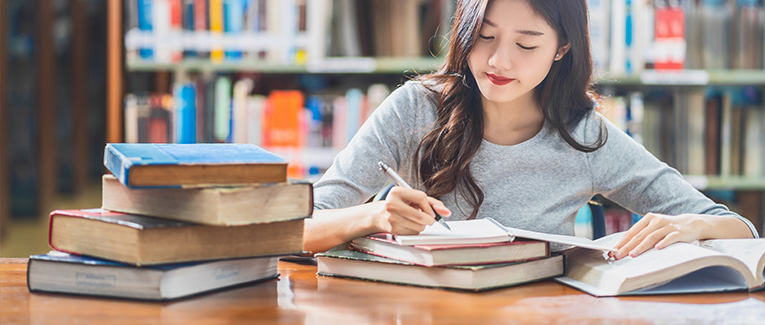 Students spend around $1,240 to $1,440 per year on textbooks. That is enough to make anyone wonder whether academic books are really worth the cost or not.
It is a hard pill to swallow, but you need the textbooks. As an international student, all your efforts and expenses will go waste if you don't do well in your classes. Textbooks are essentials when it comes to gaining knowledge and passing classes.
However, this doesn't mean you have to spend exorbitant amounts on the textbooks you need.
Here are 10 handy tips that will help you save money when buying textbooks in the U.S.
Try to Find Those Books in Your Home Country
Buying books in the United States is often more expensive than in other countries. International students can compare the prices of books in the U.S. and their home countries. If you can find the books for a lower cost in your home country, it is best to get your books from home.
In some cases, students can save money even if they ask their family or friends back home to send them the books via post. So, if you aren't planning on taking a trip back home, you can get those books mailed to you.
Buy Secondhand Books
The simplest way to save money on textbooks is to steer clear of the university shop. You can find other book stores in town and get secondhand books from there.
You can also find secondhand books online. You can check out Amazon and eBay, or utilize dedicated websites that deal in secondhand textbooks.
Secondhand books give you access to the same information for just a fraction of the cost.
Rent Your Textbooks
There are plenty of online and offline platforms that offer college and university textbooks for rent. A quick Google search will help you find such platforms and portals.
Renting a book costs much less than buying it new. Just make sure you understand the use and return policy so that you don't have to pay penalties and extra charges later.
Share The Book (And its Cost!) With Your Friends
Remember, you are not the only one in class who finds textbooks ridiculously expensive. You can ask other international students or even classmates if they would like to share books with you. This way all of you can get access to the book and split the price.
You can also form study groups and study together using the same books.
This tip, however, works only when you don't need the textbook in class every day, and it is just required to complete your homework and assignments and to study for tests and finals.
Hit the Library
Most college and university libraries keep copies of textbooks on file. You can use your note-taking skills and use the library copy to study. However, you need to make sure that you get to the library before someone else checks out the book you need.
Also, it is important to take comprehensive notes, as you might have to return the book before your finals. You can also get some important parts or sections of the book photocopied for future reference.
Look for Free (Legal) PDFs and eBooks Online
A lot of websites offer textbooks in PDF and eBook formats for free. Hit the online shelves and find your course textbooks online.
Make sure that you are using legitimate sources for downloading textbooks. Project Gutenberg is one legal option that you can try.
Downloading books from illegal sources is a punishable offense, so be sure that the copies you get are legal.
Choose Digital Versions
In most cases, the eBook or ePUB version of a textbook costs less than the physical book. You can also look for Kindle versions and buy those to save money.
Other than being a cost-effective solution, digital versions of the books also make sure that you don't have to carry bulky books to class.
If you are ready to give up on ink and paper, you can get your course-related textbooks at a much lower cost.
Get the Textbook Photocopied
If the textbook that you need for your course does not have too many pages, you can get it photocopied. Just ask your classmates to lend you the book for a day or two.
But, if there are too many pages in the textbook, the cost of getting it photocopied might not be pocket-friendly. Compare how much you'd have to pay for the book and how much it will cost to get the entire book photocopied. Then, you can make the final call.
Compare and Check the Older Versions
Secondhand books don't bring any profits to the publishers, and it is a model that they gain nothing from. Publishers tend to roll out new versions of books as often as possible in order to get students to buy them, even if the new version only has a few minor changes.
Buying an older version can suffice, so long as it's not too different from the current version. You can compare the old and new versions at the bookstore or library to see if the changes are substantial or not.
The slight changes in page numbers can easily be overcome by properly using the index, and you can save a lot by going for the version that is a year or two older.
However, don't use extremely dated versions of textbooks. This is especially true for subjects which regularly change, like Political Science, for example.
Seek Out Public Domain Content
While it might not be true for all subjects, some of the contents of your course textbook may be available in the public domain for free. For example, it is possible that you could find a few topics in your syllabus online.
Even if you aren't able to find all of the contents online, it is worth giving it a shot. You can get the remaining content photocopied, or make notes for the topics you can't find online from the library's copy of the book.
The smell and feel of new books is undoubtedly special. But as an international student, you need to make sure that your budget is balanced. You don't need to spend all of your funds on textbooks, so use these handy tips and start saving money now.
We are sorry that this post was not useful for you!
Let us improve this post!
Tell us how we can improve this post?