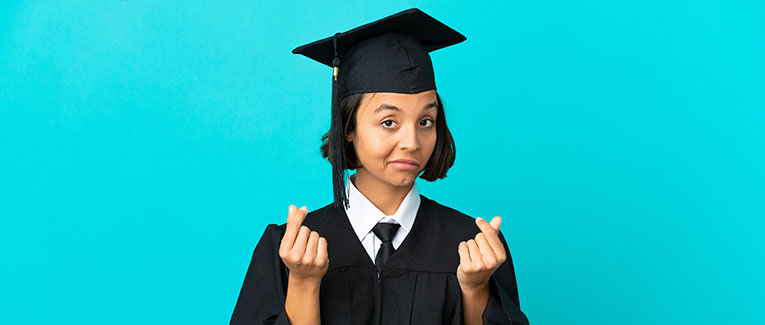 The average cost of graduate school in the U.S. is $66,340, and tuition fees for programs in top-tier universities can exceed $120,000!
With mind-boggling numbers like that, financial aid is often the only way an international student can afford to go to graduate school in the U.S.
But what are the financial aid options for graduate students in the U.S., and how much financial aid can international graduate students really get?
Here, we will answer your questions with this in-depth guide of graduate-level financial aid for international students in the U.S.
Here are the top 5 financial aid options for international graduate students in the U.S.:
1. Fellowship options for international graduate students.
Fellowships offer financial support to graduate students to help them pursue their studies.
They fund the student's studies, usually covering the entire tuition fee, plus an additional stipend for living expenses.
They are awarded either by the university (like Cornell University's Africa Fund for Ph.D. applicants who are citizens of an African country), or by an external organization (like the Graduate Women in Science National Fellowship Program for women in STEM fields).
These perfect-sounding fellowships are, however, not easy to get.
They are almost always merit-based and highly competitive, no matter the field.
Be aware that not all universities have fellowship options for international students, and that you might not be eligible for all private fellowships. Most organizations have strict, highly specific qualification requirements that need to be met.
On top of the fewer options for international graduate students, most fellowships aren't well advertised. So, be ready to do a bit of digging on the internet to find them.
The Institute of International Education has a searchable database for funding options that you can get started with.
Apart from that, be sure to talk to your admissions advisor regarding fellowships that you can apply for. They will be able to guide you to additional resources for your specific specialty.
2. Institutional aid for international students.
As an international student, you will not qualify to apply for FAFSA (Free Application for Federal Student Aid) from the U.S. government. But, all hope is not lost.
Many American universities offer institutional aid for their international graduate students. In this case, the university directly offers financial aid to its students in the form of scholarships or grants. This is a great form of financial aid, since it will not require you to work part-time to earn it, or pay it back later.
The eligibility criteria, student selection, and aid amount offered vary from university to university, and even program to program.
There are generally two main types of institutional aid offered: merit-based and need-based.
For merit-based aid, universities offer aid based on your past academic performance. For need-based aid, you are offered aid if you can show proof that you and your family fall under a certain income category.
In both cases, be sure to read through the terms and conditions of the aid. Sometimes, there may be a minimum GPA you have to maintain through college, and other times it may be a one-semester-only aid offer.
For the exact procedure and qualification to apply for this aid, directly contact the university.
Some universities automatically consider you for financial aid when you send in your graduate application. But, in most cases, you will be required to fill out an International Student Financial Aid Application (ISFAA), or the CSS Profile after you've been accepted.
3. Private scholarship opportunities that you can apply for.
The idea that there aren't many scholarships for international graduate students is a total myth. Apart from university aid, there are hundreds of private organizations that offer scholarships for graduate students.
Most scholarships don't cover your entire tuition fee as fellowships do, but they are still a very lucrative financial aid option.
While hunting for scholarships, filter through the popular, generic options, and apply to niche scholarships as well.
Search for organizations that are looking to support candidates with your specific background and skill set. This will give your application an extra edge, and increase your odds of winning the scholarship.
Remember, just like graduate school applications, scholarship applications have deadlines. So, do your research ahead of time to ensure you don't miss those deadlines, and the chance to fund your graduate studies!
Pro-tip: Use an online scholarship finder website to quickly filter through hundreds of scholarships and find ones that you are eligible for.
4. Lucrative assistantship positions to consider.
Most universities have assistantship positions that graduate students are eligible to apply for, irrespective of their nationality.
Universities usually offer a reduced, or even totally waived, tuition fee for students in an assistantship. They might also pay a fixed monthly stipend for living expenses.
In exchange, the student is required to work part-time for the college in an area of work related to their major.
There are two main types of assistantships: research assistantship and teaching assistantship.
In a research assistantship, you will be required to assist a professor with their research for around 15-20 hours per week. This will involve tasks like collecting, analyzing, and reporting data.
In a teaching assistantship, you will assist a professor by conducting study groups, preparing lectures, and grading papers.
In most cases, these are highly competitive roles that you will have to go all-out to land. Be sure to talk to your admissions advisor about the availability of these roles while you're applying to a university.
5. Private loan options as the fallback last resort.
If you make use of the all above options and play your cards right, you will not have to rely on a hefty private loan to cover your entire graduate tuition fee.
But, at the end of the day, for the remaining tuition fee, you will have the option of an education loan from a bank. You can choose to apply for one either from your home country (usually the easier option) or from an American bank.
In most cases, if you're applying for a loan with an American bank as an international student, then you will need to have an American co-signer. A co-signer is someone who is legally obligated to repay the loan on your behalf if you fail to pay up.
Requirements:
The co-signer must be a U.S. citizen or a permanent resident who has been living in the U.S. for at least the past two years. To ensure the loan gets approves, it also helps if they have a good credit score.
It can take anywhere from 4 weeks to 3 months for your loan to get approved, and money to be disbursed to your account.
So, it's best to plan ahead. Apply and get it cleared before you move to the U.S.
Heads up: Your U.S. visa application will need you to show proof of funds for the duration of your stay in the U.S. This is a preset amount that is determined based on your tuition fee and predicted living expenses. Most colleges will let you know the official amount for this when they send you your i20 form.
Excluding any other financial aid amounts that you may have received, your bank loan will have to cover the rest of the official amount for you to qualify for a U.S. student visa.
Closing note: Each of these options individually might not cover your entire graduate tuition fee and expenses. But, put together, they will likely cover your total financial needs as a graduate international student.
We are sorry that this post was not useful for you!
Let us improve this post!
Tell us how we can improve this post?