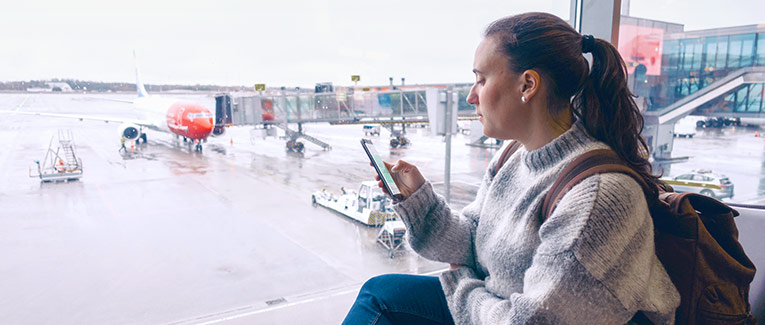 Dashing from one terminal to the other as if there's no tomorrow, and huffing and puffing your way to a connecting flight is a dreaded scenario, but many of us have had to do this.
What happens if you miss your connecting flight? It's irritating, to say the least. It can also land you in a fair spot of bother if you miss an important business meeting because of the missed flight, or your vacation plans go awry. Not to mention the possible additional expenses that you might have to incur.
While at times it becomes a necessity for us to book an indirect flight to our destination, it doesn't mean that we can't comfortably catch the connecting flight. Just follow these simple tips so that your chances of missing these flights are greatly decreased.
Select Longer Layovers
While booking connecting flights, airlines might suggest flights with a low minimum connecting time (MCT). This ensures that you spend minimal time waiting between flights, but this can also cause you to possibly miss your next flight. If the first flight is late, it's almost guaranteed that you will miss your connecting flight. Consider the fact that if the airport where you are changing planes is unfamiliar to you, you could take quite some time to find your way to the correct gate.
To avoid these hassles, give yourself a layover of at least one hour for domestic flights, and two hours for international ones. That way, you have enough of a margin even in case of a slight delay in the first flight. You will also have ample time to find your way to the designated terminal for the connecting flight, and you can grab a snack on your way over as well.
Fly the Same Airline
By booking all of your flights with the same airline, your chances of missing the connecting flight are greatly decreased. You won't need to run from one terminal to the other, and the flight attendants of the airline can guide you to the designated gate. In case the connection is tight, they can also inform the connecting flight about your slightly late arrival so that you can board the plane.
Select the Date and Time of the Flight Carefully
More flights tend to get delayed towards the late afternoon and early evenings. A delayed first flight increases your risk of missing your connecting flight.
Also, it is reported that more flights get delayed on Fridays as opposed to Saturdays. So, choose the date and time of your flight accordingly.
It would be best if you can avoid Fridays, and try to select a flight time that is earlier in the day, or late in the evening.
Avoid Checked Baggage if You Can
In case you have no option but to book a connecting flight with a small window of layover time, consider taking only carryon baggage. This way, you will save precious time by avoiding the wait of getting your luggage checked in. Furthermore, in case the connecting flight is on a different airline, then you would need to retrieve your checked luggage and repeat the check-in process for the connecting flight. All of this takes a lot of time that you can save by carrying only carry-on luggage.
Do an Online Check-in
Check-in online for your flights. This way you won't need to stand in line to get your boarding pass and worry about being late for your flight.
What Do You Do if You Miss the Connecting Flight?
If you miss your connecting flight, the first thing you should do is take a deep breath and get your thoughts together, so that you can decide on your next course of action without getting stressed out. This course of action will depend on the reason for you missing the flight. Of course, it will help if your tickets are all with the same airline.
Missed Connecting Flight Due to Delayed First Flight
If you miss your connecting flight due to the first flight being delayed, the airline can book you on the next available flight to your destination. In case there is an overnight layover to catch the later flight, the airlines might also put you up in a hotel and pay for your stay and meals.
Missed Connecting Flight Due to Inclement Weather
You can't do much about this, since a delayed flight due to bad weather conditions is out of your control. The airlines can help you with your rebooking, though they might not offer you accommodation and meals.
However, travel insurance can be a useful option for you in such cases. The policy can help pay for any expenses that you might need to incur, but the airline isn't paying, if the flight is delayed or cancelled due to an unavoidable, covered reason. Find a plan that works for you within minutes at Insubuy.
Missed Connecting Flight Due to Delays on Your Part
If the delay is due to no fault other than your own, then the responsibility is on you to get a seat on the next flight. The airline might assist you, but you would need to pay for the fare difference, as well as any other applicable fee.
What Happens if you are Booked on Multiple Airlines?
By booking a connecting flight on an airline that is different from the one for the first leg of the journey, you might have saved some precious dollars. However, if you miss the connecting flight in such cases, the airline is under no obligation to help you book a seat on the next flight. So, you should leave yourself with ample time before the connecting flight to avoid such a mishap.
Time management is key. Don't book a connecting flight with a departure time that is too close to the arrival time of the first flight. Plan your itinerary well, and give careful consideration before selecting the date and time to fly the first leg. Follow the suggestions discussed above, and you should find yourself seated in the connecting flight, on time, without any hassles.
We are sorry that this post was not useful for you!
Let us improve this post!
Tell us how we can improve this post?