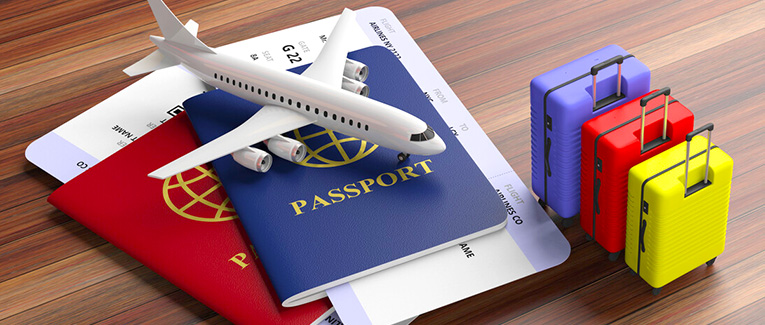 A passport is your ticket to see the world. However, where that passport is from can make a big difference.
While just about everyone needs a passport to travel internationally, a passport alone doesn't necessarily give you the ability to buy a plane ticket and go to whatever country you want. Depending upon the country that issued your passport and the country you intend to travel to, you may be required to get a visa.
The length of time it takes to go through all the required steps to apply for a visa, secure a visa interview, and ultimately be issued a visa can vary wildly by destination; anywhere from several weeks, to well over a year. And once you are issued a visa, you will only have a limited amount of time that you're allowed to visit.
Suffice it to say, traveling to a country that requires you to get a visa is a much more involved process than traveling to one that allows visa-free entry.
But your choices of countries that allow you to enter visa-free can be much larger or smaller depending upon the nation that issued your passport. For instance, as of this writing in 2023, those with a Japanese passport are allowed visa-free entry to 193 out of 227 countries. On the other hand, someone holding an Iraqi visa is allowed visa-free entry to just 29 countries.
What Makes a Passport Powerful?
A passport is considered more "powerful" when it allows you to enter a greater number of countries without first applying for a visa. If you're allowed visa-free entry, all you'll have to do is book your tickets, follow the appropriate steps for entry without a visa (such as ESTA for entry to the United States), and make sure you comply with the laws for visa-free entry for that country. Holding a powerful passport allows you to see more of the world with fewer obstacles.
The Top 10 Most Powerful Passports as of 2022
Japan – Visa-free entry to 193 countries
Singapore and South Korea – Visa-free entry to 192 countries
Germany and Spain – Visa-free entry to 190 countries
Finland, Italy, Luxembourg – Visa-free entry to 189 countries
Austria, Denmark, the Netherlands, Sweden – Visa-free entry to 188 countries
France, Ireland, Portugal, United Kingdom – Visa-free entry to 187 countries
Belgium, Czech Republic, New Zealand, Norway, Switzerland, United States – Visa-free entry to 186 countries
Australia, Canada, Greece, Malta – Visa-free entry to 185 countries
Hungary and Poland – Visa-free entry to 184 countries
Lithuania and Slovakia – Visa-free entry to 183 countries
The Limitations of Visa-Free Travel
Keep in mind, being allowed visa-free entry to a country doesn't mean you have free reign to do whatever you want and stay as long as you wish. Quite the contrary. For instance, those who are allowed visa-free entry to the United States or Schengen countries are only permitted to stay for up to 90 days for tourism or business purposes. You typically will not be allowed to go to school, start a business, apply for a job, etc. However, the exact limitations will vary by country.
If you want to do any of those things or stay beyond the allotted time, you'll have to first apply for the appropriate visa, no matter where your passport is from.
We are sorry that this post was not useful for you!
Let us improve this post!
Tell us how we can improve this post?