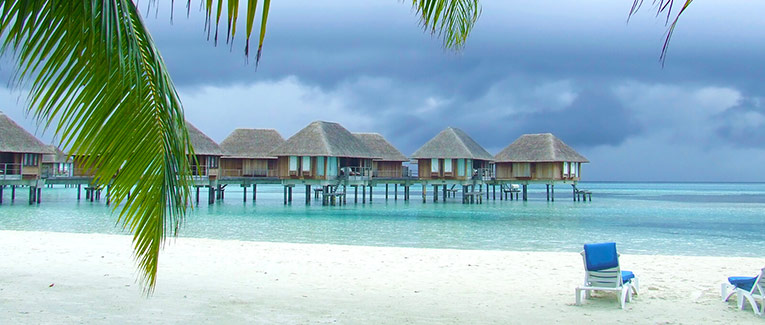 "This music crept by me upon the waters,
Allaying both their fury and my passion
With its sweet air: thence I have follow'd it"
– William Shakespeare, The Tempest
With some of the most vivid imagery of storms, the above lines borrowed from 'The Tempest' do justice to how storms enchant many of us. So much so, that some go as far as 'chasing' them!
What Are Hurricanes?
With about 71% of the Earth's surface being covered by water, storms at sea are a reality that humans have had to deal with since the beginning of time. Large oceanic storms can be referred to as cyclones, typhoons, or hurricanes. They're all the same types of storms, but the names they're given depend on their location:
Cyclones – tropical storms in the South Pacific and Indian Ocean
Typhoons – tropical storms in the Northwest Pacific Ocean
Hurricanes – tropical storms in the Atlantic Ocean and Caribbean Sea
Hurricanes are divided into five categories, depending upon their wind speed. Measured by the Saffir-Simpson scale, a category 1 hurricane is the least dangerous, and a category 5 is the most devastating. The 2020 hurricane Isaias was a category 1 hurricane, while the 2019 devastator Dorian was a category 5 hurricane.
Traveling During Hurricane Season
The Atlantic hurricane season runs roughly from June through November, with peak activity from September to October. So, while you may have to exercise caution when planning a tropical getaway during hurricane season, there's no reason to cancel your plans. With a few tips and tricks up your sleeve, you too can conquer these tempestuous seas.
Here's the Holy Grail of hurricane season globetrotting.
It Is Better to Be Safe Than Sorry
Whoever said "prevention is better than the cure" was onto something there. If your wanderlust tugs you to a hurricane's doorstep, so to speak, let getting travel insurance be the first thing you do. Even before you book the tickets to that dream destination. Yes, it is that imperative!
The myriad of available options for travel insurance can be a bit perplexing. Head to travel insurance marketplaces such as Insubuy for aid. They categorize policies based on their coverage, which makes choosing easier. You can also find insurance plans that specifically cover hurricane season travels, whether it be pre-travel trip cancellation due to a hurricane, or even trip interruption due to one. Some plans may also offer additional coverage for non-medical evacuation that can get you to safety even before the hurricane hits, if required.
What You Keep in That Suitcase Matters
As Charles Bukowski once proclaimed, "Everything you own must be able to fit inside one suitcase. Then your mind might be free."
Tattoo 'travel light' onto your soul if you too want to traverse "around the globe in 80 days." Pack only the necessities, but make sure a "storm safety kit" is with you at all times. This should include flashlights, a first-aid kit, solar-powered batteries, extra toiletries, a power bank, and an emergency cash stash. Load up on paper currency before making a trip in hurricane season, as electronics and electricity may not be things you can depend on.
Google Is Your Best Friend
"It is a capital mistake to theorize before one has data."
– Arthur Conan Doyle, A Scandal in Bohemia
Be as thorough with your research as possible. Look up the least to most susceptible regions during hurricane season.
Caribbean destinations such as the 'ABC Islands', Aruba, Bonaire, and Curacao, are safer as they lie outside the hurricane belt. If you are planning to visit the Carolinas, Florida, New Orleans, or even the Texas Coast, be especially vigilant. as these are some of the most hurricane-prone areas.
Be on the lookout for hurricane policies of the hotel and airlines you book. It would also do you good to check for your destination's storm history. Focus on the category of any past or predicted storms. While you can easily ride out a Category 1-2 hurricane, albeit, drenched in rainwater, a Category 4-5 should be avoided at all costs.

For visitors, travel, student and other international travel medical insurance.
Visit insubuy.com or call 1 (866) INSUBUY or +1 (972) 985-4400

Save Some Money
One major upside of traveling during hurricane season is the discounts. During hurricane season, many hotels and airlines lower their rates in response to less traffic. This can lead to lucrative deals for travelers willing to take a chance on the weather.
Even cruise fares decrease during hurricane season, making it tourists' favorite season. And thanks to amazing meteorological technology, hurricanes are fairly predictable, and you can always reschedule your trip if your destination is to be hit. Once again, just remember to have travel insurance with the right coverage in case your plans do need to change.
Plan and Be Prepared
It's best to travel with an open mind during hurricane season, as you may have to deal with situations you weren't expecting. Though your chances of being marooned in a hotel room with no electricity during a hurricane are slim, it always pays to be prepared.
Little things could make a big difference. Get all the important apps for your cellphone beforehand like an appropriate weather app for your destination, the Red Cross App, and the local authorities' social media and contact information. Also, save emergency contacts and helpline numbers, as well as your embassy's contact details if you are traveling to a foreign destination.
In your bid to plan, you can even look for alternate modes of travel. You may want to take that sea cruise after all! It's cheaper and as safe as can be, as most cruise ships have technology that warns them of an incoming storm. They can change course, cruise in rough seas, or even outrun hurricanes. But do stock up on seasickness pills and boatloads of patience if that Caribbean cruise turns into a Florida one.
Now that you have been familiarized with the ins and outs of traveling during storm season, do remember to keep your wits about you at all times. Panic is your nemesis, and your gadgets will be your best friends! So, keep them charged. Don't forget to inform someone of your whereabouts at all times. And with that, you're good to go.
We are sorry that this post was not useful for you!
Let us improve this post!
Tell us how we can improve this post?