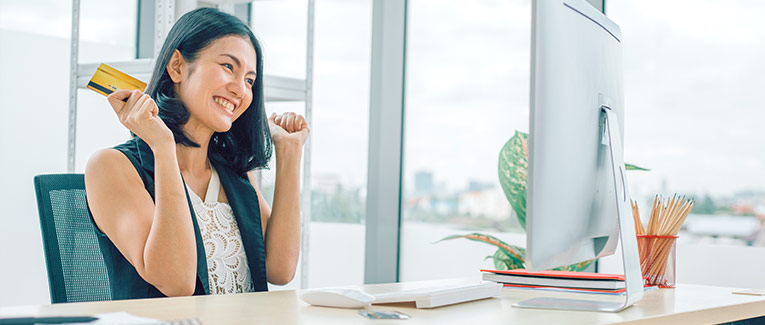 A lot of travelers are unaware of the many ways that they can accumulate airline miles.
Even if you are not a frequent flier, you still have the opportunity to gain enough points to upgrade to first class, or even get a free flight.
In the next five minutes, learn the techniques pro travelers use to collect airline miles for a free flight.
Note: All the types of offers discussed next are valid at the time of writing. However, such offers change, evolve, and disappear regularly. So, check for validity at the time of your reading this.
Get a Travel Credit Card
Travel credit cards offer signup incentives. The offer applies to new users who spend a specific amount within the first few months. The amount and timeline vary for every credit card issuer.
Choose between co-branded cards affiliated with an airline, and general rewards cards.
Co-branded cards offer rewards from the specific airline the card if affiliated with. General rewards cards enable you to use the miles on any airline.
You can earn over 100,000 miles as sign-up incentives, and you receive the miles on both personal and business credit cards.
You can use these cards to pay for new furniture, or even go grocery shopping and earn points.

For visitors, travel, student and other international travel medical insurance.
Visit insubuy.com or call +1 (866) INSUBUY or +1 (972) 985-4400

Pay your Taxes
Use a third-party tax-paying service so that you can pay with a credit card. These services include PayUSATax.com and Pay1040.com. Remember, you pay credit card processing fees to use these services.
Pay1040.com levies 1.87% of the total payment as processing fees. PayUSATax.com charges a 1.89% credit card processing fee. The charge hikes to 2.29% if you use a Visa card.
Imagine your payable tax is $5,000. You pay with a MasterCard credit card via PayUSATax.com. The processing fee rounds up to $94.50. If the issuer pays one mile for each dollar spent, you earn 5,095 miles.
Airlines partner with third-party tax preparation systems too. If you use H&R Block to pay your taxes, or pay through your Delta Sky Miles account, you'll receive two miles per dollar spent. Furthermore, you will receive a 20% off on your taxes.
Be sure to check the terms and conditions with the card issuer and the third-party services to know more about the offers.
Shop Through Airline Shopping Portals
Every dollar you spend shopping helps you earn airline miles.
Head over to the airline's shopping portal and check the list of participating merchants. You can purchase through their website, or in person.
United Airlines allows you to link any credit or debit card and pay for your purchase with any of these linked cards. By doing this, you'll earn up to four miles for each dollar spent.
Alaska Airlines offers to load ongoing deals to a specific card of your choice. You can pay with this card at the store and earn airline miles.
Book an Airbnb
A weekend gateway earns you airline miles if you book your accommodations through Airbnb.
Delta Sky Miles members earn a mile per dollar spent through Airbnb, and this offer applies to every Airbnb rental around the world.
Japanese Airline ANA also offers airline miles for Airbnb bookings. If you spend ¥200 on Airbnb bookings, you will earn one airline mile and receive a ¥3,000 discount on your first booking.
If you list your home on Airbnb, Australian Airline Qantas offers 20,000 miles.
Subscribe to a Magazine
With Southwest Airlines, you can earn up to 20 points for each dollar spent on magazine subscriptions. You can do this by heading over to the Rapid Rewards shopping portal of Southwest and clicking on Discountmags.com. Any subscription you buy here is eligible for airline miles.
Earn up to 1,000 miles with a Wall Street Journal subscription through American Airlines' e-shopping portal. The airline also offers up to 1,100 miles if you subscribe to The Economist.
If you're a Delta Sky Miles program member, you can earn nine miles for each dollar spent on Magazines.com. You must visit the website through the Delta Sky Miles Shopping portal.
Dine Out
Frequent flyer plans often include dining programs. Under the programs, airlines partner with restaurants, so when you pay for a meal at the participating restaurants, you earn airline miles.
Remember to use the credit card linked to the dining program. The airline miles you earn depend on how frequently you dine, and the dollar amount of the restaurant bill.
Earn up to five airline miles for each dollar spent with American Airlines. If you spend $25 within a month, you'll receive an additional 1,000 airline miles.
Alaska Airlines offers identical deals as well.
Donate to Charities
Airlines will reward you for your donations.
Earn 10 American Airlines miles for each dollar donated to Stand Up to Cancer. The offer applies to donations over $25.
The money you donate stays tax-deductible, so you save every time you donate.
Book a Hotel Room
Wyndham Hotels partnered with American Airlines, so that every time you book a room through the airlines' portal, you earn one mile for each dollar spent.
Earn airline miles through third-party booking services including Points Hound and Rocket Miles, as well. Both sites offer 6,000 points when you book a night's stay at a partner hotel.
Refer a Friend
One of the easiest ways to earn miles is by referring your friends.
Delta Sky Miles Gold American Express card offers 15,000 bonus miles for every approved referral. Earn up to 55,000 miles each calendar year.
United MileagePlus credit cards offer 10,000 bonus miles for each approved referral.
The offer applies each time a new user signs up using your unique referral id.
Learn a Language
Language-learning app Babbel is partnered with Southwest, United, and American Airlines.
Earn up to 1,200 miles when you sign up on the app through one of the aforementioned airlines' portals.

For visitors, travel, student and other international travel medical insurance.
Visit insubuy.com or call 1 (866) INSUBUY or +1 (972) 985-4400

Use the Linked Credit Card via the Airline's Rewards Portal
Airlines and credit card companies offer miles when you use the card or portal. So, it pays to engage in activities with the airline's rewards portal and the linked credit card.
Every time you use the credit card via the airline's rewards portal, you'll earn airline miles without flying.
Enjoy Your Savings
With some shrewd spending using the right cards at the right places, you can be well on your way to earning a seat upgrade, or even a free ticket to your dream destination. To make sure all of that savings doesn't go to waste in the event of a medical or travel mishap, make sure you invest in travel insurance or travel medical insurance before you travel. By using your miles and having appropriate insurance, you can explore the world like a smart traveler.
We are sorry that this post was not useful for you!
Let us improve this post!
Tell us how we can improve this post?