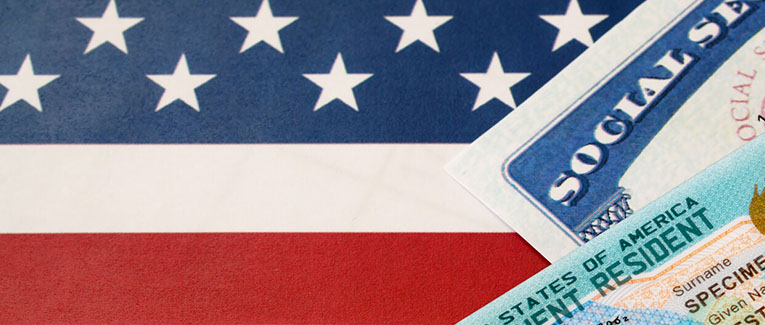 Employment-based greencard is one of the two primary ways to get a green card (permanent residence card) in the U.S.
There are several categories such as EB-2, EB-3, etc., and there is a specific annual quota for each category. Within each category, people born in a given country can only get 7% of the total quota. Therefore, people born in India and China face the longest wait times due to higher demand.
Every month, the Department of State publishes the visa bulletin, which displays the combination of various categories and the priority dates for final action and for filing. If your priority date is current (earlier than the dates mentioned in the visa bulletin), you can file for Adjustment of Status (I-485) for yourself as well as your dependents (spouse and minor children under 21 years of age). That also allows you and your dependents to file Advance Parole and EAD (Work Permit).
Movement of EB-3 vs EB-2 Priority Dates
Traditionally, the priority dates for EB-2 (jobs that require a master's degree or bachelor's plus 5 years of experience) were earlier and moving faster compared to the same for EB-3 (jobs that require only a bachelor's degree).
Therefore, a lot of people upgraded from EB-3 to EB-2 category earlier. Additionally, new applicants insisted that their employer file their greencard in EB-2 category, where possible—that is, the beneficiary qualifies, and the job requires EB-2 qualification.
Due to that, the number of petitions filed in EB-2 category outnumbered those in EB-3 category. Pending I-485 data released by USCIS shows that there are a lot less pending I-485 petitions in EB-3 compared to EB-2. Therefore, the dates for EB-3 India are ahead of the dates for EB-2 India.
In such a situation, people with approved I-140s waiting for EB-2 priority date to be current are wondering whether it is possible for them to downgrade to EB-3 and whether it makes sense for them to do so.
Of course, such a situation does not last forever. Therefore, the action needs to be taken fast while you can take advantage of it. Such a situation earlier occurred for China and lasted until the pending applications in EB-2 and EB-3 evened out. The same situation is occurring for India.
The EB-2 to EB-3 downgrade process is only available where PERM labor certification is required. Therefore, NIW cases are not eligible for this.
Advantages of Downgrade
If your EB-2 priority date is current in EB-3, once you downgrade, you can file an I-485 for you and your dependents, along with the Advance Parole and EAD. Additionally, once your I-485 has been pending for 6 months, you can switch employers under the AC-21 portability rule. Your actual I-485 approval may still take a longer time because long-term wait times for EB-3 are higher than those for EB-2. However, for some applicants, the wait may turn out to be shorter.
Of course, to achieve this, you would need the support of your employer and an immigration attorney that is experienced in this specific process. You would need to be well organized and be able to collect the documents quickly.
EB-2 to EB-3 Downgrade Process
You can downgrade from EB-2 to EB-3 either with the same employer or with another employer.
With the same employer, you can use the same PERM Labor Certification from EB-2 to file Form I-140 for an EB-3 petition. Additionally, if your EB-2 priority date is current in EB-3, you can file for Form I-485 at the same time when you file for new Form I-140.
With another employer, you will have to file a new PERM labor certification and also Form I-140, which can take a long time. In other words, you will have to start the process all over again (with previous priority date) and meanwhile, if the EB-3 priority date is no longer current, you can't file Form I-485.
When filing for a new I-140, you would be able to use many of the same documents that were used earlier for your EB-2 I-140. However, the petition would need to include new evidence of your employer's continuing ability to pay offered wages (which can be shown using the tax returns, or employer's annual report or audited financial statements, along with the employee's pay stubs and W-2). If filing with a new employer, you would also need the updated employment verification letters.
Premium Processing
Normally, when I-140 is submitted for premium processing, the original PERM labor certification must be submitted along with it. However, if the new I-140 is being filed at the same service center as the previous I-140, it is possible to request premium processing for an I-140 without the original PERM labor certification. It is possible that the people handling the mail room at USCIS are not aware of this rule and may reject it initially. In that case, the attorney handling the case would need to work it out with them.
It is important to note that the 15-day window does not start immediately. USCIS would first need to confirm internally that the case is eligible for premium processing first. Once they have done that and linked two petitions, your 15-day window would start. Therefore, the actual processing times can be much longer.
Expiring/Expired PERM Labor Certification
When the PERM labor certification is initially approved, Form I-140 must be filed within 180 days of approval. Also, PERM Form 9089 has a certain validity period. Many of the candidates looking to downgrade from EB-2 to EB-3 will notice that their PERM validity period has already expired. However, as the original PERM was used to file Form I-140 in a timely manner, the same PERM can still be used for new I-140, even if it is already expired.
Disadvantages
A new Form I-140 would need to be filed, which would include the filing fees, the attorney fees, and the premium processing fees (if applicable). While all the expenses for PERM labor certification must be borne by the employer, there is no such rule for Form I-140. The employer may not want to spend Form I-140 expenses a second time. Therefore, it may be necessary for the beneficiary to pay for these expenses. In any case, the employer still gets to choose the attorney, which can either be the same as the one that did the previous I-140 or a new one.
By the time your new I-140 is approved, if the EB-3 priority date does not become current, you would not file a Form I-485 and would have made all the efforts for no benefit. In any case, when your EB-3 I-140 is approved, your EB-2 I-140 still remains valid which you can use later, if needed.
Timeline
The timeline to downgrade from EB-2 to EB-3 would be the same as the normal I-140 processing times. If filing with a new employer, you would need to add PERM labor certification processing times, too.
Already Pending I-485
Even though the main advantage of downgrading from EB-2 to EB-3 would be to file I-485 along with getting the EAD and Advance Parole, some applicants may already have a pending I-485.
Some of them may benefit by getting their pending I-485 application linked to a new I-140 approval. If the priority date is current, it can lead to faster I-485 approval under the EB-3 category.
Filing I-485 with I-140 Receipt
If your priority date is current and your new I-140 is approved, if you haven't already filed your I-485, you can file it now.
However, if your I-140 is currently pending in EB-3 category, you should be able to able to file I-485 application with EB-3 I-140 receipt notice when the priority date is current. But it is still possible that USCIS may reject your I-485 petition in absence of approved Form I-140.
Upgrade from EB-3 to EB-2 and then downgrade again to EB-3
Many people got their EB-3 petition upgraded to EB-2 but still didn't get to file their I-485 petition. Now, if you like, if your priority date is current according to EB-3, you can still file I-485 as long as your EB-3 employer didn't revoke your approved I-140 and the EB-3 position is still available. This can be the same employer or a different employer.
Downgrade from EB-2 to EB-3 and then upgrade again to EB-2
If you now downgrade from EB-2 to EB-3, your previously approved EB-2 petition still remains valid. Therefore, in case EB-2 dates are moving ahead faster at some point in the future, you can use the previously approved EB-2 petition to file form I-485 when the priority date for the same becomes current.
We are sorry that this post was not useful for you!
Let us improve this post!
Tell us how we can improve this post?