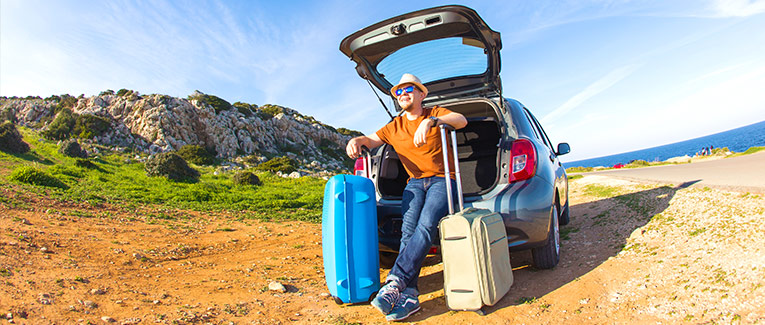 The excitement of setting off on a cross-country road trip is often offset by anxiety. What if you forget something? What if your car breaks down? What if your hotel booking gets cancelled?
These nagging questions can have a habit of spoiling an otherwise fun journey. To avoid this happening to you, use the following tips to ensure a worry-free drive.
Get Your Car Ready for the Road
Car trouble is a major inconvenience when it happens in your own city. That inconvenience can be magnified when it happens in the middle of nowhere, or in a city you're unfamiliar with.
To reduce the chances of a breakdown, schedule your car for service at least a week before your trip. A trusted mechanic can inform you of any potential issues, and get them sorted out before you leave home. Just be sure you'll get your car back in plenty of time before you need to hit the road.
Car Repair Basics
Sometimes, even a car in top-notch condition can have issues during a trip. While roadside assistance is great if you can get it, it's not something you should depend on having in every location. Knowing how to perform a few basic car roadside car repairs can help you get going again without waiting around.
Changing A Flat Tire
Receiving a puncture is perhaps the most likely reason you could find yourself on the side of the road during a trip. But don't fret, changing a tire is something anyone can learn to do. Simply consult your owner's manual, watch a YouTube tutorial, or ask your neighborhood mechanic to show you. To be truly prepared, you can practice doing it at home so you know exactly how to do it before you need to.
Also, remember to make sure your spare tire is inflated to the proper pressure before your trip begins. Many spares sit unused for years, and they can go flat over time.
Jumpstarting Your Car
A dead battery can be caused by many things. Sometimes, it's as simple as leaving your dome light on all night after you retire to your hotel room. Whatever the case, you'll likely need a jumpstart to get going again.
All you need to jumpstart a car is a set of jumper cables, and a kind fellow traveler that will allow you to connect your battery to theirs. Again, simply watch a YouTube tutorial, and it's easy for one person to do.
Don't Overpack
Just because you have room to pack a lot doesn't mean you should. A stuffed trunk is an invitation to thieves. Besides, do you really need all that stuff?
When packing your car, ensure the luggage cannot be seen over the glass. Don't keep maps strewn about the front of the car. The rule: anything that reveals you're a tourist goes in the glove compartment.
Pick A Hotel Chain
You are not a fortune-teller. Predicting how far you'll drive in a day is impossible. Fluctuating weather can set you back. On a good day, with zero traffic, you'll overshoot your goal. So, don't bind yourself to a reservation.
How do you combine the flexibility of knowing you have a place to stay with the option of multiple destinations? Book a hotel that's a part of a chain. This makes it easier to transfer reservations, should the need arise. It helps save money on nonrefundable reservations as well.
Pack a Variety of Snacks
Munching only on granola bars or Doritos can become boring. Ensure you pack a variety of treats so your taste buds remain satiated. Take a cooler with you so you can keep drinks cold. This is also an excellent way to reduce spending on overpriced drinks and food at roadside stores. Don't forget to pack some healthy options as well.
Carry An Updated Paper Map
While most of us have become dependent upon phone apps telling us exactly where to go when driving, they should not be your sole form of navigation on a road trip. Phones can malfunction, lose signal, or run out of battery. When you have no idea where you are, a good old map can be your savior.
Always carry an updated paper map. If your only maps are a decade old, or even two years old, it's time to replace them. Roads can change over time, and it will do you no good looking for a turn that no longer exists.
If you don't have a lot of experience using a paper map, you may want to watch a tutorial video first.
Don't Forget Your Emergency Kit
While it's unlikely that your car will break down in the middle of nowhere, with no cellphone signal available, it certainly isn't impossible. You need to be prepared for any situation.
Pack an emergency kit with a flashlight, spare batteries, a power bank, common tools, and a first-aid kit. If you are traveling in the winter, extra blankets are essential. Think about any items you absolutely could not live without if you had to spend a night stranded in your car. Those are the items that should be in your emergency kit.
Get Insured
Though you may not be able to predict everything that could happen during a cross-country drive, you can be prepared with road trip travel insurance. Road trip travel insurance can provide a variety of benefits, including coverage for road trip-related losses related to trip cancellation, and trip interruption for weather-related events.
Dress For Comfort
When you're spending all day driving or sitting in a car, fashion is less important than comfort. Wear outfits that don't bind or constrict, and make sense for the weather. Being comfortable and alert behind the wheel should take precedence over how you look in your Instagram story.
You should also keep in mind the preferred temperature of your passengers when deciding what to wear. If your passenger prefers to blast the air conditioner, it's better to dress a little warmer than to argue over the thermostat for the entire trip.
Seat Hacks
Is your car seat truly comfortable? If you've never taken it on a long trip, you may not know. If your seats have all the adjustments, take time to dial them in just right. If they don't, you may want to invest in a seat cover. Different seat covers can provide additional lumbar support and neck support; some are even heated, or offer massage settings. After several days of driving, you may really appreciate these small comforts.
Before You Go…
The most important thing to remember is to enjoy yourself. It is okay if you miss an exit. It's okay if you didn't spend enough time at the attraction. In some cases, a road trip is as much about the journey as it is about the destination itself. So, plan your route, buy travel insurance, and use these tips to enjoy a safe trip.
We are sorry that this post was not useful for you!
Let us improve this post!
Tell us how we can improve this post?