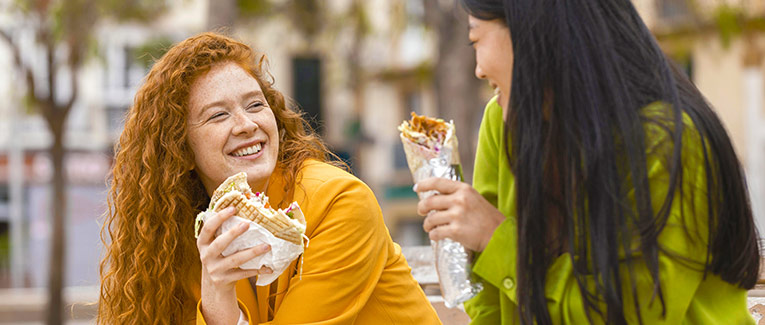 Food is one of the many charms of traveling. Some even travel solely to explore cuisine around the world. Although these days your first source of information is usually the internet, can online reviews be trusted? Not really.
According to a Harvard Business School working paper, each additional star on Yelp for any particular restaurant increases its revenue by five to nine percent. Individuals, as well as businesses, take advantage of this by exploiting the rating system.
But as a foodie, where does that leave you? Believe it or not, the world worked perfectly fine before the internet. There are many ways to find good food abroad without Googling it first. If you're wondering, "How do I find good food while traveling?", this article is for you. Read this guide to learn how to find the best places to eat abroad.
How To Find The Best Places To Eat Abroad
Use Old-Fashion Food and Dining Magazines
Popular magazines like Bon Appétit, Gastronomica, and Eating Well have been around for ages. The information they provide on the local food scene is only the tip of the iceberg. These magazines are rich sources of recipes, drool-worthy food images, and how-to guides. Some even talk about organic farming practices, food cultures around the world, and the bizarre black markets around exotic food items. They are definitely a treat for a real foodie.
Go Where the Locals Go
Isn't traveling all about building a connection? You might think, "How do I find out where the locals eat?", here's your answer. Reach out to a local while sightseeing; ask more than one person. If you stop at a supermarket, chat with the teller at the counter. Talk to the shopkeeper when you are out souvenir-hunting. Chances are they will be more than glad to share their secret dining place.
Try the Local Markets
You will find local markets in almost every city. Often teeming with local delicacies, these markets are a great place to start your food journey. Farmer's markets and local bakeries are often replete with fresh produce and authentic local cuisine. They are also a great source of information on local specialties and the best restaurants in the neighborhood.
Turn to the Streets
From Mumbai to Miami, cities are famous for their street food. Humble-looking food stalls in these streets whip out the most flavorful cuisine, usually at modest prices. However, be cautious about hygiene. Look for telltale signs of vendors neglecting common sanitary protocols. Know what you are eating. If something smells strange to you, ask questions, and be wary.
Avoid Restaurants in Tourist Places
There are few dining experiences worse than a place reeking of "tourist trap." Even the best food destinations in the world are often swarming with crowded, overpriced, and substandard restaurants. Steer clear of these establishments unless you have no other choice.
Look Out for Warning Signs
A menu will often tell volumes about the restaurant. A large menu with too many shiny food pictures and ridiculously low (or high) prices equals a dining disaster. If a restaurant serves more than three cuisines, be wary. It's hard enough to master one. Food displayed on the window is another big no-no.
Be Adventurous
Sometimes all it takes to get lucky is to get lost. Wander around the neighborhood to discover hidden gems. Look for inconspicuous cafes tucked away inside an alley. If you find one, ask for the special item of the day. You may be pleasantly surprised at what turns up. If dissatisfied, look for the next big adventure.
Trust Your Olfactory Sense
When you're wondering, "what are the good places to eat near me," trusting your nose is never a bad idea. It can often lead you to surprisingly happy places, especially where food is concerned.
If You Do Get Sick
No matter how careful you are, trying an unfamiliar dish in a new country can sometimes make you ill. Food poisoning, or an allergic reaction to an unexpected ingredient may leave you seeking medical attention. In case this happens to you, be sure to have travel medical insurance or travel insurance. Proper insurance coverage can allow you to receive the medical care you need, without being saddled with a huge bill you're solely responsible for.
Ask Your Hotel Manager
If you want to know the best places to travel for food nearby, ask your hotel manager. Your hotel manager is also local, and probably quite knowledgeable when it comes to dishing dining advice. However, sometimes hotels may have agreements with certain local restaurants, and their advice may often be shadowed by favoritism that adds nothing to your dining experience.
How to Find the Best Places to Eat Abroad – Go On a Food Tour
Let's wrap up this article with one final tip. These days, you can easily find guides offering food tours around many cities. It is a fun way to meet fellow travelers, explore lesser-known areas, and try authentic lip-smacking cuisines. Food is the perfect conversation starter; in case you feel awkward about going out with strangers. And when mixed with local history and a new culture, it makes for quite a heady cocktail of a trip.
Now that you know how to find the best places to eat abroad, the information will make your trip even better.
We are sorry that this post was not useful for you!
Let us improve this post!
Tell us how we can improve this post?