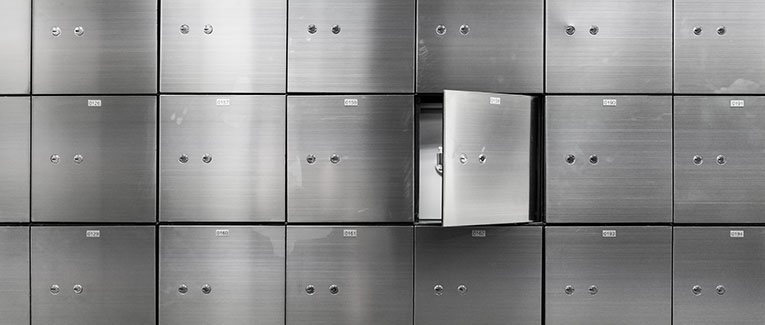 Does researching bank locker costs in the U.S. get you frustrated? We'll tell you why.
What people in other countries refer to as lockers, Americans call safe deposit boxes or safety deposit boxes.
They're the same thing: a box in which you can store your valuables in a secured storage space like a bank vault. A safe deposit box in a bank means only authorized persons have access to it, whether it contains your jewelry, your important documents, or both.
A Few Things to Know About a Safe Deposit Box
You can rent a safe deposit box in a bank or a credit union near your place of residence. The ones with federal insurance are safer.
The cost of a safe deposit box varies from bank to bank. It also depends on the size of the box and the location. The same bank may have different rental rates in different branches.
The length of a safe deposit box is generally between 18 and 24 inches (about 45–60 centimeters). The breadth and the height can vary from 2 inches by 5 inches (5 cm by 12 cm) to 10 inches by 10 inches (about 25 cm by 25 cm). The costs will differ accordingly, of course. The rent for a safety deposit box ranges from $18 to $300 per year.
You May Get a Free Safe Deposit Box as a Premium Customer
If you are a member of a premium banking program, you may get a complimentary safety deposit box. Premium banking programs, however, are designed with the rich in mind.
You either have enough money to maintain a high opening balance always, or you pay higher monthly fees to the bank. The high balance can be a combination of deposits and investments. That's the basic norm of premium banking programs.
You can get a free safe deposit box at JPMorgan Chase, for instance—if you have the kind of money needed to become a Chase Private Client Member or a Chase Premier Plus Checking Member.
To be a Premier Plus Checking Member at JPMorgan Chase, you need to have a beginning day balance of $15,000 or more in your Chase account/s and investments.
You can also get this benefit if you have a qualifying first mortgage at Chase. But you have to get that linked to automatic payments from your Chase account.
Otherwise, you need to pay a service fee of $25 per month.
To be a Chase Private Client Member, you need to maintain a daily balance of $150,000 in your Chase accounts and investments.
Not all banks offer a complimentary safe deposit box to their premium members. Nor does the same bank offer a free safe deposit box for all their premium programs. Be sure to ask for details.
A Senior Citizen May Get a Free Safety Deposit Box
Bank of America offers a small safe deposit box free as a part of its senior account package. Anyone aged 55 or older qualifies to have a senior account at Bank of America. However, there are special terms and conditions attached to getting a free safety box.
Getting Discounts Is Easier
The U.S. banking system is not aligned with offering free safety deposit boxes. Getting a discount on the annual fee is easier. Some premium banking programs offer such discounts.
The U.S. Bank offers discounts on safe deposit boxes rented to its Platinum Checking Members, for instance. You need to maintain a minimum balance of $25,000 at all times, taking your account/s and investments together.
You pay a monthly fee of $24.95 otherwise.
There are other banks that offer a discount on safe deposit box rentals if you opt for e-statements and no receipts for ATM transactions.
You'll Have to Do Your Own Research
With more than 5,000 banking and savings institutions across the country, it is impossible to present a comprehensive list of all the premium memberships that offer a free safe deposit box, or even the ones that offer a discount.
Once you know where you'll be located, visit the websites of the banks near you. Do the same even if you've already shifted to the U.S. Some of the smaller banks in your locality may offer a free or discounted safety deposit box.
Generally speaking, getting a free safe deposit box in a bank is not an easy option.
On a Cautionary Note
A report in The New York Times dated 19 July 2019 titled "Safe Deposit Boxes Aren't Safe" portrays a horror story about safe deposit boxes in banks. Other reports also corroborate that bank safe deposit boxes are losing their popularity.
The reason is the lack of protection against theft, damage, or loss of the valuables you keep there. Even in federally insured banks, safe deposit boxes do not fall under any specific regulatory norms.
The Office of the Comptroller of the Currency is the main federal overseer of the banking sector. The New York Times report quotes a spokesperson of this office to underline that there is no specific federal regulatory oversight guiding protection of safe deposit boxes.
The result is that it is very hard for customers to get reasonable compensation in case the contents of their safe deposit box get damaged, stolen, or lost. Of course, many items in the box may be priceless because of their sentimental value, for which no compensation is possible.
On average, about 33,000 boxes get their contents stolen, damaged, or lost every year. That indicates that safety deposit boxes aren't all that safe, after all. You could well make a one-time investment of making a hidden safe at home.
The Sensible Alternative
People are increasingly choosing home safes over bank safe deposit boxes. As for important documents, younger people inevitably choose digital safekeeping.
Even if you choose to keep your valuables in a safe deposit box in a bank vault, ensure that you have physical and/or digital copies of all your critical documents. That would be our final counsel.
We are sorry that this post was not useful for you!
Let us improve this post!
Tell us how we can improve this post?