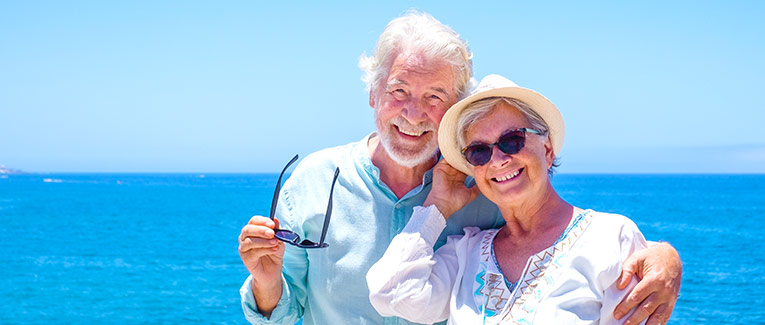 When you're a senior citizen, traveling isn't as easy as it used to be. Back in the day, you could gobble down some ramen from a street-food vendor in Japan, or you could take off on a backpacking trip through Cambodia and share rooms with strangers.
But now, security is your number one priority when you travel. You probably wouldn't even book a hotel room unless it has a deadbolt on the door. So, how do you stay safe and still have fun on your next vacation? That's what this article will help you with. In the next five minutes, learn all about how to stay safe on a trip.
How to stay safe on a trip – safety tips before you travel
1. Assess the safety level of your destination
Going to a new country can be exciting. But the worst thing you can do is to choose risky places that are infamous for unrest or armed conflict, or a location that is prone to natural disasters. So, how do you steer clear from such countries?
Look up the travel advisories listed by The Bureau of Consular Affairs (U.S. Department of State). This website categorizes destinations according to their threat levels.
Level 1: Exercise Normal Precautions
Level 2: Exercise Increased Caution
Level 3: Reconsider Travel
Level 4: Do Not Travel
If your destination is classified as a Level 3 or Level 4 threat, you're better off going someplace else.
2. Enroll in the Smart Traveler Enrollment Program (STEP)
If you are a U.S. citizen or national, register your trip with your nearest U.S. Embassy or Consulate through the Smart Traveler Enrollment Program (STEP). The program shares the tour safety guidelines with you.
The Embassy can send you important travel and safety information regarding your destination
In case of a crisis, the Embassy and your family can get in touch with you
3. Plan for the unexpected by getting insurance
Imagine arriving at your destination, only to find out that one of your bags is missing. The worst part being that this bag had your medications and your passport. So, how does a senior traveler like you prepare for this situation?
Buy travel insurance that provides coverage for lost, stolen, or damaged baggage. Your baggage can be covered if it was lost by the airline or hotel while on your trip.
Head over to Insubuy and compare dozens of plans from reputed insurance companies, and buy the plan that is best suited for you. Study the policy carefully before making a purchase, so you understand what is, and is not covered.
4. Don't leave home without your medications and health records
Here's a to-do list.
Carry copies of your medical records and prescriptions if you have a preexisting medical condition.
Take enough prescription meds to last you your entire trip plus an extra 10 days, in case you get delayed.
Carry a few essential medications like travelers' diarrhea treatment, antibiotics, cough drops, and antacids.
Pack all your medications in your carryon bag.
Keep a list of both the generic and brand names of your meds if you're flying abroad.
Check with your doctor about food items that can react adversely with the medications you're taking.
Discuss with your doctor possible vaccines you need, and do this at least a month before you set off. If you're from the U.S., browse through The Centers for Disease Control and Prevention website to know more about destination-specific vaccines.
If you're heading off to the tropics, carry some insect repellent with 30% DEET, as well as Permethrin-treated clothing to keep those pesky mosquitoes away.
How to stay safe on a trip – safety tips during your flight
1. Sit, stand, stretch, repeat
Long flights can be arduous, especially for senior travelers. Not to mention the risk of deep vein thrombosis. This is when a blood clot forms in a deep vein, commonly in your legs.
But, don't let that scare you. Take strolls up and down the aisle, wriggle your toes, bring your knees into your chest, and do calf exercises that can get the blood flowing into your feet.
Here are some additional tips:
Wear compression socks. They stop blood clots and reduce pain and swelling.
Book an aisle seat for more legroom.
2. Say no to alcohol and sedatives
When the flight attendant offers you a free glass of beer, please say 'No.'
Instead, fill up your water bottle at the airport and sip on it frequently while flying.
Stay clear of sedatives, motion sickness pills, and antihistamines. You don't want to fall out of your seat or worsen your jet lag, do you?
Tips to protect your cash and cards
Our top tips:
Carry only a small amount of cash.
Take two credit cards in case one gets stolen.
Always keep an eye on your credit card while a transaction is being made.
Regularly check your card transaction history to make sure everything adds up.
Carry a few traveler's checks. These are for places where credit cards aren't accepted, or where there aren't many ATMs.
You could even carry a 'dummy wallet' with very little cash in it. Something that you can just hand over and walk away, in case you're confronted by a mugger.
Pro tip: Wear a travel money belt (an RFID blocking one if you're wary of hackers). Store your cash, credit cards, passport, and emergency information in it.
How to stay safe on a trip – safety tips during your stay
1. ALWAYS lock your hotel room door
One of the best vacation safety tips we can offer is always to lock your hotel room door. Make sure your door locks work, and use the security chain on your hotel room door. Don't forget your keys when you leave the room.
For extra security, you could consider:
A doorstopper
A travel door alarm: If anyone tries to enter, a loud alarm will go off.
A personal alarm. Keep it by your bedside. If someone tries to enter, push its button to set off an alarm
2. Hotel safes are not that safe
If you're carrying valuables with you:
Put them into your luggage
Lock your luggage
Use a micro-lock with a retractable cable to secure the luggage to an immovable object in the room, like the bed's headboard
3. Understand the hotel's layout
You know that drawing of the hotel layout that's on the back of the door? Read it.
If there's a fire or any other emergency, you'll know exactly how to exit.
Expert safety tips
1. Don't give out your hotel name to strangers
What should you not do on a trip? Give out your hotel name to strangers. If someone asks you where you are staying, just tell them you are staying next to the airport or any well-known landmark.
2. Trust your gut – It could save your life!
If you're wondering what are the top 10 safety rules, start with trusting your gut. Find yourself in a place that gets your 'spider senses' tingling? Walk out of there!
If you feel like someone is stalking you or has been staring at you for quite a while, head for a crowded store or restaurant.
3. Learn about your destination
Research things like the best ways to get around, whether taxi scams are common, and if haggling is appropriate.
Knowing the local customs can keep you out of trouble. For instance, if you were traveling to Singapore, you should know that chewing or even carrying bubblegum can land you in trouble with unforgiving police officers.
4. Be prepared for emergencies
If you're traveling to a non-English speaking country, look up the local names for terms like 'help,' 'fire,' 'thief,' 'hospital,' and 'police.'
Store the contact numbers of your hotel, local police station, and the nearest hospital on your phone. You never know when they could come in handy.
Now that you know how to stay safe on a trip, don't let anything stop you from taking that trip you've been dreaming of. Travel safe!
We are sorry that this post was not useful for you!
Let us improve this post!
Tell us how we can improve this post?