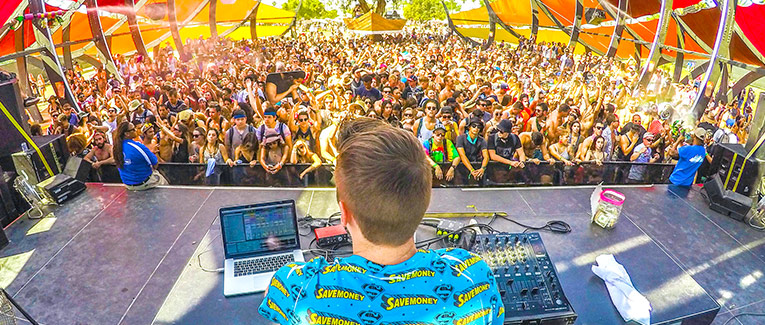 Do you want an escape? A music festival is exactly that. However, there's more to attending an international festival than just blindly choosing one and booking your tickets. The art of knowing, or figuring out how to survive music festivals is a rare one.
In this article, learn some mistakes you should avoid, know festival tips for first-timers, and how to have fun at a festival.
Answer This: Which Music Festival is For Me?
The short answer? It depends on your musical taste. If you like bootleg, or electronic dance music (EDM), you'd be significantly out of place at a country or alternative pop music fest.
Luckily, these days there are so many festivals available to choose from; the hardest decision is deciding which festival to go to and which ones to miss.
Each festival will feature a tailored experience for you Some specialize in all-night raves, some are famous for their outdoor concerts, and so on.
Once you've decided on the festival of your choice, it'll be time to make arrangements. Most will issue you a wristband at the entry gates, which is valid for the entire day, or sometimes for the entire duration of the festival — so don't lose it.
At these once-in-a-lifetime experiences, here are our top tips to make sure you have the time of your life:
Pack What You Need, Not All You Can
No, you're not going to need a portable jacuzzi (yes, we've seen it all). Pack light, since you won't want to be stuck lugging around a bunch of stuff you don't really need.
Unless you're camping at the venue, the only things you really need are clothes. Pack lots of clothes – if you're dancing all day, you'll want to change regularly.
Also, pack according to the weather: if it's rainy, include a poncho and waterproof boots. A waterproof windbreaker wouldn't hurt either. If it's sunny, obviously don't pack a fur coat. Comfort has to be your number one priority, and if you can look snazzy while doing it, all the better.
In the festival survival guide and packing list we've compiled below, most are items first-timers tend to miss. Remember that this list is far from exhaustive and is aimed at hotel guests, not campers.
How to survive music festivals by packing right?
Seasonal weather protection. (Umbrellas, sunscreen, caps, and hats, boots)
Batteries. Why carry flashlights if you forget the batteries? Nowadays, this can be avoided with a rechargeable flashlight, charging it with a USB port from an outlet or or power bank.
Water. Sure, free water is available throughout the premises, but how do you navigate to the water stations in a crowd of 15,000 people? Carry a hydro backpack or a giant water bottle.
Snacks. You may not want to, but if you don't keep your energy up, you'll be flat on your back in no time— missing all the action. Plus, bringing your own snacks will keep you from having to trek to the food vendor every time you're hungry, and save you money.
Portable fans. These are lifesavers, especially in the sweltering heat with 10,000 other people jostling you about. Yes, those $2 fans you bought at a novelty store.
Wet wipes. In a situation where you'll frequently be sweaty, dirty, or using the bathroom in less-than-ideal conditions, wet wipes can be your savior. Bring a large pack of them.
Zip-ties. These can be used for everything under the sun: from cable management to closing up your unfinished snacks.
Extra Locks. Self-explanatory, and combination locks are the best— no hassles with keys.
Waist pouches. Yes, fanny packs are cliché, but they're needed at music festivals, from keeping your phone safe to holding your engagement rings.
A rug or carpet. You can always pull up some grass, but a nice rug definitely helps. Plus, it lets you get those great shots for Instagram.
This is how you do music festivals right.
Leave Super Early (Or Super Late)
Heading out with the crowds is a surefire way to add six hours to your total transit time: car lines on expressways and exits are ridiculous.
Getting to and leaving the venue early offers these benefits:
You can grab the viewing spots of your choice
You can actually wander about the venue a bit
You get first pickings at all amenities
You aren't blocked when you try to leave
You don't have to deal with miles-long exit lines
Not many first-time international music festival survivor guides tell you this.
Surviving A Music Festival Is Easier With Friends
This saying doesn't hold any truer than at a music festival. Sure, it's possible to have a blast solo, but friends make everything more fun.
These destination festivals provide an authentic bonding experience for old and new friends alike. You'll thank us later.
As far as groups go, The larger, the better. Beware that in large groups, conflicts can abound— half the group may want to see one artist, and the rest of the posse may want to see a different artist. In this case, split up and meet up after the shows.
Use Your Common-Sense Positioning System
Before setting out, choose a spot should anyone get separated from the group. The most important thing here is to be specific.
Don't say, "meet me near the left side of the stage." Instead, say, "if anyone gets lost, let's meet at the third water fountain, near the red hot dog stand."
Carry a flag too. This is a fun way to show off your allegiance to a good football team (or Chelsea), your country, or any other organization. A bonus is that it is tough to lose your friends if they are carrying a pole with a piece of cloth on the end.
Travel Insurance is a Must for Music Festival Survival
With any international trip, travel insurance is critically important to allow you to have financial protection in case something goes wrong. The importance of having it only goes up when you're spending your days (and nights) partying with tens of thousands of strangers. Take time to research travel insurance plans that can provide the coverage you need for your festival trip, and enjoy some extra peace of mind.
Let Loose
You didn't spend $5,000 just to sway to the music. Bust out your best moves, paint your face, cosplay as your favorite character; you can do it all at a music fest.
The best part of this is that no one will judge you in any way for doing so, even if you go to London's FSTVL dressed as Nemo, the fish.
Network! Make friends with your campmates, hotel guests, and bus groups. The most refreshing part of these gatherings is the opportunity to meet new people and discover what makes them tick.
These short friendships are the best: lifelong memories with someone whose name you won't remember in a day.
A music festival is a place where you can truly be ourselves, away from the burdening expectations of society. Want to cosplay as a fish? Done. Want to gargle with toothpaste and whiskey? No issues. Want to paint your face like a superhero? Go ahead, and we'll help you with it.
Now you know how to survive music festivals, Better still, you'll know how to thrive.
As we said, you can never put a price tag on an experience: you need to live it to relive it.
We are sorry that this post was not useful for you!
Let us improve this post!
Tell us how we can improve this post?