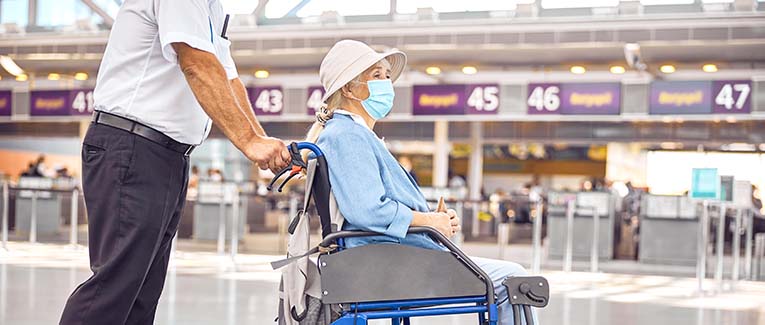 If you're a person with a disability, travel doesn't need to be difficult. No destination is off-limits, as long as you or your carer know how to travel with disabilities.
However, a little planning and some food for thought can make your trip more accessible.
Wherever you're headed — whether a day trip for disabled adults or a week-long vacation where the sunshine is — keep your needs in mind. Once you've considered the destination, you can start planning the trip.
This is where we can guide you along.
From special needs experts to travelers with disabilities, everyone has their own perspective. Here's some useful travel advice for your next trip.
1. Describe Your Disability
Communication is key when you're traveling with a disability. People around you won't understand medical terms. Giving details is essential about what you can and cannot do.
For example, people who are unable to clearly communicate verbally often travel with a deck of speech cards for easier communication.
While describing the disability, be clear about your condition and your mobility needs. Consider the environment you'll be visiting, and any equipment you may need in order to assist you in that environment. For instance, what you use to get around your home or city may not be practical for use on a beach.
Explain the disability in detail before booking flight tickets or your accommodation. This is essential to ensure your safety during the trip.
If you need any clearance for your journey, a doctor's note or a medical certificate can suffice. This is most useful when you're carrying medical aids or special equipment.
2. Know Your Rights When Traveling With Disabilities
People with reduced mobility can also seek help whilst traveling on a train, bus, flight, or cruise.
When you're traveling with disabilities, you can request assistance, but to what extent?
To make it simpler, go through every rule, clause, and right based on the destination.
When it comes to air travel for passengers with a disability, flight attendants cannot make biased decisions based on those disabilities. For example, they cannot prevent a person with a developmental disability from boarding a flight unless that person is deemed a threat to other passengers.
These determinations are made on a case-by-case basis.
3. Know More About Disabled-Friendly Air Travel
Informing your airline beforehand that you will need mobility assistance is useful. Plan this in advance when you're booking your tickets. It helps save time and energy.
Airlines will assign an experienced employee to travelers flying with a disability. There's staff to help you board the flight, if necessary. They can handle your luggage, and ensure the security check goes smoothly.
When you're deciding on flights, consider the flight duration. Long flights are an uncomfortable experience if you require assistance to access the airplane toilets. A better alternative may be a shorter flight, or connecting flights.
To make the journey favorable, you can also request a specific seat. For example, the bulkhead seat situated in the first row is accessible for wheelchair transfers.
You can also pre-order a meal per your dietary requirements while booking a flight.
4. Book Disabled-Friendly Accommodation
Look for a hotel ideal for stay during vacations for special needs adults.
There are hotel infrastructures designed for travelers with different levels of mobility. Whatever hotel you choose, it must adhere to ADA requirements. The hotel team should provide adequate information about the room and its accessibility.
Describing your needs before booking your accommodation is essential. This ensures you receive a room that is built to accommodate your needs.
You can always check with the hotel to see if they provide mobility aids. From walking frames to roll-in showers in the bathroom, these aids ensure consistency in your daily routine.
Travelers using a wheelchair need more space to navigate. To enable this, the hallways and ramps must be wide enough to move about throughout the hotel.
Be aware that such hotels get booked fast, so finding a room at the last minute is difficult. Reserve your room in advance. For example, if you're traveling in June, make reservations in March or April.
Some other factors to consider can include facilities like pick-up and drop-off. The vehicle you're traveling in should be accessible if you're in a wheelchair.
5. Engage A Travel Agency Experienced in Trip Planning For Special Needs Adults
Specialized travel agencies offer customized packages for travelers with disabilities.
These travel companies know everything about vacations for disabled adults. Not only do they book your accommodation and flight, but also plan the entire trip for you. The trips can include activities like wine tasting, excursions, and more.
They can provide noteworthy services like adapted transportation, equipment rentals, and customized itineraries. These tours feature trained caregivers, chaperones, and guides with professional experience.
6. Confirm a Doctor's Availability
Accessible travel agencies can take care of your needs. But, there are travelers who prefer planning trips on their own.
If you're one of them, here's the first thing you need to do:
Always check with your doctor first.
While describing the trip to your doctor, be specific. Keeping your doctor's name and number accessible at all times during your trip is necessary. You should also carry copies of any prescription medications.
Take your doctor's advice on the kind of professionals you can contact in case of an emergency.
Create a checklist of available and relevant doctors at your destination. Keep them informed about your arrival.
Send them a copy of your prescriptions and medical records. To ensure a safe and hassle-free trip, the next step is crucial.
7. Get Sufficient Travel Insurance
Many people with a pre-existing condition have standard medical insurance that may not provide coverage during an international trip. Since holidaying with a disability comes with its challenges, travel insurance is very important.
Travel insurance is designed to assist individuals and provide coverage for unforeseen travel mishaps or medical issues that occur during your tip.
But, to access services for a pre-existing condition, be sure to research your eligibility for travel insurance with a pre-existing conditions waiver. This waiver allows exclusions for pre-existing conditions to waived under certain circumstances. It can be very beneficial for travelers with chronic, but well-managed medical conditions.
To find the best travel insurance coverage for you, visit Insubuy. It's a great place to access a range of travel insurance plans, so you can make side-by-side comparisons. You can even speak to an experienced representative to understand the difference between policies. Once you've found the right policy, you can purchase it directly from the Insubuy website.
8. Buy Accessible Travel-Tech
Digital accessibility is one of the biggest aids for travelers with disabilities.
Speech recognition apps provide a streamlined experience for individuals with altered fine motor skills. There are AI-enabled apps for travelers with vision impairment that can assist with navigation via voice instruction.
There are also accessible travel gadgets that can help break down barriers. There is wearable tech that empowers travelers with hearing impairments to use their sense of touch for communication.
Another great example is a portable grab bar that is light, sturdy, and a great fit in your backpack. It is useful for individuals with limited mobility.
Wheelchair users should invest in travel accessories, like a compact travel bag that allows easy access from the front or back while moving.
Now that you know how to travel with disabilities, go ahead and take a leap of faith, prepare well, and enjoy a safe holiday.
We are sorry that this post was not useful for you!
Let us improve this post!
Tell us how we can improve this post?