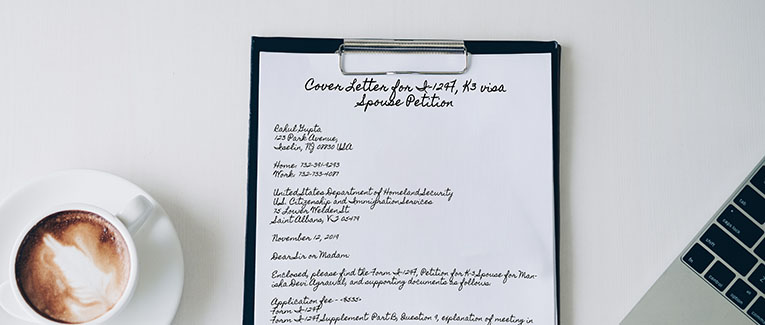 Rahul Gupta
123 Park Avenue,
Iselin, NJ 08830 USA
Home: 732-391-9293
Work: 732-733-4087
United States Department of Homeland Security
U.S. Citizenship and Immigration Services
75 Lower Welden St.
Saint Albans, VT 05479
November 12, 2019
Dear Sir or Madam:
Enclosed, please find the Form I-129F, Petition for K-3 Spouse for Manisha Devi Agrawal, and supporting documents as follows:
Application fee – <$535>
Form I-129F
Form I-129F Supplement: Part B, Question 9, explanation of meeting in person
Evidence of my U.S. citizenship
Form G-325A and photograph of the petitioner
Form G-325A and photograph of the beneficiary
Form FC-029
Copy of our marriage certificate
Copy of I-797C, Notice of Action, receipt notice for filing Form I-130
Copies of documents submitted are exact photocopies of unaltered documents, and I agree to submit original documents to an Immigration or Consular officer at a later date if required.
Yours truly,
<petitioner's signature>
Rahul Ram Gupta

For visitors, travel, student and other international travel medical insurance.
Visit insubuy.com or call +1 (866) INSUBUY or +1 (972) 985-4400
We are sorry that this post was not useful for you!
Let us improve this post!
Tell us how we can improve this post?