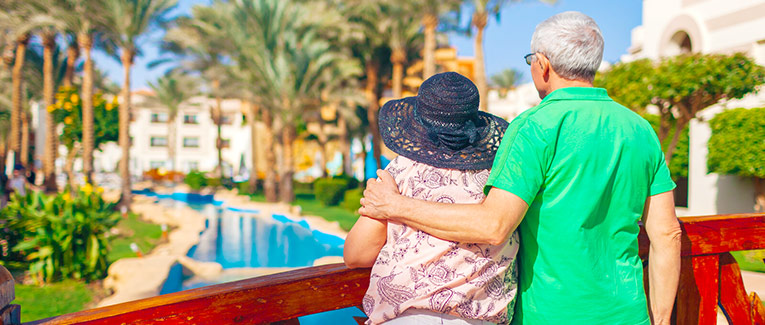 There are dozens of reasons why all-inclusive resorts are all the rage. They're affordable, convenient, and bring together everything you need for a relaxing vacation in one place.
A typical all-inclusive resort promises, among other things:
Three meals a day
Alcoholic and nonalcoholic drinks
Indoor and outdoor recreational activities
Pools and water parks
Sounds perfect, doesn't it?
But there are 8 big mistakes that vacationers staying at all-inclusive resorts commonly make that put a damper on their holiday experience. And some insider tips for all-inclusive resorts, that ensure you make the most of what the resort has to offer.
8 Mistakes to avoid + 8 insider tips for all-inclusive resorts
1. Believing "all-inclusive" covers everything
One of the biggest secrets of all-inclusive resorts is that it's not all free.
There's a limit to what your all-inclusive package covers. Amenities such as Wi-Fi, room service, guided or unguided tours, spa, child care, and premium alcohol are usually chargeable. Simply assuming it's all free can land you in a tough spot when it's time to pay the bill.
So, how to save on all-inclusive vacations?
Be smart and do your research before booking your stay.
Insider Tip: Make sure to inquire what all is free and what's not before booking at an all-inclusive resort. Complimentary services should in fact be the criteria for comparing different all-inclusive resorts before making a reservation.
Another common error made by vacationers headed to all-inclusive resorts is not accounting for the additional costs. Airfare, traveling to and from the resort, and baggage fees can amount to a substantial sum. Overlooking these costs can land you in a spot of bother if you're traveling on a tight budget.
2. Ignoring the resort's working procedures
So, you've checked into your room, it's a vacation, and it's all-inclusive. No need to fuss over the nitty-gritty of the resort, right? Not quite.
Want to know how to take advantage of all-inclusive resorts?
Learn the resort's schedule by heart, and do it early in your stay.
Most resorts display their activities timetable at a public spot for the guests' convenience. Most guests, however, pay it no heed. That's one big mistake.
Being aware of the schedules of different activities will help you plan your day accordingly. You won't miss out on dining at a restaurant because you weren't aware you had to make dinner reservations by a particular hour in the morning.
Insider Tip: The knowledge of the operating hours of the resort's bars, restaurants, and other guests' activities can help you enjoy their services when they're least crowded.
Many people learn the resort's schedule slowly, over the course of their stay. This causes them to miss out on the resort's free services for days. Don't repeat their mistakes.
3. Overindulgence
Free and unlimited food and drink are definitely tempting. Overindulgence is quite natural, but it's also a big mistake.
Consuming more food and alcohol than you can handle can lead to digestive issues. You also don't want to spend a precious day of your vacation hungover or being sick in your hotel room.
Moderation is the best reaction to temptation. If there are too many appetizing food choices, try them in bite sizes. One of the best solutions is to walk around and check out all of the food options. Then, once you've seen everything and decided what you want, get yourself a plate.
Insider Tip: When it comes to alcohol, wine and beer are usually the safest options for light to moderate drinkers.
Most people have a good understanding of the alcohol percentage in these drinks and can keep a tab on how much they've had. The alcohol content in cocktails and mixed drinks are hard to gauge, and you can easily end up consuming more alcohol than intended.
4. Falling for sales pitches
It's common for resort staff to approach you with lucrative deals on excursions to nearby tourist spots, timeshares, or upgrades to your existing package. It's part of their job. Your job as a guest looking for a merry, relaxing time is to politely decline such proposals.
While some of these deals may seem exciting, they can also end up eating away during your vacation time. It's ideal not to entertain such sales offers unless you have plenty of time on your hands.
Insider Tip: Let the resort personnel know that you'd prefer not to be approached with such proposals in the future. There's a good chance they'll relay the message to other sales-oriented personnel, letting you enjoy your stay in peace.
5. Missing out on complimentary activities
Most all-inclusive resorts have a wide range of complementary activities for their guests. These can include skiing classes, swimming classes, meditation and yoga sessions, golfing, treks, and guided tours to tourist hotspots.
These complementary activities are designed based on the resort's target consumer base. Family-friendly resorts offer plenty of activities designed for kids, as well as the whole family. If you're staying at a couples-only resort, you're looking at complementary activities such as private plunge pools, private boat rides, and private candlelight dinners.
Missing out on these free activities is definitely a big mistake.
Insider Tip: One of the biggest all inclusive resort hacks is to inquire about the resort's complimentary activities as soon as you check-in. This way you can plan ahead and make the most of every minute of your much-needed vacation.
6. Spending the entire vacation inside the resort
All-inclusive resorts are designed to include everything guests require for an enjoyable vacation. But, don't let that keep you from exploring and enjoying the outdoors.
Insider Tip: It's always advisable you research the area surrounding the resort for places and activities that may interest you. Your immediate outdoors can hold some real treats: adventure sports, great shopping spots, and natural wonders.
If you spend your entire vacation within the resort walls, you'll fail to make good on these amazing opportunities.
7. Not packing the essentials and personal care items
When you're off for an all-inclusive vacation, it's easy to get callous while packing for the trip The notion that most of your needs will be taken care of by the resort can cause you to make a grave mistake.
As for what to pack for all inclusive resort… The most important is your first aid kit.
All resorts have first-aid and basic medical supplies, but it's still advisable that you pack your own first-aid kit. This can be lifesaving if you face an emergency while traveling. Even within the resort's premises, prompt action on your part beats calling the resort's staff for help.
Insider Tip: In addition to basic medical supplies, pack sufficient quantities of any medicines you and your fellow travelers are currently taking. It's also advisable that you bring your own personal care items such as toiletries, deodorant, and sunscreen.
8. Not buying trip cancellation insurance
All-inclusive resorts usually require you to make reservations in advance. Some ask for non-refundable deposits. Others insist you pay the entire cost of your stay while booking. If you're forced to cancel your trip due to some reason, you'll end up losing a substantial amount of money.
Insider Tip: Buying trip cancellation insurance can help you avoid these financial losses. The right travel insurance plan can allow you to receive reimbursement for your pre-paid, non-refundable travel costs if you must cancel your trip due to a reason that's covered by the policy.
Most insurance plans cover cancellation reasons such as injury or illness contracted by you, your travel companion, or your family members. Other trip cancellation reasons typically covered by travel insurance plans are loss of employment, hazardous weather conditions, and military duty. Find a plan that works for you on Insubuy.
And with that, we wrap up our top insider tips for all-inclusive resorts.
Being aware of these mistakes and hacks will help you make the most of an all-inclusive resort's offerings, and ensure your stay is satisfying and memorable.
We are sorry that this post was not useful for you!
Let us improve this post!
Tell us how we can improve this post?