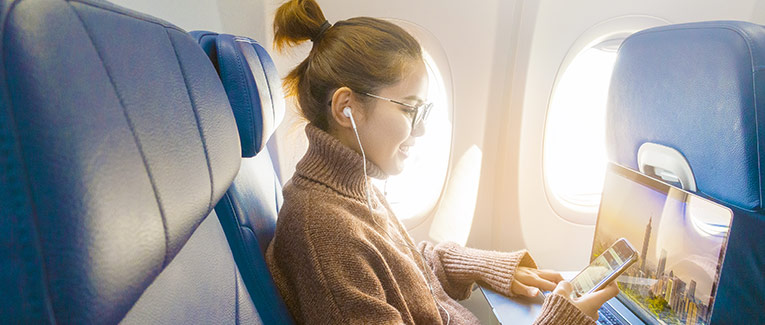 There are some pretty good reasons why some people do not enjoy airplanes.
Aside from the hassles of the actual flight, a traveler has to deal with airport security, rush hour traffic, fatigue, and in some cases, visa and immigration problems.
Here, we include curated and verified tips from frequent fliers to help you survive, and maybe even enjoy, your next long-haul flight.
Tips to Enjoy Your Next Flight
Packing
Save luggage space by wearing bulky items like coats and boots, and layering up.
If you don't have any checked baggage, let your airline know. Many carriers offer discounted fares for people who fly with only carryon luggage.
Items in your carryon should include all of your documentation and items that allow you to survive for at least three days should you lose your luggage.
Airline baggage fees, especially on Low-Cost Carriers (LCCs), are exorbitant. Some airlines may charge you per bag, some may charge you for weight.
If you're traveling with lots of luggage, ship it to your destination instead. These shipping services will deliver the bags to an address of your choice, or even have them waiting at the airport for you.
If you do decide to mail your luggage, call the airline and say that you're traveling with only carryon baggage and ask for any eligible discounts.
Transport (to and from the Airport)
Never assume that you will get that Uber. Aside from inconsistent arrival times, these ride services may refuse to carry extremely bulky luggage.
The safest bet is to book a local taxicab through a travel agency or booking service, and to do this well in advance.
Whatever time you estimate that you will need to be picked up, tack another hour onto that, because traffic is the most unpredictable thing on this planet.
Book your taxi a few days in advance, and put down a deposit to ensure that the taxi actually does show up.
Charging Your Devices
Even at small airports, their charging stations are always full. Work around this by carrying your own extension cord or power strips.
This way, you will not have to beg and plead with a stranger, or compare battery percentages on your devices. If all ports are full, just ask someone to swap their charger for your power strip, and then plug their charger into one of the sockets.
You can even charge multiple devices at the same time. If you opted for a surge-protecting model, you wouldn't have to worry about voltage fluctuations damaging your tech either.
These devices are cheap, lightweight, and compact. Just pop one in the side of your carryon, and you should be good to go. If you don't want to get a full-fledged extension board, another option is to get a multi-plug.
Pack Problematic Items Separately
You know that you need your laptops, phones, tablets, and other electronic devices.
You also know that it is likely to be an issue with the TSA. The solution is to pack all of these electronic items into a small bag, and put that small bag inside your suitcase.
That way, you can just take the small bag out of your suitcase to run them through the baggage scanner.
Another problematic item is water. You're not allowed to carry liquids above a certain volume on the flight. Airlines take full advantage of this opportunity by selling bottled water onboard the flight at sky-high prices.
Work around this by bringing a couple of empty bottles in your carryon bags and filling them at the airport water fountains.
Fill your bottles only after clearing security, though, because otherwise, they'll just make you throw the water out.
This is a free method to get water, but what about other beverages? A little-known secret is that frozen liquids are also allowed past airport security.
The TSA states, "Frozen liquid items are allowed through the checkpoint as long as they are frozen solid when presented for screening."
In-Flight Tips
Bring headphones to drown out ambient noises. Invest in a proper pair of noise-canceling headphones for the best experience.
Sort out your entertainment before leaving the house. Download songs and movies to your devices so that you do not have to rely on the airlines' spotty connections.
If you are the kind of person affected a lot by jetlag, book a nighttime flight and set your watch to the local time that you will be arriving. Then, let your body's circadian rhythm do the work for you.
You can also bring a mug and tea bags, and ask for hot water whenever you want to make some tea. If you are more of a coffee person, fill a tea infuser with ground coffee and use the same trick.
You Can Enjoy Your Next Flight
Somehow, we all seem to look forward to our travel destination, but tend to ignore the journey. The fact is, the experience we have in transit to our destination can have a big impact on how much we enjoy ourselves.
One way to help avoid having an unfortunate travel experience is by purchasing travel insurance prior to your trip. If you encounter a situation such as a flight delay, cancellation, lost baggage, or other travel mishap, your insurance may be able to assist you in the form of financial compensation. Since it's impossible to avoid the possibility of a few travel snags, it's best to have insurance in place to protect you.
If you follow these tips, you will hopefully learn to savor the ride as well as the destination.
We are sorry that this post was not useful for you!
Let us improve this post!
Tell us how we can improve this post?