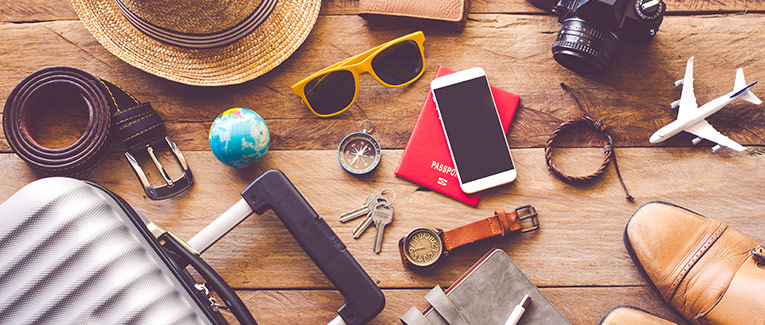 Traveling is fun, but not all the time. You may have experienced an awkward moment on a trip that is embarrassing. Enough to make you cringe: Think squat toilets.
To save you from this discomfort, consider a few unique travel accessories. Though some of these gadgets may make you blush, the convenience is worth it. They can make your life a whole lot easier when traveling. Let's take a look at them.
1. Urination Aids
Imagine not being able to use the bathroom when you're traveling. It's unpleasant.
To make such moments less stressful, there are urination aids designed for men and women. For instance, if you want to avoid a public restroom or do not have access to one, there are funnels that allow anyone to urinate standing up.
Urination aids are portable, which means you can slide them into your bag unnoticed. Some are reusable. So, an eco-conscious consumer can find comfort in their sustainability.
2. Waterproof Wristbands
When you're washing dishes at your Airbnb or using a public restroom, wet sleeves can be a real hassle.
Waterproof wristbands may be the solution you never knew you needed.
These sponge-type wrist bands absorb water before it can reach your sleeves. They're comfortable, reusable, and easy to pack.
3. Inflatable Travel Pillows
Feeling sleep deprived on a long-haul flight? We hear you.
Unlike solid memory foam pillows, inflatable travel pillows occupy less space. They have an inventive design featuring a soft, breathable cover. While some come with an air pump to adjust the firmness, there are others you can inflate with a few puffs.
Inflatable pillows come in different shapes accommodating many types of seating positions. They reduce pressure on the neck, and relieve stress around the lumbar region. They also help maintain healthy breathing while you're sleeping. They are one of the best travel gadgets for long flights.
4. Wearable Sleeping Bags
If you find yourself camping or spending time outdoors in a cooler environment on your trip, a sleeping bag is a great thing to have…until you have to get up. A traditional sleeping bag exposes you to the chill anytime you need to perform an activity.
Wearable sleeping bags are the solution.
Though they aren't a new concept, they've gained popularity over the years for being ultra-mobile. They have adjustable features like zipper-less extensions to accommodate your arms and legs. There are a few models that have zippers to open the bottom half for easy maneuvering.
Wearable sleeping bags are lightweight gear made from waterproof fabric. Designed to protect your arms and legs, they keep the body insulated. The perfect combination of form and function, wearable bags offer more than just comfort.
5. Removable Underwear
Traditional undergarments have their drawbacks when you're traveling. With no restroom in place, how do you put on a fresh pair without drawing too much attention?
You can't stop wearing underwear, right?
But there are unique travel accessories that value your independence and privacy. Say hello to clip-on underwear. It's your best friend when you need it. Removable underwear is made from breathable fabric, and is easy to wash and quick to dry.
These clip-on underpants are a stress-free option when you're on the go. They feature a clip insert that lets you strap on a pair in a discrete way. You no longer have to worry about unhygienic bathroom floors or baring your bottom in a forest.
6. Air-Conditioned Clothing
Even if you're accustomed to wearing a suit on a business trip, you don't want to meet your colleagues drenched in sweat.
This is where air-conditioned clothing has made a difference. Air-conditioned garments feature lightweight personal cooling devices, discreetly powered by batteries, and controllable with your smartphone. With one of these shirts, you can be cool and comfortable no matter what the weather.
7. Mini UV Sanitizers
Most of us have become familiar with the ritual of applying hand sanitizer when out in public. However, too much alcohol-based sanitizer can dry out your hands, and it does nothing to actually sanitize any of the items around you.
This is where a portable UV sanitizer comes in.
According to an FDA report, UVC light is capable of killing 99.9% of pathogens. Mini UV sanitizers usually come in the form of easily packable wands, and are ideal for sanitizing small surfaces, such as the seat of a train, or a door handle. Pack one of these along to reduce your chances of contracting germs from high-touch surfaces.
8. Portable Washing Bag
A portable washing bag allows you to clean clothing with nothing more than some soap and water. If you're traveling by car, camping, or in any other situation where you do not have access to laundry facilities, they can be lifesavers.
For people who like to pack light, a portable wash bag is quite handy. Such travel gadgets are often made from flexible fabric so you can massage the sides for a quick wash.
9. Waterless Travel Items
When you're hiking to a remote place where water is scarce, you'll need a waterless kit. It includes everything from a waterless toothbrush to toothpaste tablets.
An even better gadget to add to your adventure kit is a self-purifying water bottle. All you need to do is fill the bottle with water (from a river or a pond) to filter out impurities.
10. There's More?
Every smart traveler loves an innovative gadget. Consider a collapsible coffee maker to bring familiarity to your routine.
Ever heard of mini printers? If you need a quick print of your passport, here's a pocket-sized solution. These Bluetooth-enabled mobile printers don't even need an ink cartridge. You can print out photos from your smartphone anywhere, like when you're at the airport or out on a school trip.
These Travel Gadgets Are Weird, but Useful
Some of these travel gadgets have an odd design, but they're resourceful. The weirdest ones have solved problems that are common amongst travelers.
For instance, a solar-powered inflatable lantern that comes to your rescue in the darkest hour. Travelers adore this sustainable light source because it's an emergency relief — and very portable.
Another bizarre gadget to come across are metal-detecting sandals. Though beachcombing isn't everyone's cup of tea, the sandals do have a safety benefit. They keep your feet from stepping onto sharp metal objects.
What Gadgets are Right for You?
Obviously, not every traveler will need every item on this list. A wearable sleeping bag isn't of much use if you're vacationing on a tropical beach, and you can probably forego the air-conditioned shirt on an Alaskan cruise. However, if you have run into a travel situation where you wished there was a portable solution, these gadgets prove that there very well might be.
Regardless of your taste in travel gadgets, one thing no traveler should ever leave home without is travel medical insurance or travel insurance. Your insurance plan may not be able to sanitize surfaces before touching them, but it can provide medical coverage if you end up getting sick. There is also a wealth of other benefits, ranging from coverage for flight delays and cancellations, to lost passports or luggage. The money you save could allow you to buy even more cool travel gadgets.
We are sorry that this post was not useful for you!
Let us improve this post!
Tell us how we can improve this post?