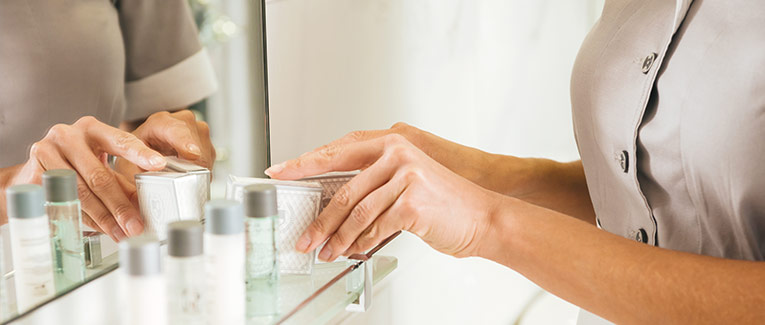 This list is made up of the items that hotel guests often mistake for freebies when leaving a hotel. The silver lining is that even in the cost-slashing era, there are still some complimentary items that you can take from your room.
To answer a very common question: No, unfortunately, you cannot take the bathrobes. There is a loophole around this though, so keep reading.
This article is about what you should, and more importantly, should not take from your hotel room.
Free Items That You Can Take Home from Your Hotel Room
1. The Basics
Typically, you can pack any consumable items that you find in your room. These include items like soap, shampoo, water bottles (except those from the minibar — these are chargeable.), conditioner, shaving products, earbuds, earplugs, body lotion, toothpaste, and shower caps.
If the item is only for one-time use, it's a safe bet that you can take it home with you. Taking toiletries such as toilet paper and hand soap isn't exactly allowed. The main reason why hotels would like guests to leave their toiletries behind is to make sure that their staff wasn't slacking off on that particular room.
Nowadays, if the basic toiletries are not provided, most guests assume that it's due to cost-cutting efforts and often don't inform the front desk, snowballing this effect.
2. Sewing Kits
If you find a sewing kit, you are generally allowed to pocket it. Yes, buttons, strips of felt and all.
Some hotels provide these kits to counter those unlikely snags on furniture or doors, and do not have the time to wait for the hotel tailors.
Some higher-end hotels even provide a nifty stitching gadget that is shaped like a stapler, so feel free to take this with you — even if it only serves as a conversation piece.
3. Instant Tea And Coffee Sets
There is a chance that your hotel may outfit your room with complimentary coffee or tea sets. These typically contain tea bags, sugar sachets, instant coffee single-use packets, and maybe even dehydrated milk powder.
You can always drink the hotel tea and take these home. They are perfect for the days when you come back tired from work and don't have the energy to make yourself that cup of tea. These will save you that effort.
4. Stationery
Hotels often provide commonly used stationery (pens, pencils, notepads, envelopes, letter-paper, and registers) with their logo on it.
This is a subtle form of marketing and hence, guests are usually allowed to take these away.
Magazines, however, should not be removed from the hotel room. You should return these to the rack or cupboard if they are provided in your room.
5. The Bathrobe And Slippers
The slippers are absolutely okay to take, because the hotel just throws them out anyway. The bathrobes, however, should remain in the hotel room.
If the bathrobe is monogrammed with your initials, then it is permissible to pack it away into your suitcase. If there is no monogram on the robe, or if it has the hotel logo on it, you are meant to leave it behind in the room.
Things That Are Not Meant To Be Removed From Hotel Premises
In addition to the TV, mattress, and bed, you're also not allowed to take the lightbulbs, remotes, and any decorations.
If you steal an item from a hotel room, the hotel chain will simply auto-bill you for the item. One hotel even has it in its policy: "We value the comfort of our guests, so if they like any of our items so much that they want to take it home, we offer to sell it to them."
That's just a really nice way of saying "If something goes missing, we will bill you." If you decide to not take the items in the previous list, there will be no penalties.
If you do take any of the items in this list, there will not only be penalties, but repercussions as well.
1. Sheets, Towels, Bed Linen, And Pillows
A survey by the Telegraph revealed that 68% of people steal towels from hotel rooms. This makes it significantly harder for hotel workers to do their jobs.
Towel-theft is also the reason why so many hotels now ask for a rather large upfront security deposit. Given the popularity of the thefts, the hotels end up incurring significant losses.
2. Clothes Hangers, Laundry Baskets, And Mugs
These are some of the most common forbidden souvenirs that guests have been known to take home.
The wooden or plastic clothes hangers are strictly off-limits — possibly more so than the expensive bathrobes.
This is because it's often these little things that frustrate the next guest in the room. A guest will probably be okay with a missing robe until it can be replaced, but missing hangers are an immediate need when unpacking.
3. The Electronic Amenities
Even if you are paying for the most expensive suite in the place, electronics are not supposed to be taken home.
Electronics include hairdryers, curlers, tablets, clock radios, cable TV boxes, steam irons, and tea kettles.
Consequences of Taking Things from Hotel Rooms (That You Shouldn't)
Suppose, in your enthusiasm, you absentmindedly take an item from hotel premises that was supposed to be left behind. What happens now?
Well, the hotel will find out about it pretty soon, as they usually conduct an inspection of each room before the next guest is due to arrive.
If they find an item missing, they will simply charge the difference to the credit card that they have on record. This charge may usually include the full cost of the missing item, plus a penalty fee. This may appear on your credit card statement individually under an "inconvenience fee," or be attached directly to your bill.
In some countries with stricter laws against stealing, you may face jail time should the hotel decide to press charges. For example, a man in Nigeria was stuck with a jail sentence for stealing a significant amount of hotel towels.
Therefore, by all means, take what you're allowed, but be aware of the items that you are grabbing.
There's a simple solution to avoid extra charges and possible jail time: when in doubt, ask. Phone the front desk before popping something into your luggage.
There's No Need to Leave the Necessities Home
One reason some travelers neglect to bring certain items with them on an international trip is due to the possibility of lost luggage. They figure it's better to not risk the loss, and simply take what the hotel provides. However, with travel insurance, you don't have to worry so much about a bag going missing. If it's covered under your policy, you can file a claim for compensation, not to mention a host of other benefits, should you need them. With insurance in your corner, you can pack that comfy bathrobe, those plush towels, or those handy electronics, and leave the ones at the hotel back where they belong.
We are sorry that this post was not useful for you!
Let us improve this post!
Tell us how we can improve this post?