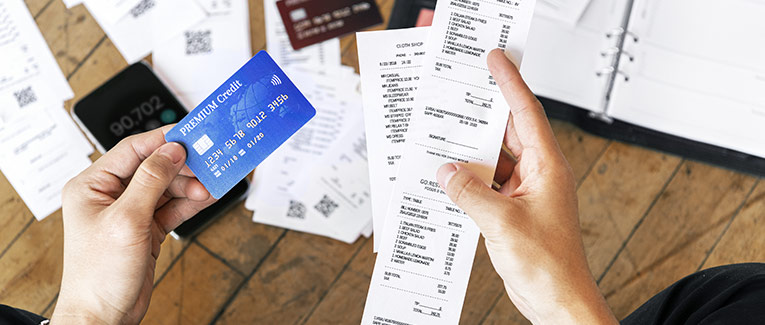 Imagine you went to Japan. You bought a DSLR that cost you ¥358,000 ($2,700). However, you noticed an additional $81 for the purchase in your credit card bill. This extra amount is the international transaction fee.
The amount appears small at first glance, however, think about how many times you use your credit card during travel.
These international transaction charges build up fast.
Two Types of International Transaction Fees You Pay
You pay two types of international transaction fees: fees for purchasing anything with your card, and fees for using a foreign ATM.
1. Fees for purchasing products with your card
Visa and MasterCard, two leading card issuers, levy a 1% international transaction fee when you buy something while traveling outside of your home country. The banks also charge an additional currency conversion fee. The fee adds up to another one to three percent.
In addition, the transaction fees apply when you buy products from a foreign website. You don't need to be physically present in a different country.
Furthermore, if you're from the UK, you will soon be paying even more. In 2015, the European Union capped the interchange fees that companies charge to EU countries.
MasterCard confirmed the cap won't apply to British shoppers in some transactions. The new rule came into effect after Brexit.
Starting October 15th, 2021, UK shoppers must pay a 1.5 percent credit card charge instead of the earlier 0.3. Furthermore, debit card transaction fees shot up to 1.15 percent, as opposed to the earlier 0.2 percent.
As per Callum Godwin, Chief Economist at global payments consultancy CMSPI, every sector where the merchant operates from the EU and the customer is in Britain will be affected.
It won't look like much at a glance; however, the fees add up fast.
2. Fees for using a foreign ATM
You know how you pay a fee for using an out-of-network ATM? Banks charge a similar fee when you use a foreign ATM. In addition, you pay the usual international transaction fee.
The fee varies depending on the bank and the credit card company. Also, depending on the bank and ATM you use, you might be notified of the extra fee before withdrawal.
Five Ways to Avoid or Reduce International Transaction Fees
1. Know the fees beforehand
Banks want to advertise the benefits of their credit cards, so they bury international transaction fees deep inside the terms and conditions of the credit card agreement. It's natural to miss out on them.
Be sure to check the agreement for international transaction fees, and call your bank if you're unsure.
2. Get a card with no international transaction fee
Banks are now offering cards with no international transaction fees.
US News published an article titled "Best No Foreign Transaction Fee Credit Cards" in May, 2021. In it, they compared 10 credit cards that have no international transaction fee. About 60% of these cards either charge no annual fee, or waive it for the first year.
Three of the best cards with no international transaction fee are Chase Sapphire Preferred® Card, Discover it® Miles, and IHG® Rewards Club Premier Credit Card.
Capital One also offers both credit and debit cards with zero international transaction fee.
3. Steer clear of prepaid cards
Prepaid cards appear worthwhile on the surface, however, the fees render them useless.
These are the four types of fees you pay when you buy a prepaid card:
You pay an activation fee for your prepaid card.
Banks charge you a monthly fee on your card.
You pay a fee every time you withdraw money from the ATM.
You pay a fee for not using the card.
These fees add up and you end up paying a hefty sum. The charges can become unbearable.
In addition, customers face difficulties in activating, registering, and handling the cards.
4. Pay in cash
You save the most money when you pay in cash. Keep cash with you whenever possible. If you withdraw money from the ATM, withdraw large amounts in each transaction.
5. Choose banks with low-to-no international transaction fees
Opt for online-only banks. Contrary to traditional banks, these banks charge fewer service fees.
The lower operating costs enable these banks not to charge international ATM fees. Furthermore, some of these banks reimburse both international and domestic nonnetwork ATM fees you pay.
Smaller banks also partner with international organizations; when you use these partner organization ATMs, you save on the fees.
A larger bank offers a worldwide network of ATMs, allowing you to enjoy fee-free withdrawals.
A premium checking account also offers lower ATM fees. The higher monthly fees and higher minimum balance, however, turn them into a less viable option.
Know the tricks to avoid international transaction fees
Banks stay within the law when charging international transaction fees. However, the fees serve as a way to wring extra money from customers. Use the tips mentioned above to avoid the extra fees. And to save even more on your next international trip, get travel insurance. It can provide you with the opportunity to be reimbursed for a variety of unplanned travel situations, including sickness or injury, lost luggage, cancelled flights, and much more.
We are sorry that this post was not useful for you!
Let us improve this post!
Tell us how we can improve this post?