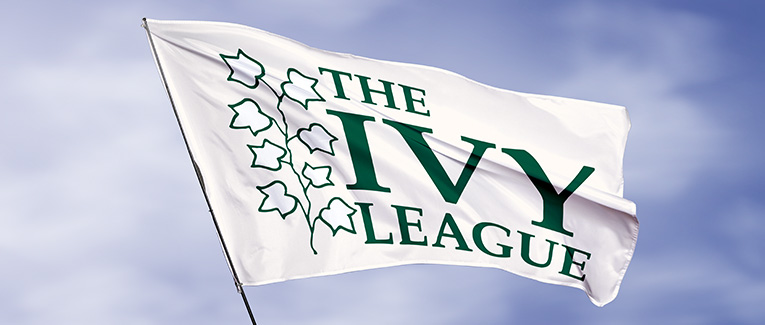 There are many factors to consider when you're picking a college. Making this decision is extremely difficult, and requires multiple steps of investigation to figure out if the college is right for you or not.
The easiest place to begin, is to rely on established rankings and labels. The most respected and top-ranked universities in the U.S. come under the category of the 'Ivy League.' As an international student, your first preference might be to get into one of these prestigious universities.
While you might already know what the Ivy League is, this article will convey the significance of the label and explore the admission possibilities to facilitate your choice.
What are Ivy League universities?
People usually assume the label of 'the Ivy League' to be a result of academic excellence. However, the label has not come from academics, but sports. The Ivy League, also dubbed as 'The Ancient Eight,' is actually an American collegiate athletic conference comprised of eight private research universities in the Northeastern United States.
So, the label isn't a reward or indication of the academic excellence of these universities.
However, they've become renowned for their academic excellence, exclusivity, and social elitism.
All eight universities were placed in the top 18 of the 2021 U.S. News & World Report National Universities ranking, including four Ivies in the top five. So, although the label didn't come into existence to denote academic excellence, today it certainly indicates the best universities in America.
The parameters for these best universities
You might be wondering what makes these Ivy league universities so great.
One foolproof way to judge the esteem of the academic program of a university is by looking at the achievements of the alumni. Graduates from Ivy League schools have won Nobel Prizes, Olympic medals, and have even become presidents.
Theodore Roosevelt went to Harvard University and Columbia Law School. Barack Obama went to Columbia University and Harvard Law School. The list does not end there. Almost every exceptionally successful person with an American education background, graduated from one of the Ivies.
In 2019-2020, the Ivy League universities had the highest graduation success rate of all Division I conferences (in terms of athletes). This marks the ninth time in a row that the schools have accomplished this.
Another pro of graduating from an Ivy League school is that you get name recognition. Your degree will be associated with one of the best academic programs in the world. Employers and graduate school admissions officers will most likely prefer you. Ivies will set you apart from other applicants.
The Ivy League universities as per their 2021 ranking
The rankings take into consideration financial outcomes like career earnings and the schools' academic standings. Note: the rankings are against other national universities, and not liberal arts colleges.
Harvard University (Massachusetts)
Yale University (Connecticut)
Princeton University (New Jersey)
Brown University (Rhode Island)
University of Pennsylvania (Pennsylvania)
Cornell University (New York)
Dartmouth College (New Hampshire)
Columbia University (New York)
Most people believe that Harvard, Yale, and Princeton are the most elite and prestigious Ivy League universities. However, your choice cannot solely be based on these rankings. It depends on your desired environment, and curriculum preferences. For instance, if you want to study political science or theater, Yale would be an excellent choice. But, if you want to pursue engineering or hotel management, Cornell is a better fit.
Consider the setting you desire. Do you want to live in a big city, or around nature? A major role of a university is also to expand the world-view of the student. You can only accomplish that when you change your setting and interact with different communities. The University of Pennsylvania, for instance, might offer more immediate access to working with low-income communities than Princeton.
You should also be aware of the size of the university's student body. Six Ivies enroll somewhere between 4,000 and 7,000 undergraduate students. U of Penn and Cornell enroll over 10,000 undergrads. So, your choice is also dictated by whether you want to be part of a relatively small or large student body.
Admission for the International Student
The toughest battle is getting into Ivy League universities, because they're so exclusive. The acceptance rate for Harvard is only around 4.6%, and Columbia's is 5.4%
There is no standardized method to getting into these schools. These eight universities have multiple schools within them, specializing in different fields. Your application process will depend on the requirements of that specific school.
Luckily, the websites of these universities are well-maintained, and have enough information for you to navigate the process. You can also subscribe to their YouTube channels where they answer various questions and guide you through the process.
The most basic criteria is a GPA ranging between 3.85 and 4.18. Depending on the academic system in your country, this number varies. You'll also have to submit a stellar personal statement, strong standardized test scores, English proficiency tests, and more.
You also have to prove that you are well-rounded. Being academically gifted is not enough. Engage in extracurricular activities and volunteer service. Additionally, some of these schools will require letters of recommendation and interviews before offering acceptance.
Most importantly, figure out your vision. There are plenty of candidates who'll be equally, if not more, qualified than you. What can set you apart is your vision.
How are you planning to create a positive impact in the world with your degree?
Ivy League universities are very expensive
Even if you get into an Ivy League school, a glaring question is how are you going to afford it? Tuition per year can range from roughly $30-40k.
But, don't worry too much. Because the Ivy League universities are so prestigious, there are tons of scholarships to help facilitate your education. There is a section for financial aid on each university's website. You'll automatically be considered for most scholarships upon admission, and the rest you can apply for.
If you're from a developing country, there are special scholarships available exclusively for you. Look for scholarships that specify your country and program.
Apart from this, your government should have some scholarships schemes in place to facilitate education abroad. You can apply for those.
The third alternative is to look for funding from third-parties. There are many independent institutions and people who provide funding to students. Keep track of all the scholarships, and apply to as many of them as you can.
What if you didn't get in or couldn't afford it?
It's completely okay. Ivy League universities are not the only institutions providing top-tier education. You have plenty more public and private schools that you can consider.
Universities like Stanford, MIT, University of Chicago, Duke, Caltech, and Johns Hopkins are just as academically elite. There are also Public Ivy League universities like Rutgers.
Although Ivy League universities are well-regarded, this does not always mean that they are your best choice. You might not like the atmosphere, they might not have the specialized program that you are looking for, or you might just find another college that feels more like home. Do not place your worth in the status of your school. Find a place that is right for you, and where you feel that you can thrive.
We are sorry that this post was not useful for you!
Let us improve this post!
Tell us how we can improve this post?