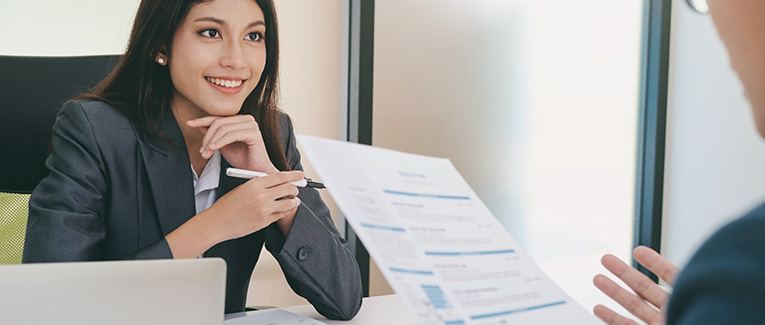 "How will I get a job?"
"I have so little time on my hands."
"What kind of job do I even want?"
"Everyone is so much more qualified than me."
"Will anyone ever hire me?"
You have got your entire life ahead of you. Your first job is just the first step. You can't be better than everybody, but you can be unique.
After you follow through with our job hunting tips, you will have more than one job offer on the table.
1. Sort out the work authorization fiasco
"Are you legally authorized to work in the United States?"
"Will you now or in the future require sponsorship for an employment visa?"
Anybody other than a U.S. citizen or permanent resident ought to answer these two questions first. Answer incorrectly and you lose your chance. It doesn't matter how well-suited you are for the job.
Assuming you are an international student with an F-1 visa, here's what you should say when faced with such questions:
Say that you are legally eligible to work in the U.S. for 12 months after your optional practical training (OPT) is authorized. You should at least have an OPT confirmation with a receipt number.
Reassure them that your work authorization can be renewed for another three to six years with an H-1B work visa.
In either case, make it clear that you won't require sponsorship for an employment visa. This is a tedious task for employers and they likely won't go through it for your sake.
2. Be decisive—set your eyes on a particular profession
If you aim in the dark, you are highly likely to miss. As a fresh graduate in a foreign country, the desperation is understandable. But, it is neither desirable, nor respectable. More importantly, you would be lost chasing too many targets.
Search for the right job. Choose one profession and give it your best shot. It doesn't mean you're permanently tied to one job; just that for the time being, your target is fixed.
Some specific guidelines:
Take career counseling and advising sessions to find out your true calling.
Apply to jobs that align with your field of study.
Play to your strengths. Make a career out of something you're good at.
Remember the order of importance: industry > company > job title. First, decide the industry you want to work in. Then, shortlist companies within that industry. Lastly, settle on a job role.
Don't try to be the jack of all trades. Pick one role and master it.
3. Accrue some work experience
It's unreasonable that companies expect recent graduates to have work experience, but unfortunately that's how it is. It is not compulsory, but it sure makes you stand out among other applicants.
Here are some ways of attaining relevant experience while you're still a student:
Internships
Freelancing
Part-time jobs
Volunteer work
Temporary or contractual work
Do your best to make sure any work you are doing is relevant to the field you want to go into. Building experience in the industry in which you are applying will help you stand out to employers.
4. Devise a compelling resume and cover letter
A resume is a quick summary that helps employers decide whether your background fits the bill. It is not a detailed account of your life.
When creating a resume for a U.S. employer, be as clear and precise as you can. Here are some pointers that reflect what matters to employers and what doesn't.
What to include?
What to exclude?
Full name
Preferred pronouns
Contact Information in the U.S.
Career objective/summary
Educational background (highest degree first)
Relevant work experience
Achievements and awards
Other languages you know
Link to portfolio/personal website
Specific scores/marks (including TOEFL)
Photograph
Immigration status
Age
Home country
Marital status
Race/ethnicity
Religion
Personal Interests or hobbies
Some jobs will also ask for a cover letter. This is your chance to go one step further and convince the recruiter in your own words. A cover letter provides a human touch to the raw data contained in your resume.
When writing a cover letter:
Write a fresh cover letter for every job. Don't reuse and recycle.
Address the hiring manager personally.
Avoid rehashing your resume. Go beyond it. Tell your story.
Use keywords seen in the job description. Show that you went through all the fine print.
Cater to the specific job and explain how your experience and skills are relevant here. Focus on what you can do for the company; not the other way around.
Express your excitement for this job with adequate reasoning, but don't overdo it.
Justify why you're a great fit as a recent graduate. Turn every possible negative into a positive. Don't apologize for lack of experience.
Keep it brief. Finish strong.
5. Search at the right places
You are more likely to find what you're looking for when you know where to look. Thanks to the digital age, every opportunity is available at the click of a button. Not to mention, the offline possibilities your university offers as well.
Here are some surefire job destinations with brimming possibilities:
Online job sites like LinkedIn, Indeed, Glassdoor, Monster, Google for Jobs, CareerBuilder, FlexJobs, LinkUp, SimplyHired, and ZipRecruiter.
"Work for us" page of a company website.
Campus career fairs and seminars.
University career office/team.
Recruitment agencies.
A top job hunting tip for international students: Always look for opportunities both in the U.S. and in your home country. A dual job search has a higher success rate, and you'll be at a psychological advantage if you have more than one option. Taking a job out of desperation never ends well.
6. Take your online presence seriously
The internet is where the employer finds you and assesses you initially. You would never get the chance to show your charm in an interview if your application gets rejected in the first phase. That's why your online presence has to be handled with care.
Here are some pro tips:
Create a strong LinkedIn profile. Take notes from other impressive profiles to groom yours to perfection. Most employers would ask for your LinkedIn profile.
A dazzling portfolio is your way to the employer's heart. If your work is of the kind that can be displayed (writing, pictures, videos, projects), do your best to put it together into a pristine portfolio.
Build your personal website. This can be on a free host site like WordPress. When you put in the work of creating your personal brand, you will be an employer magnet.
Google yourself and run through your socials. Check for anything you won't want a potential employer to see.
Market your skills and achievements on career-oriented sites. A follower or random viewer can become an employer really quick.
7. Network with worthy people
At the end of the day, it might just be word of mouth that gets you your first job. Try connecting with college classmates or professionals within your industry. You can do it both offline and online. Just remember these key rules:
Get out of your comfort zone and attend social events. Put in effort when reaching out to people online. Social media is a good place to start.
Build an authentic relationship first. Connecting with someone personally, with an agenda on your mind, is plain greedy. People can smell it from a mile away.
The longer you know someone, the more fruits that relationship will bear. Get to know people and let them get to know you. Don't rush to a sudden plea for a job. Instead, try helping them first.
Not everyone can provide you with opportunities. Recognize those who can and ask them for what you want. The more specific you can get, the better.
If there is a certain job you have your eyes on, try figuring out if you know someone who knows someone in that organization. You might just get a direct interview through an internal source.
8. Only apply for jobs that suit you
Before you take a job, answer these three questions sincerely:
Am I really interested in doing this job?
Do my values and goals align with this work culture?
Are they going to treat me well?
If you answer "no" to any of these questions, don't bother wasting your time. If you take a job that doesn't suit you, you'll start hating your work pretty soon. We hope all your anxieties are addressed now. Before we part, just remember: there is always light at the end of the tunnel! Keep walking and you'll see it soon.
We are sorry that this post was not useful for you!
Let us improve this post!
Tell us how we can improve this post?