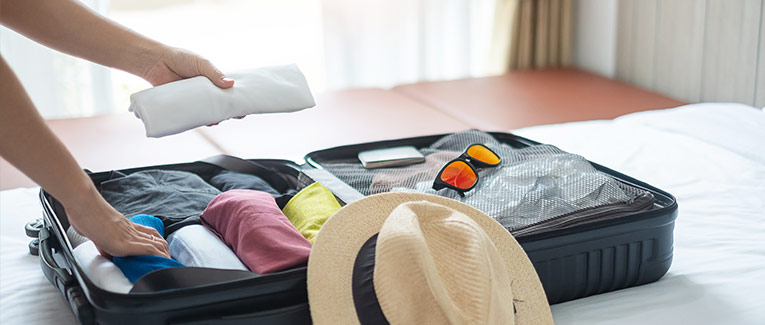 If you have waited until the last minute to pack and you're in a hurry, scroll to the end where we've compiled a handy checklist of all the main items you will need to pack. Follow this list to be 100% prepared for your trip.
Things to Do Before Starting To Pack
1. Check The Destination's Weather Reports/Forecasts
Last-minute travel means that you will be traveling almost immediately. This is good news, because short-term weather forecasts are way more accurate than long-term ones. Here's what to do in the most common situations:
For a rainy forecast, pack long-sleeved clothing, long pants, and boots. Additionally, throw in a pocket umbrella or rain poncho.
If it will be sunny and hot, wear light–colored clothing to deflect the heat, and preferably long-sleeves to avoid sunburns. Don't forget to pack sunscreen, along with sunglasses or a hat.
If the weather is predicted to be cold, be sure to pack flannels and a couple cardigans, and wear your overcoat to the airport.
For a forecast of snow, make sure your base layer is made of synthetic fabrics. Then, layer up with wool socks, boots, and a scarf.
For humid weather, pack more t-shirts. Woven fabrics will help with the humidity, and it might be wise to pack looser clothes.
Simply being smart and packing onlywhatyouneed is the main point. You do not want to travel with clothes for the summer, only to arrive at your destination and see snow.
2. Documentation
Before you even pack a suitcase, be sure to gather and pack all of your necessary papers. Remember documents like your passports, NOC's, visas, tickets, and car rental slips.
These days, almost everything is done on the internet, but it is still advisable to have a paper copy should anything go wrong. By being prepared, you won't get stranded in a strange, new place with no documentation.
If you are storing your passport or visa in a purse or money belt, it's always a good idea to keep them in a waterproof pocket. If you don't have a waterproof pocket in your bag, place your documents into a plastic baggie instead.
3. Make Digital Copies
As an added precaution, email a copy of all required documents to yourself before leaving the house, andmakesurethattheemailarrivesinyourinbox.
If you lose your paper copies, you will still have an electronic copy of the information.
This way, your documents can also be accessed should your phone or laptop get stolen, because you can access email from anywhere with an internet connection.
4. Extract The Most From Clothes
Pack clothes that can double up as something else should the need arise.
For example, soft and comfortable leggings can be worn with nice tops, t-shirts, and can even be used as sleeping pants. Packing lightweight and mostly synthetic materials also reduces your luggage weight significantly.
Another tip is to stick with one color palette. This increases the number of clothes you can combine, because you know that each garment will match with something else in your bag.
5. Make A List
No matter how pressed for time you are, sitdown and make a written list of everything that you may need, aside from the essentials like clothes and documents.
For example, you may be attending an event that requires special attire, or you may be running out of prescription medicines halfway through your trip. After you're done packing, you need to focus on covering the bases on this list.
A handy benchmark is to use two columns: in one column write all the activities you'll be participating in, and in the second column, write down things you think you'll need for that activity.
Use this as a post-packing checklist to see if you've covered every angle of your trip.
6. Check Your Baggage Allowance
So you've packed your bags really nicely, but you've gone overweight. These days, no two airlines offer the same baggage allowance, so phone ahead and find out what your baggage allowance is.
You could also just check directly on your airline's website. If you're flying internationally, the allowance is usually significantly more. A common pitfall on connecting flights is that your domestic flight will have a domestic allowance, but your flight out of the country will have an international one.
For example, consider a New York to London via Washington flight. It is likely that your New York-Washington leg will allow only domestic baggage, but the Washington-London leg will allow international baggage. Plan ahead to avoid paying exorbitant fees.
The Checklist
Assuming a two-week trip, we've compiled a generic list for the following two seasons/weather conditions:
1. Hot And Humid Summers
5-6 t-shirts/tank tops
2 half-sleeve shirts
1 formal shirt
2 pairs of shorts/2 skirts
1 linen suit/evening dress (for formal occasions)
1 windbreaker (for sudden turns of weather)
2 pairs of jeans/trousers
1 pair of sneakers
1 pair of sandals/flip-flops
1 swimsuit (optional)
2. Chilly Winter/Snowy Climates
Under-layers (t-shirts, baseball jerseys, light shirts)
4 full-sleeved shirts
1 down jacket/heavy coat
2 sweaters
2 jeans/trousers
5 pairs of wool socks
1 pair of boots (wear these to the airport)
2 fleece layers/flannels
2 scarves (1 light, 1 dark)
Gloves/mittens
Earmuffs
Scarf
3. Wet Weather
If hot and rainy: Use the "summer" checklist, then the following:
If cold and rainy: Use the "snowy" checklist, then the following:
Rain poncho
Backpack rain cover or a waterproof bag
At least 2 quick-dry shirts and trousers. All major performance sports brands offer these
Travel umbrella
Waterproof shoes
General Checklist
This includes the most common items forgotten by travelers:
Chargers and power bricks
Prescriptions – Both the actual medication and the piece of paper that allows you to buy your pills
Surge protectors and extension boards
Universal travel adapters
Toothbrush
Sunglasses
You are now ready to pack last-minute for your next trip, so take a deep breath and prepare to enjoy yourself.
We are sorry that this post was not useful for you!
Let us improve this post!
Tell us how we can improve this post?