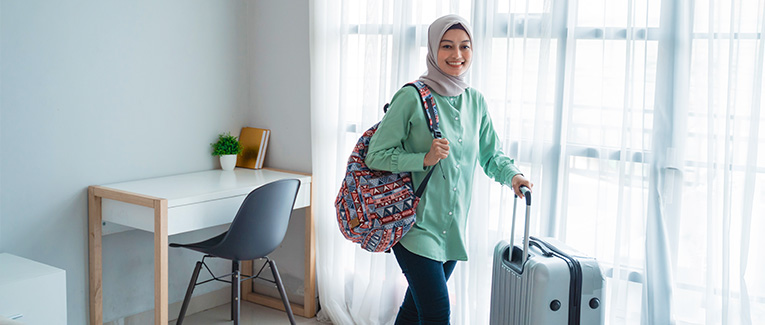 Moving to a new country can be stressful. You might worry about the new environment, or fear that you will not fit in. However, there is nothing to worry about. A month before your departure is enough time to prepare for every situation you may encounter.
Around a month before you plan to depart your home country to attend school in the U.S., research the following and you will be well prepared for your first year on campus.
Transportation Tips
Do your research to find out the best mode of transport to your campus.
Americans tend to prefer driving or taking domestic flights more than using trains. This is because railways in the U.S. are primarily used to transport freight, and passenger rail service isn't available to every destination. Air travel may even turn out to be cheaper for certain destinations.
Large campuses usually have a campus-based bus services that provide student transportation from places like airports and rail stations to the campus. Depending on how far you have to travel, taxis, and private car services like Uber or Lyft can be other good options.
Safety and Crime
The most frequent crimes in the U.S. are theft, burglary, trespassing, and robbery. You may not be accustomed to keeping doors locked, but you must make it a habit in the U.S. Keep your apartment or campus dorm doors locked at all times.
Keep valuables like your phone, laptop, and keys secure whenever you're in public. Identity theft is yet another common crime in the U.S. Do not respond to calls from strangers asking for confidential information. Keep your social security number, or ITIN number, and bank details private.
You can predict the level of safety on your campus by looking at the crime rate statistics on your university's webpage. It is a legal requirement for all universities to make this information public.
Healthcare and Insurance
Almost all universities in the U.S. require students to be covered by a health insurance plan at the time of enrollment. Certain universities provide auto-enrollment into university-sponsored plans. It is important that you understand the insurance requirements of your university and your visa, and have the proper insurance plan in place before you depart for the U.S.
Even if you aren't prone to illness, moving to a new country can still cause health issues. The weather at your destination may be different than what you're used to. You could also have adverse reactions to unfamiliar foods. Additionally, there is the possibility that you could injure yourself at any time.
Healthcare in the U.S. is far more expensive than in most developed countries. Because there are so many imminent risks, you must purchase a student health insurance plan before you're enrolled.
Typical benefits of a health insurance plan include coverage for:
Medical emergencies
X-rays, CT Scans
Physical therapy
Annual check-ups
You can also look for additional benefits like mental health counseling and maternity care.
What to Pack?
The U.S. is a large country, and the weather can vary significantly depending on the location of your campus. Therefore, it is important that you research average temperatures for the area where you'll be living in order to know what kind of clothing to pack.
If you're arriving for the beginning of the fall semester, most locations will have warm, summerlike weather. However, in more northern parts of the U.S., this will change quickly as autumn arrives. Your best bet is to research the weather at your destination thoroughly, and pack clothing that can cover a wide range of temperatures. Don't worry about accidentally forgetting something. Most any type of clothing is widely available for purchase in the U.S.
However, there are two items you should remember to pack no matter where your campus is: Comfortable footwear, and a spacious backpack. You'll be doing a lot of walking in between classes, so you'll need comfortable shoes, and a good way to carry your textbooks.
Additionally, make sure to bring essentials like your necessary medications, and chargers for your electronics.
On-Campus Student Services
You may feel like you're all alone once you leave home, but that is not true. Every university has an on-campus student services center that can assist you with your orientation and help you settle into campus.
Your first step upon arrival should be to head to the student service center and address any questions or concerns that you may have. They will provide you with answers to relevant questions about:
Language assistance
Orientation process
Counseling and therapy
Visa status
Health concerns
The U.S. is a student-friendly country. If you ever feel lost in your college town, you can ask the locals to assist you with directions.
If you still have time before you leave, you should get in touch with the student community at your university. Social media is a great way to make friends before arriving on campus.
Your university years may be some of the best years of your life. Remain open to opportunities and confident in your abilities, and you're sure to succeed.
We are sorry that this post was not useful for you!
Let us improve this post!
Tell us how we can improve this post?