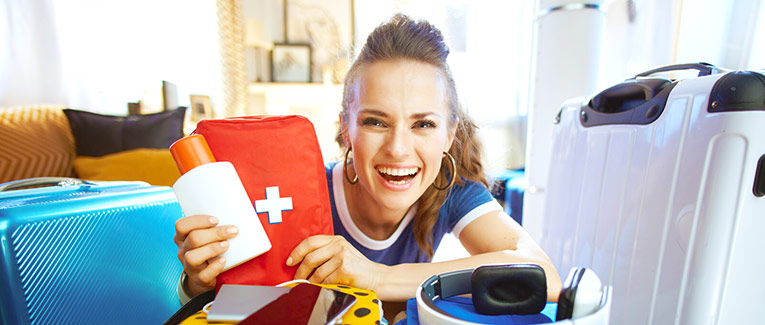 Traveling always involves an element of unpredictability. While you can't always prevent things such as accidents, illnesses, and injuries, you can definitely prepare for them. One of the best ways to stay prepared is by purchasing travel medical insurance or travel insurance before you travel. However, there are other items that you can pack along to help ensure your safety as well.
Travel First-Aid Kit
A good first-aid kit is an inexpensive, yet invaluable travel accessory. You can either buy a compact, travel-ready first-aid kit, or customize one by buying individual components separately. Just make sure your first-aid kit includes these essential supplies:
Plaster or bandages
Crepe bandages
Gauze
Surgical tape
Scissors
Tweezers
Antiseptic wipes
Painkillers
Antihistamine cream
Antibacterial cream
Smoke and Carbon Monoxide detector
A portable smoke and carbon monoxide detector can be a real lifesaver in case of fires and gas leaks or buildups. This handy detector uses advanced, environmentally benign electrochemical detection technology to keep track of carbon monoxide levels.
The detector's photoelectric sensor detects large fire particles that are produced by combustion. It's capable of distinguishing between the heat signature of smoldering fire and that of the shower's steam. The result is fewer false alarms and greater reliability.
The detector's indicator automatically turns on after detecting a fire or rise in carbon monoxide levels. This is followed by the sounding of an alarm loud enough to rouse the heaviest of sleepers. Smoke and carbon monoxide detectors have a single button to test and silence the alarm.
This combination detector is powered by two AA batteries. The detector will indicate when it's running low on battery, so you're never caught off guard.
Emergency Car Hammer
What if you're involved in a car crash and are unable to get free of a jammed seatbelt or open the car's doors? A multi-use emergency car hammer is the one tool that can solve these problems and save your life.
High carbon steel car hammers have an anti-slip design that makes them easy to use even when you're disoriented. The seat belt cutter is conveniently located at the bottom handle to prevent accidental injuries. The hammer is pretty sturdy, as a couple of hits is all it takes to break the car window.
An inexpensive and handy tool, an emergency car hammer deserves a permanent spot in your travel accessories set.
Portable Fire Extinguisher
A little can of extinguishing spray with a simple point-and-spray mechanism can conveniently put out small fires. Unlike regular fire extinguishers, the portable ones don't involve pin or lever unlocking devices. In case of a fire, you can use the handheld can to spray from a safe distance of 3-4 feet.
When shopping for a portable fire extinguisher, it's advisable to look for one that uses a biodegradable formula. Regular fire extinguishers use chemicals that can permanently damage the areas they're sprayed upon.
A non-toxic, biodegradable formula is safe for the surroundings and easy to clean up. You can simply wipe it away using a damp cloth, without the need for hazmat disposal.
The spray can include a separate pouch for isolating pressure to ensure that the propellant doesn't accidentally fuel the fire. It's also lightweight, typically weighing only 20 ounces. You can easily pack a few in your travel kit and keep prepared against fire hazards.
Mylar Rescue Blankets
These compact, lightweight thermal blankets are capable of reducing loss of bodily heat by up to 90%. They may not look like much, but these blankets are incredibly cozy and comfortable.
When shopping for rescue blankets, look for dual-sided blankets that can serve as tent flooring and lining for sleeping bags. Mylar rescue blankets are moisture-proof, waterproof, and windproof. They also have excellent tear resistance, which makes them ideal for rough outdoor conditions.
Mylar rescue blankets are among the must-have travel items for when you're going hiking or camping in extreme conditions. They're also great for non-adventurous trips when you want to pack light.
Portable Air Purifier
You can never predict the air quality in the places you might end up staying during your travels. What you can do is carry a portable air purifier and ensure that you're ready for the worst. A good air purifier is capable of catching smoke, dust, odor, pollen, pet dander, and mold spores.
A portable air purifier is a necessity for the elderly, newborns, children, and those with compromised immunity. People with environmental allergies can develop reactions such as itchiness, coughing, sneezing, and headaches in areas with poor air quality. Carrying a compact travel purifier ensures they all have a good, comfortable time no matter where they travel.
Portable air purifiers can be quite pricey. Air purifiers with better looks, flexible control mechanisms, and greater range are usually priced higher than $50. When looking for a budget air purifier, concentrate your search on the purifying features. Look for purifiers with a HEPA (High-Efficiency Particulate Absorbing) filter, low noise, and 3-4 stage purification.
Portable Door Lock
Another inexpensive essential for your travel packing list is a portable door lock. These promise both security, and peace of mind. When you're staying at a hotel or rental, there's always a risk of thefts and break-ins.
These strong metallic door locks also help you achieve a greater degree of privacy. You can end up sharing a hotel room where the bathroom door doesn't lock. If you're staying in an Airbnb, you may be worried about others having a key to your room. With this resilient lock guarding your door, you can relax and rest up for the next day's adventures.
Portable door locks are typically designed for hinged doors that swing open inwards. These can be installed in quick time, without the need for any additional tools or assistance.
Portable Water Filtration
If you are packing for a trek, camping, or a vacation that involves spending time out in nature, a gravity-based portable water filtration system is an absolute must. Portable water filtration systems weigh around two ounces and can filter up to a gallon of water in one use.
With a water filtration system, you can safeguard yourself against most bacteria. Most portable filtration systems come with a convenient carry handle. You can also fill your hydration packs and water bottles directly from the filter.
Water Purification Tablets
If you plan on visiting areas where safe drinking water may be scarce, water purification tablets are extremely helpful. Water purification can turn bacteria-contaminated water into potable water in as little as 30-35 minutes. They also significantly improve the water's taste and color.
Water purification tablets are an easier alternative to boiling water, which isn't always possible. While portable water filtration systems protect you against bacteria, water purification tablets are also effective against viruses. They're also small enough to carry in your pocket, and almost never questioned by airport security.
These budget-friendly travel essentials occupy very little space and can make your journey safer, and more convenient and enjoyable. Make sure you reserve for them a permanent spot in your travel bag.
We are sorry that this post was not useful for you!
Let us improve this post!
Tell us how we can improve this post?