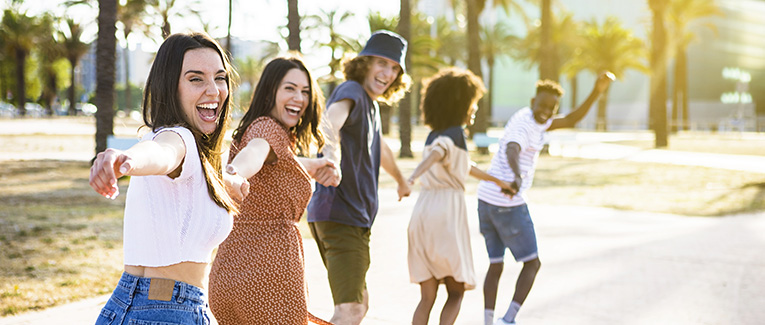 You've always dreamed of making a large group of friends while at school in the U.S. But it is proving to be much more difficult than you thought. However, do not be afraid. In the next five minutes, learn all about how to live like a local, so you can blend in and feel at home.
To live like a local, adapt to the local dialect
Everyone in the U.S. speaks American English, right? Wrong. People across the U.S. speak some 30 different dialects. Here are a few examples.
In parts of New York, Massachusetts, and Rhode Island, people drop the R from the words, and replace the letter with H. Thus, 'father' becomes 'faw-thuh' and 'park' becomes 'pahk.'
In southern states including Florida, Texas, and Virginia, people drop the g at the end of the words. Thus, Michael is goin', Sam is eatin', and Kameron is listenin'. You will also hear words like 'git' (get) and 'lemme' (let me).
In Pennsylvania, people 'dunk' their bread into the soup.
In Virginia, people never buy a soda, they grab a pop.
Of course, these dialects are all generalizations. People in the U.S. tend to move about, so there's no guarantee that the individuals you're speaking with will use the dialect you'd expect for the area.
Furthermore, no matter where you go in the U.S., remember:
You go to the restroom, not the toilet.
You use the elevator, not the lift.
You wear sneakers, not trainers.
Watch Hollywood movies and web shows, read U.S. newspapers, and engage in conversations and you will pick up the dialect within a month.
Communicate with the locals to live like a local
There are no strangers here; only friends you haven't yet met
– W. B. Yeats
You can feel anxious talking to fellow students at first, especially if English is not your first language. However, never let the fear stop you.
Americans are typically quite open and welcoming, especially when it comes to talking about themselves. To start a conversation with a fellow student, ask lighthearted personal questions such as:
What is your favorite movie?
Where are you from?
Which major did you choose? Why?
What is your favorite food?
Do you know any good restaurants here?
Furthermore, visit the local supermarket or grocery store. Strike up a conversation with the owner or the person at the checkout counter. Ask questions that they cannot answer with a yes or no.
People in the U.S. are typically outgoing and eager for a conversation. Thus, initiate conversations and you can make friends for life.
Discover the local food
Local diners and restaurants are run by local people. The owners also typically hire local chefs and buy the ingredients from local markets. The next time you go out, choose a local café or restaurant over a chain that you could find anywhere.
Here are some special dishes that you can eat in the U.S. states:
In Maryland, try the crab with Old Bay seasoning.
In Wisconsin, try the fried cheese curds.
In New Orleans, eat Creole and Cajun dishes, such as jambalaya and gumbo.
In New York, eat bagels with lox, knishes, and pizzas.
If you want to try the most famous dishes, go for corn dogs, s'mores, and peanut butter and jelly sandwiches. On Thanksgiving, try the turducken — a chicken stuffed inside a duck, stuffed inside a turkey.
Ask your roommate, landlord, or fellow students for restaurant recommendations. You can also read reviews of restaurants on websites like Yelp.
Travel to adjacent cities
If you study in New York, you won't just be communicating with people from New York. You will have fellow students from Newark, New Jersey, Philadelphia, and many other surrounding areas. You can travel to those cities to know their culture as well.
Join meetup groups — kayaking, trekking, urban scavenger hunts, anything you like. Meetup groups are spaces where you can find guides, language partners, and even lifelong friends.
Use websites such as Viator to find tours and activities in large cities like New York.
The more you explore the cities, the more at home you will feel in the U.S.
Attend local festivals and fairs
At festivals and fairs, people are in a happy mood. You can interact with them without worrying about offending them. Here are some festivals and fairs you can attend in the U.S.
Attend the annual festival and alien parade in Pine Bush, New York. The festival celebrates the town's status as the UFO capital of New York.
Check out the Kutztown Folk Festival in Pennsylvania. Locals gather on the festival grounds wearing traditional outfits. Do not forget to try the fresh pastries and bread.
Attend Mardi Gras in New Orleans. The locals dress up in colorful costumes, and parade through the city. You can watch the giant floats around the city as well. The festival happens in February.
Visit the Albuquerque International Balloon Fiesta. Witness over 500 hot air balloons in the sky. You can also take a ride in a hot air balloon while you are here.
Attend the Burning Man festival if you are in Nevada. Watch the beautiful art installations and musical performances.
Festivals and fairs offer a chance not only to bond with the locals, but also to understand the history of the city.
Attend conferences, networking events, and book club meetings
Attend conferences and networking events to connect with people in your field and build your CV.
Ask your professors and peers which conferences you should attend. Furthermore, follow the top magazines and websites in your field. These will share news on future conferences and workshops.
You can check websites such as Eventbrite to find out networking events near you.
When you are interacting with leaders in your field:
Ask open-ended questions they cannot answer with a yes or no.
Share your perspective on the field.
Send a brief followup message to everyone you met, thanking them for their time.
Want to live like a local? Be like a sponge
Learn about everything — the local food, dialect, and events. Communicate with the locals, and always strive to make friends. You will blend in within a couple of weeks, and the U.S. will feel like your second home.
We are sorry that this post was not useful for you!
Let us improve this post!
Tell us how we can improve this post?