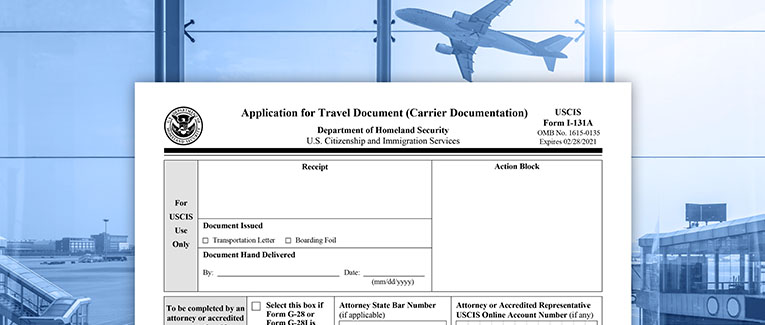 A Permanent Resident Card, commonly known as a green card, is evidence of your status as a lawful permanent resident with a right to live and work permanently in the United States. It's also evidence of your registration in accordance with United States immigration laws. The Permanent Resident Card is also called a U.S. Citizenship and Immigration Services (USCIS) Form I-551.
This article describes what one should if their greencard was lost or stolen while traveling outside of the U.S. If it was lost/stolen while in the U.S., read Replace Green Card.

If you travel outside the United States, you are required to have your green card with you in order to enter the United States, or even board the plane going to the United States.

If your green card is either lost or stolen while traveling to a foreign country (including your country of citizenship), you should take the following steps for entry back into United States:
Immediately report a lost/stolen green card to the local police station. Get a copy of the police report that you filed. (It is called an FIR in India.)
Go to the nearest US embassy or consulate and apply for a "transportation letter," which is referred to as a "Boarding Foil" now in some countries, such as India.
Transportation Letter/Boarding Foil
If your "green card" is lost or stolen, you may be able to obtain a "transportation letter" or "boarding foil" valid for one month authorizing a transportation line (such as airline) to carry you to the United States without a penalty.

In order to apply for a transportation letter or boarding foil, bring the following documents to the nearest US embassy or consulate:
Completed form I-131A Application for Travel Document (Carrier Documentation).
A printed copy of the online fee payment made through the USCIS online payment system for filing form I-131A.
A valid passport.
Police report relating to the loss of your LPR card.
Evidence of legal permanent resident (LPR) status, such as a copy of the front and back of your permanent resident card.
A detailed explanation specifying why you don't have your green card with you.
Two identical recent passport-sized photographs of yourself.
The filing fee is non-refundable even if the application is denied. The process takes several days in order to confirm an applicant's LPR status with other offices.
All boarding foils are valid for 30 days. If you fail to travel within the 30-day window after it is approved, you would have to pay all the fees again and obtain a new letter. No other non-mmigrant visa is available in lieu of a "transportation letter" or "boarding foil."
Upon Return to the United States
Once you arrive back in the US, you must file a form I-90, Application to Replace Permanent Resident Card (Green Card).

For visitors, travel, student and other international travel medical insurance.
Visit insubuy.com or call +1 (866) INSUBUY or +1 (972) 985-4400
We are sorry that this post was not useful for you!
Let us improve this post!
Tell us how we can improve this post?