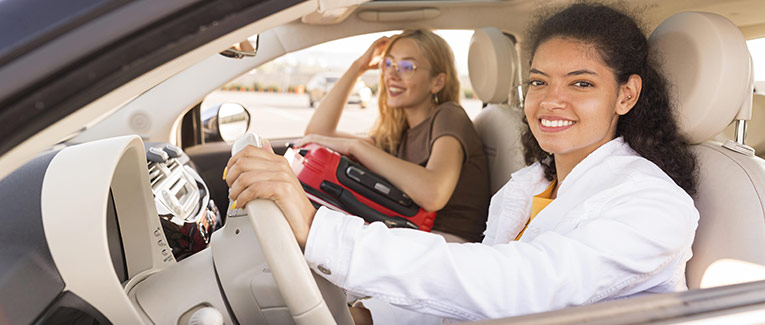 The wind whipping through your hair, whispering the promise of unforgettable sights on untrodden paths. The salt of the ocean is an almost physical sensation on your tongue. Your Corvette glides through the oceanside road as your scarf almost elopes with the breeze, but you catch it just in time. The Sun seems a friend here, peeking from the clouds occasionally, unlike how it beats down upon your face in the city. Skynyrd croons "Sweet Home Alabama" through the radio and the grin decorating your face refuses to leave. You take a deep breath in, soaking in the sea, the sunshine, and the sheer liberation of just existing, floating through roads without a care in the world. Life is good.
Seems like a scene straight out of a slice-of-life-journey-to-find-myself read, doesn't it? Well, if you were to ask someone who's been on a road trip before, they could vouch for the legitimacy of the above words. As clichéd as it sounds, road trips do have that self-discovery aspect about them that makes them all the more intriguing.
But even if the dreamy poeticism of a road trip doesn't win you over, the practicality of it should. Road trips are cheaper, more sustainable, more flexible, and hands-down more memorable. Enough fodder to tip the scales. They are also all the rage lately. If RV membership programs, Harvest Hosts, and their surveys are to be believed, 2021 seems to be the year of road trips, with 56% of respondents saying they plan to travel exclusively by RVs this year. And 99% of the respondents claimed they felt safe traveling in an RV.
Note: This guide was compiled in April, 2021, a year made unique by the one that preceded it, the nefarious 2020: the year of COVID-19.
Why Road Trips?
Now you might ask, what's so great about road trips that a train/flight vacation can't substitute? Worry not, we are here to guide you towards the light! The pros of road trips, coming right up.
Flexible Itineraries and Schedules
Flexibility in nearly everything is the biggest upside of road trips. You take a road trip on absolutely your terms. No fretting over catching trains or flights, no wasted money on missed trains/flights, no limiting your itinerary because of transport expenses, none of that hullabaloo. You wake up, set out, take a break, and rest whenever you feel like it. Found out about a hidden cave or a hot water spring you didn't know of but still want to check out? Pencil it right in; as easy as that. Want to sightsee for a couple of days more? Do it! Who's stopping you? (Apart from your boss of course and alas, we can't help you there.)
Save Your Money
If this isn't the biggest motivator, we don't know what else is. Apart from the obvious flight expenses, you could also let your wallet breathe a more significant sigh of relief if you plan your trip carefully. Solo trips are fun, but cost division in group road trips makes it a more favorable and cheaper option.
If you do your research well, you can very well map out your expenses beforehand and even indulge in budget-friendly activities. If not, thank your stars you're living in the digital era. Get a resource planning app for road trips, and let it do all the work for you.
Make More Memories
No, that's not the tagline of a camera commercial, we actually mean it. Road trips are more memorable because it isn't just the destination where you create memories, but also the journey. Unlike that plane journey where you conk out and wake up looking worse for the wear. You can finally bid farewell to jet lag and air sickness, and cover more ground while you're at it. More places to visit, more fun had, more memorable moments. You do the math.
And not to be that person, but it is an undeniable fact that every single moment of a road trip is a photo op. Of course, don't do it just for the 'gram, but there's no harm creating memories that double as aesthetically pleasing, is there?
Make It an Adventure of A Lifetime
There is infinite scope to make your budget-friendly road trip a thrilling adventure. The less time you spend rushing to airports and in transit, the more time you spend bonding with your travel companions. Whether you are traveling with your friends, family, or a significant other, the entirety of your road trip is going to be a giant bonding activity. Live out your carpool karaoke dreams, albeit minus James Corden. Take board and card games on your road trip, or better yet, DIY games yourself. Explore as much as you can, take those roads not taken. A road trip is as spontaneous as it gets, so don't hold yourself back.
The Ultimate Smart-Money Road Trip Guide
Now that you are acquainted with the whys, next comes tackling the how's of a road trip. How can you make your trip more comfortable, more enjoyable, and a more rewarding experience? We answer it all for you.
Road Trip Travel Insurance
Yes, you heard it right. Road trips can be insured too. This is a must because safety comes first. Travel insurance is an underrated but integral first step of any travel plan, and road trips are no different. If you have insurance-plan-finding troubles, head to Insubuy for aid. Choose from a plethora of plans providing all kinds of levels of coverage. There are trip interruption and cancellation coverages that can even cover vacation rental deposits. Some plans can also provide emergency medical and evacuation benefits along with accidental death and dismemberment coverage. Regardless of what kind of coverage you prioritize, a travel insurance plan can help you sleep better.
Be Open to Alternate Accommodations
Since you're already saving all that money in transport expenses, why not save some more? Look out for cheaper, alternate accommodations as opposed to expensive hotels. You can opt for hostels or even go camping, with the latter being the cheapest, and sometimes even free. You could also put your networking skills to good use and couch-surf.
If eclectic comfort is your style, Airbnb's are going to be your savior. They are cheap, reliable and the best part, they are available the world over. With offerings ranging from an urban treehouse, a whole chateau, a seashell house, an actual castle, a swanky penthouse, and a literal snow igloo, Airbnb's 360° spin on the bed-and-breakfast concept is exactly what your road trip needs to be on the right side of adventurous.
Pack Your Essentials
Moving onto the packing for a road trip. The age-old dilemma of what to take and what to leave. Well, we can tell you what you must have in your road trip travel kit. Whether you prefer to travel light or not, make sure you pack these:
All your chargers, especially the USB cables along with a sturdy, dependable power bank.
A paper map and a sharpie (Trust us, you're going to need it despite the Google Maps app on your phone.)
Neck pillows
A cooler (especially if you are traveling in summer)
A first-aid kit
Sunscreen (Sunburn is not an experience you want to have while on a road trip)
Apart from these, make sure you have sufficient cash on you, as you may encounter a bunch of places that don't accept cards or mobile payments.
Dig Into That DIY
All you DIY enthusiasts, it's your time to shine! DIY-ing your stuff is going to serve the dual purpose of cost-efficiency and the riddance of any guilt should you lose the things, which is highly likely on road trips. It is also a more sustainable option if you care about your carbon footprint.
Use that M&M tube to stash your coins, and that cookie tray as a backseat desk. Use a selfie stick or paper and clips and an elastic band to DIY a phone car mount. You can even DIY souvenirs. Collect local flora, seashells, or pebbles as souvenirs. You could store soil from all the places you visited in tiny, labeled mason jars as memoirs. As far as DIYs and hacks are concerned, the sky's the limit.
Find Those Superlatives- Tallest, Longest, Highest, Largest
This might require a little effort and research on your part, but it will be worth it. Many places have the – or one of the – tallest, longest, largest, or highest something to offer. Road trips are the prime opportunity to tick such sites off your bucket list. If the internet isn't much help, the locals are your next best option. More often than not, they can educate you on a place's significance or culture far better than a blog on the internet, so be sure to engage with them. Apart from the above, stick to the basic do's and don'ts such as rotating drivers, not over-experimenting with food, not wandering off alone, getting spare keys, and of course, a road trip playlist is essential. Try to not stuff your itinerary. Go with the flow, and as a wise man once said, "stop worrying about the potholes in the road and enjoy the journey!".
We are sorry that this post was not useful for you!
Let us improve this post!
Tell us how we can improve this post?