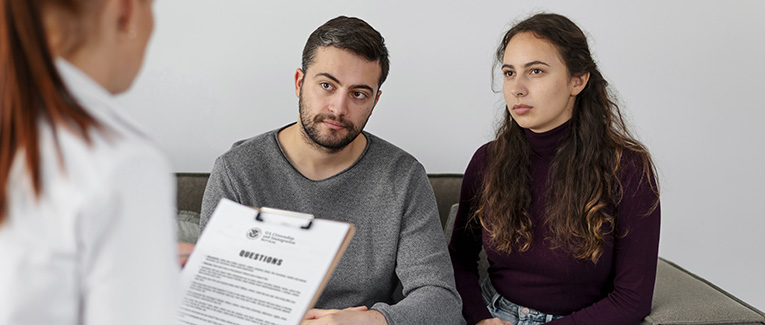 There are multiple ways to get a greencard for permanent residence in the U.S., such as employment-based greencards, family-based greencards, lottery-based greencards, and so on. Among them, the fastest way to get a greencard and become a U.S. citizen is to marry a U.S. citizen and get a family-based greencard. Due to the high degree of fraud—where people are not getting married genuinely but only for the sake of getting a greencard—when you apply for Adjustment of Status (I-485), you are very likely to be interviewed by a USCIS officer. Each person (beneficiary and the petitioner) will be asked a series of detailed questions separately, and USCIS will compare each partner's answers to check whether the marriage is genuine or not.
The actual questions may vary from time to time, depending upon the officer. However, the information provided below would be helpful in making preparations.
Documents: Utility bills (cable, electric, water), property, taxes, life insurance, health and dental insurance, car insurance, lease, bank statements
Pictures: How old is this or that picture? Where was it taken? Etc.
How/when did you meet? Who introduced you to each other? (Further details: name, who's this person, how long have you known him/her, does he/she have kids/husband/wife + names, where does he/she work, etc.)
What were your first and second dates like? (When, where, what did you eat, how long after you met, etc.)
How long have you lived together? If one or the other of you has moved: Did you have a moving truck, what company, did anybody help you, how long did it take, did you pay a security deposit (how much), etc.
Who proposed the marriage? Details: When, where, what time (morning, afternoon, night), what kind of flowers, what kind of ring, etc.
Who does the laundry? How often, where are the washer and dryer located, what side is the washer (facing it), what side is the dryer, what kind of washer (front load or top load), where do you keep dirty clothes, etc.
What tattoos and scars do you have? How many, where on the body, how long, why, etc.
What kind of toothpaste do you use? How many tubes do you keep around (in the shower/tub/by the sink)?
What kind of razor do you / does your partner use (manual or electric)?
Where do you keep the toilet paper, sheets/towels, jewelry, pills, important documents, etc.?
How many brothers/sisters do you / does your spouse have? What are their names? Are they married/in relationships? Etc.
Christmas: Where did you celebrate? Did you have a Christmas tree? Real or artificial? Where in the house did you keep it?
Wedding: All details (where, what time, what time you left your house, who was driving, what did you do after ceremony, who was there, etc.). Where did you take your honeymoon? If no honeymoon, why?
Do you wear pajamas? What color did you or your spouse wear last night? Who bought them, and from where?
What side of the bed do you sleep on?
Who handles bills? How are they paid (online or via check)?
When was your last vacation (where, when, how long, did you take pictures)?
Yesterday + last night + this morning: What did you eat, what did you do, what time did you go to sleep (who first), did you watch TV (what show), who showered first, did you set up an alarm clock (who did), did you have a breakfast (what)?
What did you do last weekend? Last Christmas? Last July 4th? Last Thanksgiving? Etc.
Have you met each other's parents? What are their names, when was the last time you saw them, where, etc.?
Your house/apartment/townhouse: How many bedrooms and bathrooms, how many TVs (where), how many ceiling fans (where), placement of windows, tables, chairs, closets, computers, etc.
Your bedroom: Details, how many windows, carpet/tiles (color), blinds, curtains, ceiling fan, name all the furniture, what color, where/when did you buy it, what size of bed, dresser (what is in the drawers), what is in the bedside tables, what color of sheets did you use last night, do you have a bed skirt (what color), where do you keep your cell phone/wallet/keys/purse etc., do you use an alarm clock/cell phone to wake up, etc.
Your bathroom: Details about shower/tub, shower curtain (color, hookless or not)/shower door, how many sinks (color), what side do you have the toilet paper when sitting on the toilet, what kind of faucet, etc.
Hobbies: What are some hobbies that you and your spouse enjoy together? When was the last time you did them together, how often, etc.?
Grocery shopping: What store do you go to? How far from your house is it? Do you go together or not? When was the last time you went, separately or together?
What TV shows do you watch together? What was the last movie you watched together? When? Did your spouse like it? Etc.
Who picks up the mail? Where is the mailbox? What color is it? Etc.
Do you have a roommate? Why, for how long, name, does he/she have a girlfriend/boyfriend, what are their names?
How much is the car payment, lease, mortgage, electric, cable (what provider), etc.?
Do you have a pool? What shape is it? What color are the walls (blue/white/other)? Who cleans it and when?
When is the garbage pickup?
Why did you keep your maiden name (if applicable)?
A similar set of questions may be asked when you apply to remove conditions on greencard two years later. Therefore, you should review the questions for removing conditions on greencard as well.
We are sorry that this post was not useful for you!
Let us improve this post!
Tell us how we can improve this post?