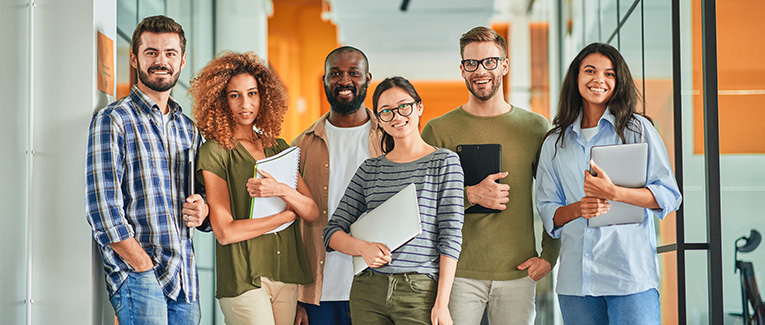 You may have heard the saying, "It isn't what you know that's important, it is whom you know." Building a good network of friends and peers is essential not just for your social success and well-being, but also for your professional life. You need people in your life to empathize with you, encourage you, and allow you to have fun. You also need people who can help guide you, mentor you, and open up new avenues and opportunities for you to explore.
Why should you consider making friends and building your network?
Overcoming culture shock – In a foreign land, your friends form a support group you can fall back on in times of distress. Interacting with different students, both international and local, will help you understand common problems through shared experiences, and reduce the effects of cultural shock when you arrive in the U.S.
Transitioning to the American way of life – If you are planning to make your career in the U.S, you need to start acclimatizing to the American way of life. The best way to do this is to have a good social circle that will instill a sense of community. Your social circle will be your family abroad, acting as a support system you can rely on.
Making friends – One of the main reasons why students choose to study abroad is the chance to build new connections. We all crave human connections, and friendships are important for our mental and emotional well-being. The line between not socializing and building great friendships can make or break your college experience.
Career Development – Social networking is not the only way to create meaningful connections. When you initiate business connections, they can help you advance your career as well. Interacting with your alumni base or your internship colleagues is a great way to learn about career opportunities.
6 Tips on How to Build Your Network Intentionally
1. Join a campus club or a Greek organization
U.S. colleges have a wide variety of clubs and Greek organizations to get involved in. These organizations are the perfect meeting place for social interactions. Depending on your interests and hobbies, you can explore any of these avenues to build your network. By engaging in what you enjoy, you will meet people with similar interests, which is the perfect icebreaker.
2. Get to know your fellow classmates
In the first year of college, most students will share common general subjects. Introducing yourself to your fellow classmates is a great way to connect with other students. You will already be sharing similar coursework, which should help the conversation get going. Try to interact with as many people as possible from your class. You will get helpful study tips and be able to collaborate easily on group projects.
3. Interact in your dorm
Sharing a space with strangers might not seem entirely appealing to you at first. But your dorm will have students from different backgrounds. It is a great place to interact and make new connections. Hosting a dinner party in your dorm is a great way to make new friends. Also, some studies suggest keeping your door always open is a good way to let people interact with you. Be mindful of keeping boundaries, though. It is important to respect others' need for privacy.
4. Reach out to locals
You will be exploring life outside campus from time to time. While you are out having fun, make sure to interact with at least one local every time you go out. This has several benefits. First, you get to make new friends in the local community. Second, you get to understand the real culture and traditions of the place. Locals will be able to guide you through their city like no one else. They will also expose you to the uniqueness of American customs. It is a great way to learn about your community, and American life in general.
5. Volunteer in the community
There will be a lot of opportunities to get involved in community events, whether on-campus or off-campus, by volunteering. You should take the advantage of such opportunities to build new connections that can help you both professionally and personally. It will not only help you in building confidence and improving your soft-skills, but also help you pick up important life skills.
6. Take advantage of internship and part-time work opportunities
Internship opportunities are the perfect way to learn while you earn. It is the best platform to develop professional relationships, gain relevant experience. and develop your skillset. The relationships you create at your work, whether it's an internship or a part-time job, will open up a world of opportunity for you. The network you develop today will come in handy for you in the future, especially in opening up future job prospects.
Remember to Stay in Touch
Networking or meeting new people in the U.S doesn't have to be intimidating. There are a lot of ways to create meaningful connections while studying in your new college. After all, will be the first experience you get in a study-abroad program. International students should see social networking as an opportunity to create a support base and enrich their lives.
If you are considering settling in the U.S. in the future, networking can be even more important for you.
You will be shaping your experience of life through the connections you build in school. But you need to cultivate these relationships to sustain them over time. Remember to stay in touch with people even after you have graduated from college.
We are sorry that this post was not useful for you!
Let us improve this post!
Tell us how we can improve this post?