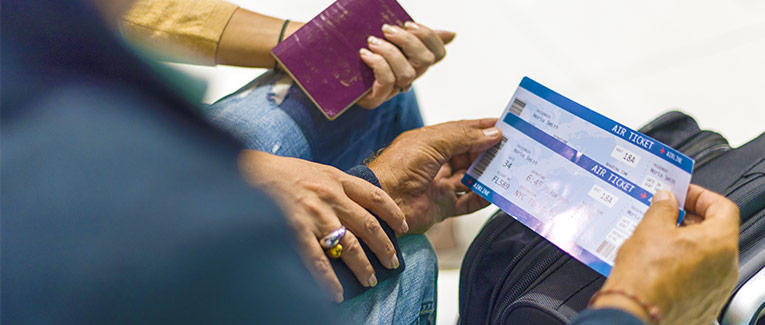 Spelled your name incorrectly on your airline ticket? When it comes to documents, most airlines are a stickler for accuracy. Even the smallest deviation from how your name appears on your passport can mean facing extra scrutiny, and even missing your flight.
What are the rules regarding a name mistake on a flight ticket?
Why is it essential to get your name perfectly right on the ticket?
How can you fix a misspelled name on flight ticket? Let's find out.
Rules regarding name mistakes on airline reservations
The Transportation Security Administration (TSA) necessitates that the name on your flight reservation matches perfectly with the name on the application. You can expect to get away with minor spelling errors such as a transposed or missing letter when flying domestic. The same, however, may not be possible in times of heightened security. If you're flying internationally, even a single wrong or missing letter can leave you grounded.
Most U.S. airlines have provisions for making minor alterations to your air ticket. These include:
Fixing typos and inverted first and last names
Correcting tickets booked using your nickname
Adding or removing middle names
Any errors in the name apart from the ones discussed could mean trouble.
Most airlines allow only a single correction to the name. If your airline ticket needs more than one correction to the name, airlines consider it a complete name change. In such situations, the decision to let you board your flight rests solely with the airline authorities.
What makes a misspelled name such a big deal?
The biggest reason getting your name right is so important is security. The TSA maintains a list of all domestic and international airplane passengers flying through the U.S. Every flyer is assigned a security rating based on factors such as their background, travel history, and likelihood of participating in criminal and otherwise risky behavior.
In order to minimize flight risks, the TSA matches every passenger's name against the government's watch lists. In a rare case, a misspelled letter can match your name to a high-risk flyer's. More commonly, it can arouse the suspicion that an individual is flying using a false identity.
Another big reason your name on the airline ticket should be just right is to prevent credit card fraud. When an airline allows changes to the passenger's name after the reservation has been made, it annuls the earlier match to the name of the credit card holder. This leaves the airline open to claims of chargeback.
How to fix misspelled name on airline tickets?
It's easiest to fix spelling mistakes on airline tickets if you notice them within 24 hours of booking your flight. If the price of the air ticket hasn't increased substantially, you can simply cancel the ticket. Most major airlines in the U.S. offer a full refund for tickets canceled within a period of 24 hours from purchase. You can then book a new ticket in your correctly spelled name.
If it's been over 24 hours, you'll need to contact the airline authorities to request name correction on your airline ticket. Based on the airline that you're flying with, you can request for correcting your name's spellings via phone, email, or even through the airline's social media channels.
The charges for correcting the name on a ticket vary from one airline to another. You can check these details by visiting the airline's official website.
In some instances, the airline authorities ask you to fill out some paperwork and provide identification before making the required changes. If you've bought the ticket from the airport's ticket desk, you can simply return to it, show your passport, and ask for a name correction on the ticket.
Airline authorities, as well as TSA personnel, have been known to let passengers fly despite minor spelling errors. Instances such as a missing or added middle name, shortening or lengthening of the name on the air ticket may not be deemed significant enough to keep you off your flight. It's best, however, not to leave the matter to the authorities, and to get the errors in your name corrected as soon as you notice them.
How to avoid misspelling your name when booking an airline ticket?
It's always easier to avoid a problem than to fix it. Here's how you can avoid typos on airline bookings:
1. Be extra careful when booking an airline ticket on the phone
A large number of misspelled name cases result from lack of attention while booking on the phone. Make sure you spell out your name letter-by-letter. Be attentive when the details are repeated for your confirmation. Ask for a soft copy of your reservation, and make sure you check it for errors.
2. Keep your frequent flyer accounts up-to-date
If you're a member of a frequent flyer program, carefully go over the spelling of your name and other specifics in your account. When you book a flight through your frequent flyer account, the booking window automatically fetches your account details.
If these details are correct and up-to-date, you won't have to deal with spelling errors on your flight ticket.
3. Book your own airline tickets
The chances of somebody else misspelling your name are infinitely greater than making the error yourself. That's why it's best to entrust the act of booking your airline ticket to nobody else but yourself.
In emergency situations where you have to rely on another for this task, make sure to inspect a copy of your reservation as early as possible.
What to do if you're late to notice the spelling mistakes?
So, you notice the errors on your ticket just a few hours from your scheduled flight; there are still ways to increase your chances of being allowed to board. Make sure to reach the airport as early as possible, also, carry multiple relevant IDs.
Avoid checking in online. Once at the airport, fill the counter agent in with your situation and show your IDs. The agent may help you out by including a note regarding your situation on your boarding pass. This can help make your case seem more convincing to the TSA officials.
When it comes to making flight reservations, a couple of misspelled letters can be a big inconvenience. Being attentive will help ensure your trip is uninterrupted and enjoyable.
In the case that your trip is interrupted, you can benefit greatly from a travel insurance policy. It can allow you the opportunity to receive compensation for prepaid, nonrefundable expenses on things such as hotel bookings and event tickets in case your trip ends up getting interrupted, or even canceled due to a reason that's covered by the policy.
We are sorry that this post was not useful for you!
Let us improve this post!
Tell us how we can improve this post?