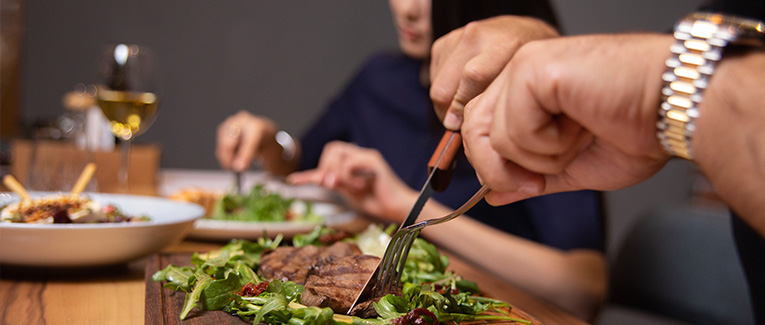 America has an amazing collection of sweet and savory dishes. It takes foreigners years to explore all of it. But don't worry, you still have plenty of time to catch up.
To begin with, let's dive into the ten most scrumptious savory and sweet American dishes each.
Delight Your Tastebuds with 10 Delectable American Savory Dishes
1. Steak
A thick, juicy slab of meat cooked to perfection. Mouthwatering, right?
Steak is an American dish with immense variety. When you visit a steakhouse, they'll ask how you want your steak cooked. You can choose from a range of very rare (bloody) to well-done (fully cooked). From the cut and type of meat to the cooking process, the factors that influence your steak's flavors are varied. It's like you're having a different dish every time.
Although people instantly think of beef when they imagine steak, you will find several other kinds of steak in America. These include fish, lamb, pork, chicken, and vegan alternatives.
2. Clam Chowder
This dish is native to Boston. Most likely, you've never tried this dish, or even heard of it before you moved to America. Don't let that stop you, though.
Chowder is a thick soup or stew made with milk, cream, or roux. It looks unpleasant, but tastes heavenly. Clams are the star ingredient. Other than that, you will find diced potatoes, pork, and onions in it. Among American dishes, Clam chowder is the most fragrant and sapid.
3. Tater Tots
Funny name, isn't it?
"Tater" is, in fact, short for potato, and the dish is just as innovative as its name.
These are tiny, deep-fried potato cylinders made with grated potatoes. Tater tots are supposed to be a side dish, but they are appetizing enough to fill you up before you know it.
4. Chicken Pot Pie
A classic American dish that pulls your heartstrings. This is a savory variant of the sweet dish Americans know and love.
Pot pies contain meat covered on the top with a pie crust made of flaky pastry. Pot pie can be prepared over a stovetop, in an oven, or over a campfire. It is the king of American dishes. On a chilly winter night, a delicious chicken pot pie is a veritable delight.
5. Sloppy Joe
It is impossible to devour a sloppy joe neatly.
The sloppy joe is a timeless American sandwich. Ground beef, onions, ketchup, and Worcestershire sauce served on a hamburger bun; it doesn't get tastier than that. Have yourself one of these for the true taste of American comfort food.
6. BBQ Ribs
They stick to your fingers, tastebuds, and heart. Barbeque ribs are one of the reigning American dishes. Although ribs can be made of either pork or beef, Americans are partial to pork. But, you need to try both varieties and decide for yourself.
Once you bite into one of these, you can't stop before you've consumed way too much for your own good. You'll realize the reason behind America's passion for barbecuing food.
7. Deep-Dish Pizza
Chicago's deep-dish pizza will satisfy your lust for crust and your need for meat.
The tall, buttery crust is filled to the brim with meat and cheese. The deep-dish pizza was designed to be a hearty meal, not a light snack. So, make enough room in your tummy beforehand.
8. Meatloaf
Visualize a loaf of bread made entirely of meat.
Although you can easily order meatloaf at a restaurant, this American dish tastes best when made at home. It is one of those American dishes that is unique to each household.
Once you are invited over for dinner, cross your fingers and hope that meatloaf is on the menu. That is the only way you'll know the true depth of this dish.
9. Pot Roast
Pot roast, aka the most wholesome weekend family dinner, holds a nostalgic and sentimental place in the hearts of many Americans.
Every family has its own way of cooking this dish. A tough cut of beef is slow-cooked with vegetables and anointed with wine. As the components simmer in their juices, the house is filled with an appetizing aroma.
Pot roast is a culinary experience that cannot be merely imagined. You have to feast on it.
10. California Roll
The California roll is a marriage between the east and the west. It is an American adaptation of the Japanese Sushi.
Back in the 60s, two Japanese chefs tried to innovate an American version of sushi, for those who did not want to eat raw fish, as is customary. The result was the well-known avocado-crab-cucumber roll. It has a seaweed sheet (nori) on the inside, and it is often sprinkled on top with sesame seeds and flying fish roe (tobiko). A nontraditional fusion cuisine you ought to try.
Get Enamored With These 10 Scrumptious American Desserts
1. Pecan Pie
If you are a fan of nutty flavors, pecan pie is for you. This is a native dish of the American South that has now made its place in all Americans' hearts and homes.
Pecan pie is made with pecan nuts mixed with the yumminess of eggs, butter, and sugar. It offers the ideal balance of crunch and sweetness. Americans associate it with special occasions like Thanksgiving and Christmas.
2. Doughnuts
This is one of those world-renowned American dishes that has made its way to almost every country. You probably have some version of the doughnut in your home country as well.
Having said that, the classic American doughnut is different. This leavened and sweetened fried dough with a hole in the center is a beloved sweet snack for all times of the day.
There is more variety to this simple dish than you can imagine. Doughnuts are often filled with fruit preserves, cream, custard, or other sweet fillings, and topped with various glazes. You'll never get tired of the possibilities.
3. Cheesecake
Even though this dish originated in ancient Greece, it is so popular that almost every country has its own version now. The New York cheesecake is all the rage in America.
Cheesecake is on the tangy side of desserts. Made with cream cheese and sour cream, frozen solid on a crunchy biscuit base, the New York cheesecake makes people ravenous for more. It is a thick and filling dessert that ought to be enjoyed all by itself.
4. Blueberry Cobbler
This is another zesty dessert that abounds in fruity flavors. Blueberries are native to Maine, and the cobbler was first made in America in an iron skillet. It can't get more American than that.
In principle, a cobbler is the opposite of a pie. The fruit filling goes on the inside, which is then covered with a batter on top. The result? A gooey concoction of blueberry juices and buttery crust.
5. Angel Food Cake
An airy, light sponge cake that is feathery like its namesake. It is the most simple, yet uniquely delicious cake possible.
Angel food cake is made with only four main ingredients—sugar, flour, egg whites, and cream of tartar. Not even any butter or vanilla goes into it. All the magic happens in the aeration or whipping process.
It gained traction in America in the 19th century, and people have been gobbling it up ever since.
6. Devil's Food Cake
Devil's food cake is as rich, moist, and dense as its "angel" counterpart is light. This is a 20th-century adaptation on the chocolate cake that has way too many varieties to count today.
Devil's food cake has much more chocolate than your average chocolate cake. Such a layered chocolate cake slathered with rich chocolate frosting is any chocolate lover's dream.
7. Baked Alaska
This fancy dessert derives its name from the scorched ice look it gives off. Because of its appearance, Baked Alaska is also called the omelet surprise.
Baked Alaska is one of the most interesting American dishes to make. It is a delicate construct of ice cream placed in a pie dish, lined with slices of sponge cake, topped with meringue.
This cold delicacy is then baked in a scorching hot oven to caramelize the meringue. But, it is removed before the ice cream melts. So, you can have this unique dessert that is warm on the outside, but cold on the inside.
8. Key Lime Pie
Key lime pie is a testament to America's love for tangy desserts. Whoever decided to squeeze an aromatic key lime into a pie chanced upon the invention of a century, and you get to relish the result.
Contrary to what you'd expect, key lime pies are yellow, not green. This is because of the high content of egg yolks. A thick curdled mixture is formed when egg yolks and sweetened condensed milk interact with the acidic lime juice. It is then baked and topped off with meringue.
9. Cinnamon Rolls
This is not strictly an American dessert, as cinnamon rolls are well known in northern European countries. But they are just as popular in North America.
The name is pretty self-explanatory. It is a puff pastry roll infused with the warmth of cinnamon, and sprinkled with icing sugar. A few of these rolls with a warm cup of coffee are all you need to energize your cold winter mornings in America.
10. Apple Pie
We have saved the most American of all American dishes for the last. This double-crusted pie stuffed with juicy apples has been an American tradition for centuries.
The arrangement of the upper lattice made with flaky pie dough varies from cook to cook; it is an expression of creativity through food. Apple pie is often served with a scoop of vanilla ice cream on top.
The apple pie is synonymous with being an American. It is prepared for almost every minor and major occasion. You haven't been to America if you haven't had the world-famous apple pie at least once. So, this should be the first cuisine you try. With this list, we have given you a head start. What's left is for you to discover the resplendency of American food culture. You have seen and heard of enough American dishes; now it's time to taste.
We are sorry that this post was not useful for you!
Let us improve this post!
Tell us how we can improve this post?