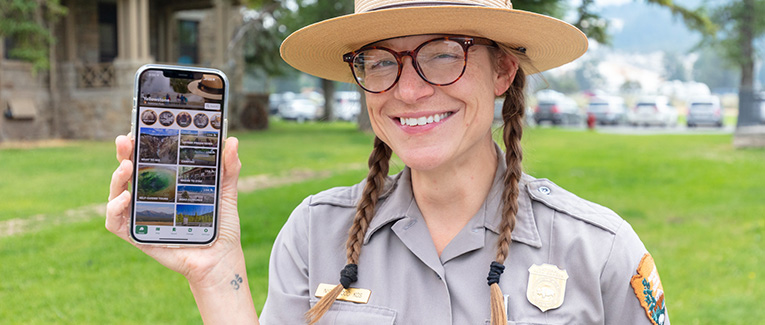 There is plenty more to America than the hustle-bustle of New York, the glam of LA, and the ritual expeditions to Disneyland. Beauties like Mount Rushmore and the Grand Canyon offer a serenity and view that you will not find in the metropolitan concrete jungle.
Where do you find such enchanting sights? In U.S. National Parks, of course!
The rarest nooks and crannies of nature and the most captivating wildlife species, including some that are endangered, are preserved in national parks throughout the U.S. These wonders of nature are awaiting your arrival.
But, before you rush out the door, you're lacking some crucial information as a first-timer.
There are numerous national parks in every state of America. Which one is right for you?
How are the rules for visiting these national parks different from your home country?
How do you go about booking a trip?
We'll answer each of these questions, so keep your eyes peeled if you're genuinely keen on exploring the natural landscape of the United States of America.
There Are 63 National Parks. Which Ones Should You Visit?
All national parks in the U.S. have something unique to offer. Some are renowned for magnificent waterfalls and lakes, while some gain attention for the unique animals that inhabit them. Although none of these attractions are mutually exclusive, they're worth paying a visit.
As a nature enthusiast, you might be more attracted to a specific natural vista. Maybe you enjoy exploring forests more than deserts. This is the ideal point of reference to start sorting out the perfect national park for you.
We have devised a list of some of the most enticing aspects of national parks in general. For your first visit to national parks in the U. S, you must begin somewhere you are guaranteed to love. Take your pick among:
1. Mountains
From snow-covered peaks to luscious green mountain ranges and alpine meadows, you'll find everything in these American national parks. Ideal for trekkers and mountain climbers.
Alaska Range
Appalachian Mountains
Appalachian National Scenic Trail
Blue Ridge Parkway
California Basin and Range
Brooks Range
Cascade Range
Coastal Ranges
Hawaiian Islands
Rocky Mountains
Sierra Madre
Sierra Nevada
For visitors, travel, student and other international travel medical insurance.
Visit insubuy.com or call 1 (866) INSUBUY or +1 (972) 985-4400

2. Bodies of Water
Are you a fan of water sports? Do oceans, rivers, waterfalls, lakes, and wetlands excite you? These water-centered parks are just for you.
Dinosaur National Monument
3. Deserts
If a stark, arid landscape fascinates you, exploring deserts can be quite a distinct experience. Here are some national parks which would suit your taste:
4. Wildlife
Roaring bears, majestic buffalo, and the rarest of birds reside here. Wildlife viewing is another predominant activity at national parks in the U. S. These parks specialize in that domain:
For visitors, travel, student and other international travel medical insurance.
Visit insubuy.com or call 1 (866) INSUBUY or +1 (972) 985-4400

5. Heritage Sites
If the history buff in you is always curious, you'll be pleased to know that many national parks in the U.S. are treasure troves of natural and human history. Each of these houses America's heritage:
Note – This is by no means an all-encompassing list, nor is it a reflection on any parks not listed here.
There are several extraordinary parks that don't fit into any one category, and they are all the more enticing for that reason. You should investigate and deduce which ones suit you best.
Important Rules for U.S. National Parks
Now that you have hopefully set your eyes on a national park, it's time to get familiar with the rules. If you're thinking you can learn the rules a day or two before your visit, you're likely mistaken.
Some of these dictums can become decisive factors for visiting certain parks. Not to mention, you'll have to prepare way ahead. So, try and keep up!
1. Learn The Correct Hiking Etiquette
When you're on a narrow uphill path, always move aside when you hear the ring of a cyclist, a horseback rider trotting up, or a group of hikers approaching. It is not only polite, but also imperative to ensure safety on the path.
2. Keep Noise at A Minimum
Creating noise disrupts the natural atmosphere. It might even hurt the chances of survival for certain animals, since many wildlife species rely on natural sounds for communication. Not to mention, it is disrespectful to your fellow visitors.
While inside a national park, you must not:
Scream or shout at others
Speak too loudly on the phone
Repeatedly call out your companions
Play music out loud, especially on speakers
3. Leave No Trace
Leave the place like you never even visited. Even the smallest human interference can disrupt the natural habitat of sensitive plants and animals.
Practice the following steps:
Don't take rocks, vegetation, and artifacts, even as a souvenir. Leave what you find.
Minimize campfire impacts. Pay heed to fire hazards.
Dispose of waste properly. Don't create waste you're not prepared to carry back out with you.
Travel and camp on durable surfaces to avoid any damage to vegetation or landscape.
4. Wildlife Interaction—Keep Your Distance
When inside a national park, you are in the animals' home, not the other way around. So, act accordingly.
Here's what you should do when you encounter wildlife:
Observe quietly from a safe distance. Don't startle animals with quick movements or loud noises.
Never get too close, especially with a large group. This scares them and forces them to flee.
Never pursue animals or attempt to touch or feed them.
For visitors, travel, student and other international travel medical insurance.
Visit insubuy.com or call 1 (866) INSUBUY or +1 (972) 985-4400

5. Pet-friendliness Is Not A Given
This varies from park to park. You'll have to check in with the specific national park and see if you are allowed to bring along your furry friend. If it's allowed, you'll have to abide by further guidelines. However, if you are going to a park with abundant wildlife, the chances are slim.
6. Road Trip Rules To Abide By
National parks in the U.S. are best explored by car. But, in some cases, you'll need to reserve or apply for a permit ahead of time. There might be driving guidelines as well. Check on all that before you fuel up your engine.
7. Camping And Lodging Rules
In case of multiday visits, you'll have to decide on a place to stay. You can either camp, or stay at a lodge. Unless you plan to stay outside the national park – which is time wasted in traveling back and forth – you'll have to book your campsites or lodges beforehand. Very few camping and lodging sites operate on a first-come, first-served basis.
8. Wilderness Permits—Yes or Pass?
Hiking or staying overnight in protected areas often requires wilderness permits or backcountry permits. Sometimes your backcountry campsite reservation doubles as your permit. If you plan on such activities, but don't reserve a permit, brace yourself for disappointment.
9. Respect The Boundaries
The trail and signposts exist for a reason. You are supposed to heed the suggestions and stay on the trail. If you encounter a sign that restricts visitors from exploring past a certain point, do not venture any further.
Otherwise, you stand chances of damaging the surrounding vegetation, or ending up in a dangerous situation.
10. Invasive Species Are A No Go
Foreign invasive species endanger the natural ecosystem of national parks. That's why there are strict rules against them.
Although these regulations vary greatly, a common rule you might have to follow is cleaning the different types of gear and equipment you bring. This depends on the parts of the park you'll be visiting, and the activities you'll be partaking in.
Learn How to Book a Trip to National Parks
If you don't want to be turned away from the gates with your luggage and entourage, you should learn the basics of booking. We'll also let you in on some lesser-known facts that will make the process way easier.
Firstly, get your timing right. Not all parks are ideal for visiting at all times of the year. Some parks are closed in certain seasons due to snow and weather advisories. The best time to visit national parks in the U.S. is from September to October.
Pre-booking is the norm. This is because popular national parks often get booked an entire year in advance. Booking in advance allows you to make the most out of your journey.
Exceptional last-minute bookings are also allowed in the case of less popular parks. But, we'd suggest not to take the risk.
If you want to visit multiple parks within the span of a year, an annual pass is your answer.
Although more than two-thirds of national parks are free all year-round, some charge a nominal entrance fee to help maintain the park. If you want to avoid entrance fees altogether, look out for annual fee-free days. The parks will be crowded on these days, though.
For visitors, travel, student and other international travel medical insurance.
Visit insubuy.com or call 1 (866) INSUBUY or +1 (972) 985-4400

You Are All Set. Or Are You?
This is only the beginning of your research. We are here to help you decide which natural parks to explore, and to familiarize you with basic knowledge for doing so.
From here, you still have much planning and studying to do. Once you've decided on a destination, you'll need to determine if you have the appropriate gear to visit, and the physical fitness to undertake what you have in mind.
Why so much caution? Because out there, you're in the wild. If you were to get sick or injured, rescue would be an arduous (and expensive process).
Because of this, it's highly recommended that you purchase visitors insurance or travel medical insurance that provides coverage for the activity to you plan to take part in before your national park trip. You want to be covered in case of a medical emergency or mishap, so you're protected from the massive cost of medical treatment. You never know what might happen out in the wild.
We are sorry that this post was not useful for you!
Let us improve this post!
Tell us how we can improve this post?