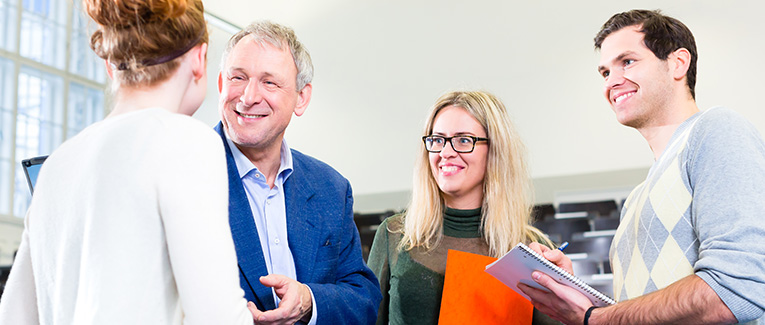 Americans are generally friendly, outgoing people. They aren't shy about introducing themselves to strangers and making acquaintances on the go.
This extroverted culture extends to the professional world as well. According to a survey, 85% of job candidates in America get selected based on common professional connections.
In fact, 70% of open positions in the U.S. aren't even announced outside the company. They are filled by people who come recommended by employees, or are known by recruiters.
But, don't mistake this for a closed culture that only hires those in a secret inner circle.
With thousands of job seekers sending in their resumes for a job, recruiters struggle to find someone who feels real and reliable. In such situations, hiring someone you already know, or someone your friend can vouch for, becomes the obvious choice.
After all, there's only so much depth and personality you can add to a resume.
So, if you want to land that dream job of yours, then you better get out there and start networking for it.
As someone who's new to the country, you might not have any prior connections in the U.S. that you can leverage. But that doesn't mean there is a shortage of networking opportunities for international students like you.
We've put together a comprehensive list of all the networking avenues you can explore in the U.S., even if you're starting from scratch in a brand-new industry.
Here are the 7 most effective ways for international students to leverage networking in the U.S. (and land that dream job).
1. Start with the Closest Option: Get in Touch with Your Professors (& Advisors)
You get so much more than just coursework advice when you maintain a good rapport with your professors. Most academic advisors and professors have valuable insider insights into the job market, along with great industry connections.
Be active in the classroom, go the extra mile on your papers, and connect with them outside of class. Build a relationship with them and show them your potential to excel, and they will happily recommend you for open positions.
Don't go cold once you graduate. Stay in touch by sending them holiday cards, birthday wishes, and catching up when you're in town.
2. Don't Underestimate Your Peers: Networking in College Clubs
Your classmates might not be able to recommend you for a job today, but they just might be working for a company you love 3 years down the line. The time and energy invested in these relationships will last you a lifetime.
Whether it's a professional club, a sorority, or a hobby group, they all give you a chance to learn, try something new, and build your network at the same time.
They also have the side benefit of looking great on your resume, and helping you make some great friends on the way.
If you're worried about fitting in as an international student, then these clubs are a great way to get used to American culture. You can use these spaces to hone your social skills, so you can show up confidently for future networking events.
3. Learn from Those Who've Made It: Make Use of the Alumni Network
Don't just stop at making friends among your classmates, as past students are a great way to get your foot in the door. Most American universities have a strong alumni network that is ready to help out new graduates.
Even if their workplace isn't hiring right now, alumni can suggest places to apply, and recommend you for open positions they know.
When reaching out to them on LinkedIn while you're job-hunting is good, you can do better by starting early.
Attend alumni networking events while you're in college to meet people who are where you want to be in a few years. Don't be afraid to make the first move and strike up a conversation with them. Be genuine, ask insightful questions, share your perspective, and stay in touch afterward.
Do this consistently, and you will have a solid network by the time you graduate. Plus, you will have also gotten first-hand career advice from those who've made it.
4. Show Up at the Right Places: Networking at Relevant Industry Events
While we're on the topic of attending events, find out about local industry events and conferences that are happening, both online and offline. Some of them may only be for professionals, but most of them allow students to attend as well.
They give you the chance to meet professionals and stay updated on what's going on in the industry through talks and presentations.
If these conferences are too expensive for your international student budget, then sign up to be a volunteer for them. This can get you free or discounted entry.
5. Make the Most of Online Networking: Spruce up Your LinkedIn Profile
Platforms like LinkedIn allow you to connect with relevant people from whichever industry or company you're interested in.
Recruiters also use this platform to hunt for talent, so ensure your profile is updated to reflect the best of your achievements to catch their eyes. Link your resume and portfolio as well so they can get a total view of your experience.
Boost your profile with recommendations from peers, professors, and colleagues.
But, remember, LinkedIn isn't the best option for all industries. If you're looking to work in industries or brands that are more active on other platforms, like Instagram or Twitter — then get on there, too.
Follow the right people, and get on their radar by engaging with their posts in an insightful manner.
6. Take the First Step: Reach Out to People on Social Media
Here's the thing, it's not enough to just have a profile on these platforms and expect magic to happen.
You have to show up, connect with the right people, and then nurture those relationships.
While sending a connection request, make a good first impression by sending them a personalized note or direct message. Briefly introduce yourself and tell them why you want to connect with them. Make the DM sweeter by sliding in a well-placed compliment about their work or position.
After connecting with them, build the relationship by continuing the conversation. Talk to them about industry insights, their work, and sharing perspectives.
If they're in the same city as you, then ask them if they're free to catch up over coffee sometime. Invite them over for an informational interview to learn from them, get tips, and build that relationship further.
7. Get Your Foot in the Door: Start Early with Internships or Volunteer Work
Kill two birds with one stone by applying for internships or volunteer work at relevant non-profits. These roles give you work experience to add to your resume, along with a chance to work alongside industry professionals.
Make use of your summer or winter breaks to intern at companies you'd like to work at in the future. While you're there, be proactive, make a great impression, and attend work events. Use the opportunity to build relationships with everyone you can, even those not on your team or in your department.
Now, before you set off to put these tips to good use, here's one final piece of advice for you: Don't let this list overwhelm you.
Start small, and dedicate a set amount of time in your schedule for networking and outreach every week. That way you won't run out of steam in a few days and burn out by the next Saturday night.
Don't expect to see results in a week, or even a month.
As is with all relationships, consistency is key to building momentum and a real connection.
Stay at it for the long run, and show up for the small things like that catch up over coffee, even if it seems inconsequential. It's the little things that add up over time to make that relationship real.
All the best, and happy networking.
We are sorry that this post was not useful for you!
Let us improve this post!
Tell us how we can improve this post?