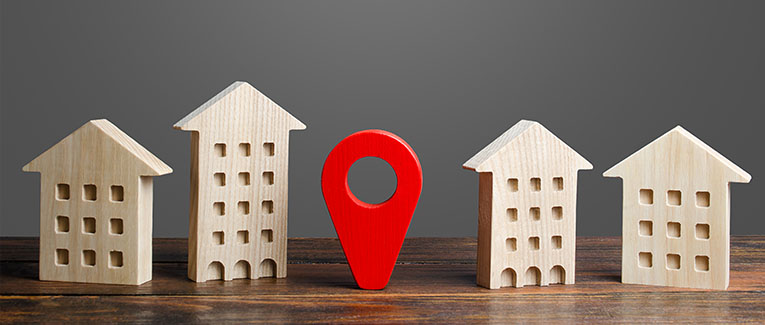 It is not an easy task to buy property in India. Even if you have narrowed down which city you want to live in, there is no homogeneity at all in the level of services offered.
In some locations, like Western nations and the Middle East, amenities like paved roads, footpaths, streetlights, a clean water supply, and others are a given.
In India, there is no guarantee that rainwater is going to recede after a storm, even if your apartment costs a million dollars.
What are the factors you have to investigate before deciding on a purchase? Here, we take an in-depth look.
Essential Tips for Choosing the Right Location
Roads and Connectivity

Take a drive around. Of course, we assume that you have access to a car (rental or owned). Look at the state of roads all around the location, not only near the complex but up to two kilometers (about 1.25 miles) away.

The smallest administrative unit in an Indian city is known as a municipal ward. Adjoining wards may have very different conditions due to indifferent bureaucrats and plain inefficiency.

Are the roads well paved and free from congestion most of the day? How far are you from the airport or rail station? Of course, many cities like Delhi, Mumbai, and Kolkata are vast (often 2,000 square kilometers or about 772 square miles in area), and one cannot be close to both the airport and train station.
Water Supply

Most metropolitan cities (except Kolkata) have an acute water shortage. In Bangalore and Delhi, the situation is dire. An average U.S. household uses 1,100 liters (about 290 gallons) of water daily. That is a dream in most Indian cities.

In quite a few spots, residents have to rely on a water tanker delivery. Ask the neighbors or engage in conversation at the nearest tea shop (the humble roadside tea stall remains the hub of local knowledge in India) if there is a consistent water supply.
Proximity to a Business District

This is not always required or possible, but if you are going to retire and do some consulting work, you need to be close to a business district. It is also an essential factor in deciding the rent amount if you are going to hand the property over to a tenant.

Most Indian cities have evolved outward in stages. This means that many now have more than one business district. You might choose to be closer to the district that houses your industry of choice.
Crime

Petty theft can ruin your life. From cars to laptops, every item of value is under the scanner of thieves. It is relatively easy to learn about the crime graph in a location by visiting police department websites. Also, an RTI can help if the website does not have enough data about the ward-wise breakdown of petty theft.

However, most NRIs choose to settle down in gated communities that have 24×7 security patrol and CCTV. Thus, this might not always make a project undesirable. However, if you are scared about being alone on the road at 11 p.m. while on your way back from a party, it is best to choose safer regions.
Broadband

Broadband through fiber optic has spotty penetration in India. It is available everywhere through mobile towers, but the fixed-line data network is still evolving due to the massive costs involved.

If you plan on watching lots of streaming content, check out the fiber optic connectivity in and around the complex.
Healthcare

This is critical, especially for those who are above age 50. Ideally, you should be no more than 3 kilometers (about 1.9 miles) from a reputed private hospital (approximately an hour away, all things considered) if you want emergency treatment.

It is also challenging to travel long distances with a patient, especially if the condition is chronic. It is due to the presence of large hospitals that the top eight metros—Ahmedabad, Bangalore, Chennai, Delhi, Hyderabad, Kolkata, Mumbai, and Pune—are so expensive to live in. Nearly a third of India's population wants to live within 10 kilometers (about 6.2 miles) of a super specialty private hospital chain, such as Apollo, Fortis, or Max.

Tier-II cities such as Chandigarh or Jamshedpur offer excellent facilities, but the medical care is under tremendous strain (both of these are managed townships and have all other amenities).
Finally…
The last point nullifies the city-versus-suburb debate. In the U.S., the suburbs are viable because ambulances can transport a patient quickly downtown. That does not happen in India.
However, the suburbs are more peaceful and far less polluted. You can be closer to nature, and the rural surroundings are less stressful.
But areas outside of inner-city wards often lack basic amenities, such as street lights. If you wish to stay in the suburbs, locations like Devanahalli in Bangalore offer integrated townships with all urban conveniences. Try to find a place that is as similar as possible in other metros.
At the end of the day, it is a delicate balancing act. You have to weigh all the variables and find the location that is optimal for your family.
We are sorry that this post was not useful for you!
Let us improve this post!
Tell us how we can improve this post?