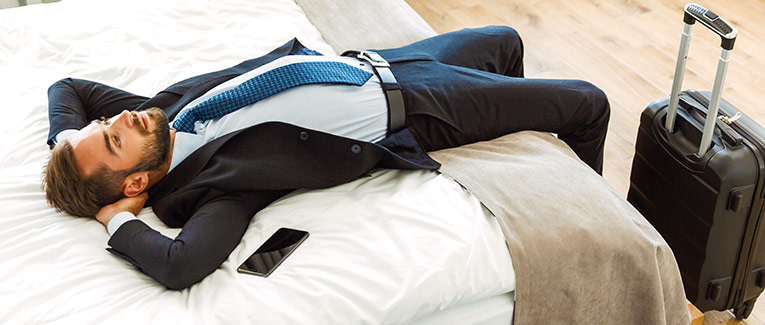 Pro travelers use tricks to optimize their business travels. In the next five minutes, learn all the tricks so you too can enjoy your work trips.
Arrive Early, or Leave Late
Want to squeeze in more sightseeing time during your business trip? Arrive early at your destination, or leave late. You'll have extra days without any work.
If you cannot manage extra days, book an early-morning flight to arrive. Use the extra hour or two to explore the city before meetings begin. You can also book a late-night flight when you leave the city.
Stick to One Airline
Airlines offer you reward points and elite status the more you travel with them. You can get access to free Wi-Fi, take a shower and have coffee, or work while you sit on the plush leather sofa on an airport lounge.
Priority boarding allows you to avoid long lines, and airlines might also waive checked bag fees for elite members.

For visitors, travel, student and other international travel medical insurance.
Visit insubuy.com or call +1 (866) INSUBUY or +1 (972) 985-4400

Airbnb or Hotels
Think Airbnb is just for personal travels? Not quite. More than seven million companies book Airbnb's for business travels.
Airbnb charges up to 30% less than hotels. Use the extra money to rent a car or stay an additional day. Furthermore, you likely won't have to tolerate a noisy traveler in the next room.
Stay in a hotel if you cannot find an Airbnb close to your workplace. You'll receive reward points to use for future travel, and sometimes, hotels offer discounted deals including a free night's stay.   
If you will attend a conference, stay at the conference hotel. You'll save both time and money. You can also have the opportunity to engage with fellow attendees, which can turn into new business deals.
Travel Light
The plane was delayed for an hour, and you must attend a meeting in 30 minutes. You look at the long line around the luggage carousel in frustration.
Travel with only carryon luggage to avoid delays. You can head straight to the meeting, and you will not have to worry about dragging a heavy suitcase through the airport.   
Organize your clothes, laptop, and chargers in separate compartments. No one likes the person who takes twenty minutes to unpack their stuff on the conveyor belt at airport security. 
Use Delays to Work
Flight delayed for an hour? Use the time to send emails and delegate tasks to your teammates. Prepare that PowerPoint presentation while you're on the flight.
You'll have more time to relax when you land.
Use your Credit Card
If your employer allows, charge every expense of the trip to your credit card. The extra reward points you earn will help you save money for a personal vacation.
Plan Casual Meetings
Ask your client to join you on a hike, discuss collaboration processes while you stroll inside a museum, or sign deals as you play golf.
Make sure to ask your client beforehand if they are okay with casual meetings.
Avoid the Hotel Gym
Attend a yoga class at a local studio and talk to the participants. Strike up conversations about their life and work. The locals know the best bars, restaurants, and places to travel in a city.
Are you an introvert? Not a problem. Run on the city sidewalks to stay fit, or find a local park with jogging trails.
Enjoy the Nightlife
You attended meetings all day, and now you don't want to spend all night in the hotel room. Head over to the local bar or club.
Ask the hotel staff for information about nearby bars, pubs, and clubs.
Eat Local
Local dishes are cheaper than exotic ones anywhere in the world. Restaurants buy the necessary ingredients from local vendors, so they never have to pay customs taxes or transit.
Furthermore, when you eat local, you support the local community.
Use Essential Oils to Avoid Stress
You have back-to back-meetings, and you have to decide whether to close a deal or let it go. The result? Stress and anxiety.
Essential oils can help to lower your stress and anxiety levels. The oils also enhance your sleep quality. Add up to six drops of lavender or chamomile essential oils into your nighttime bath.
You can also put up to three drops of essential oil on a tissue and place the tissue inside the pillowcase. The essential oils calm your nerves and help you to relax.
Skip the Upgrades for a Field Trip
If you book first-class flight tickets and stay at five-star hotels, try swapping them with economy tickets and Airbnbs instead. You can then spend the extra money on a field trip.
If you travel with coworkers, the field trips can act as teambuilding sessions.

For visitors, travel, student and other international travel medical insurance.
Visit insubuy.com or call 1 (866) INSUBUY or +1 (972) 985-4400

Scheduling and Communication is Key
Block out times for work and leisure activities, and share the schedule with your clients or employer. The better your schedule is balanced, the more you'll enjoy the business trip.
Final Notes
Before you leave for your business trip, make sure that you purchase travel insurance or business travel insurance first. Business trips can be hectic sometimes, so this essential coverage can be forgotten.
Travel insurance for your business trip can provide you with financial coverage for prepaid, nonrefundable expenses in case your client or conference cancelled. It can also provide valuable coverage for lost luggage, baggage delays, medical emergencies, and more. Visit Insubuy to select the right plan before your next business trip.
We are sorry that this post was not useful for you!
Let us improve this post!
Tell us how we can improve this post?