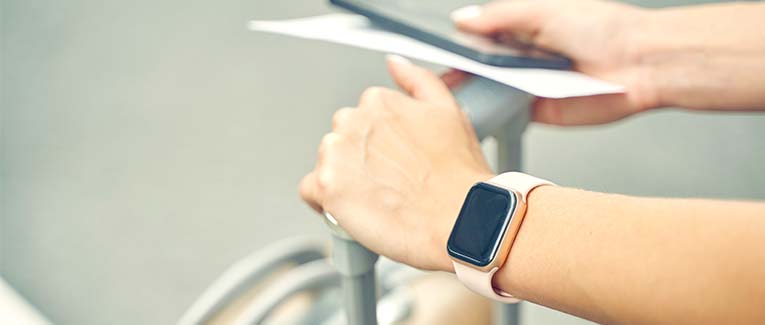 You forgot to pack the toothbrush. You cannot find your passport. You try to figure out how there is never any space left in your suitcase.
Packing for a trip offers its own set of worries. However, we are here to help. In the next five minutes, learn which travel items to pack for a stress-free vacation.
A Fitness Tracker
Harvard Business Review confirmed that business travel increases the chances of obesity, anxiety, and depression. Furthermore, even if you are traveling for pleasure, the scenario doesn't change much. Remember the steak with fries and late-night cocktail you had at two in the morning?
A fitness tracker can help you track your calorie consumption. Furthermore, the tracker notes how many hours of sleep you are getting as well. Analyze the data, and if you are falling behind a healthy lifestyle, take action.
Slept for four hours instead of six at night? Squeeze in a couple of hours of sleep in the afternoon. Pizza and soda at midnight? Use the stairs instead of the lift to burn the extra calories.
Luggage Locks
At the JFK International Airport, passengers report over 200 items stolen from checked luggage each day. That is reason enough to invest in luggage locks.
Furthermore, luggage locks help hold the zippers of bags together. Thus, the zippers won't open while on transit.
Invest in a combination luggage lock. You won't need to worry about losing the key.
Luggage locks allow you to leave your luggage with less worry in the hotel lobby or in a rented locker in a public place.
Item Trackers
Imagine this scenario. You cannot find your passport anywhere in the hotel room. You searched on the bedside table, inside your jacket pocket, and even in your luggage.
However, you don't pull your hair or scream in frustration. You open an app and choose the option to ring the tracker. A ringing noise emits from under the bedsheet. There is your passport.
That is how item trackers work. You attach the tracker to your items and forget about it (pun intended). You can search for items placed within 400 feet. Furthermore, if the item you are searching for is outside the Bluetooth range, you can view the last location of the item on the app. Some even allow you to track items anywhere in the world using GPS technology. You can view the location directly on your phone screen.
Travel Insurance Policy Documents
A million things can go wrong while traveling. Your luggage can arrive with a dime-sized hole. You can break your leg and end up visiting the emergency room. A relative can pass and you need to cancel the trip.
All the aforementioned scenarios involve you spending money you never expected to spend. However, if you are a smart traveler and bought travel insurance beforehand, you could be covered.
You can shop from a variety of travel insurance plans at Insubuy.
Head over to the website. Compare and choose a travel insurance plan with the click of a button. Buy the insurance plan and save the policy documents online. Insubuy offers top-notch customer support post-purchase, no matter which country you are in.
Why should you trust Insubuy? Here are a few reasons:
256-bit encryption to protect all your personal and transactional information.
The PCI DSS-compliant site protects your credit card information.
Highest BBB Rating of A+
A Power Bank
You absolutely must upload a selfie underneath the Eiffel Tower on Instagram. You need to pay a freelancer working for you while you are on vacation. However, your smartphone flashes a '1% charge left' message. If the genie appeared before you, you would only ask for a mobile charger.
The genie offers something better; a power bank. Plug your phone into the power bank and forget the tangled mess of phone chargers. Furthermore, you won't need to forage for a socket to plug the charger in.
However, power banks can catch fire on flights. Thus, you can carry one power bank with up to 100 watt-hours battery capacity. Furthermore, you must pack the power bank on your carryon luggage. This way, if the power bank has an issue, the cabin crew can address it.
Toiletry Organizers
1,288,817. That is the number of bacteria cells crawling on the hotel bathroom counter. And we have not scribbled a random number. The data comes from a survey published on CNN Traveler. The survey confirmed that hotel bathrooms are dirtier than airplanes as well.
Thus, never dump your toiletries on the counter. Invest in a toiletry organizer. Furthermore, you will find all your toiletries in one place. Thus, you never lose the toiletries, or spend hours packing them in your luggage.
Try to buy an organizer with a clear cover. TSA loves luggage they can see through. Furthermore, you can spot your toothbrush or electronic trimmer within seconds.
A Massage Wand
You drove for five hours on your road trip, and lugged a heavy suitcase up the hotel stairs. Now your neck, back, and shoulders are sore. Thus, you spend your vacation lying on your hotel bed.
The solution? A massage wand, or massage gun. These tools promote blood flow to the applied area. The increased blood flow translates to reduced muscle tension and inflammation. Thus, your muscles loosen up and you feel ready to take on a one-hour hike again.
If you travel on flights, you can carry one massage gun with you. Furthermore, check if the TSA allows the batteries of the massage gun. You can carry two lithium batteries with over 100 watt-hours capacity in your carryon luggage. Furthermore, TSA never allows loose lithium batteries in checked baggage.
Beach Bags and Safes
Traveling solo in Ibiza? You could go for a swim and return to find your smartphone missing.
Beach bags and safes reduce the chances of this happening. Pack your items inside the bag and leave it on your beach chair. The bags and safes offer both key locks and combination locks.
Furthermore, some bags and safes, including the CoolBag Gen 2 Anti-theft Tote, offer a cooling compartment. This means you can pack a snack or two as well.
Choose a bag or safe which is waterproof and salt and sand-resistant.
An Extra Memory Card
Imagine this scenario: You are riding on a boat bordered by lush green trees. You click the shutter every two seconds. Five minutes in and the memory card is full.
Your best bet now is to miss capturing the scenery around you, reach the shore, and head for the nearest electronics store. Furthermore, if you are in a different country, you can end up paying more than if you were in your homeland, thanks to the currency exchange rate.
Therefore, always pack an extra memory card. You wouldn't want to miss capturing photos of the Nile, right?
Don't Put Off Packing
The more time you have to pack, the less anxiety you'll have. When you can take your time, you won't forget to pack the essential items we mentioned above.
We are sorry that this post was not useful for you!
Let us improve this post!
Tell us how we can improve this post?