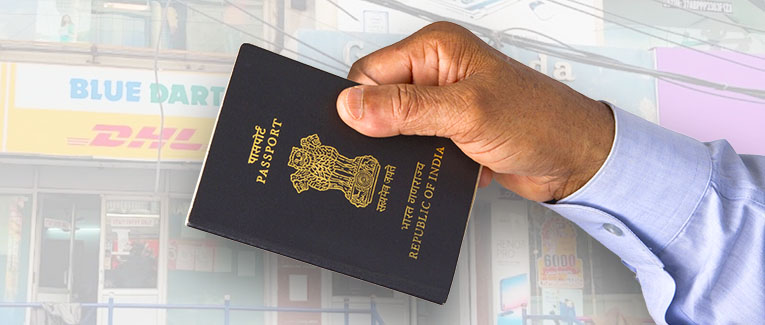 Following are the Blue Dart locations for collecting your passport with the U.S. visa in India, once your visa is approved. Of course, you can only collect the passport from the location you have earlier specified while taking the appointment or after that.
Collection timings for the Blue Dart locations are Monday through Saturday, 10:00 AM to 4:00 PM, unless listed otherwise.
Blue Dart can be contacted at 1 860 233 1234
In addition to Blue Dart locations, US Visa Document Drop Off Locations also serve as the collection locations.
Andhra Pradesh

VISHAKAPATNAM-Blue Dart Express Ltd
47-10-32 Grd flr Guttikonda mansion
Dwarkanagar
Vishakapatnam – 530016


VIJAYAWADA-Blue Dart Express Ltd
D. NO. 24-29-214/ 5 & 6, Ground Floor
Akhil Chambers
BRTS Road,
Gulabhi Thota
Vijayawada – 520 011


TIRUPATI-Blue Dart Express Ltd
11/22 Renigunta Road
Near Cotton Mill
Tirupati – 517 501



Assam

GUWAHATI-Blue Dart Express Ltd
Nilgiri Path Nr Doordarshan Kendra
RGB Road
Guwahati – 781 024



Bihar

PATNA-Blue Dart Express Ltd
Rajendraram Plaza G.Floor
Exhibition Road Behind YES Bank
Patna – 800 001



Chattisgarh

RAIPUR-Blue Dart Express Ltd
Shop No. 3 & 4,
Progression Point Building,
Near New Fruit Market,
Raipur – 492 001



Goa

PANJIM-Blue Dart Express Ltd
G-6 Ground Floor Citi Centre EDC Complex
Patto Plaza
Panaji – 403 001



Gujarat

SURAT-Blue Dart Express Ltd
Plot No. 16 Grd Flr Ridhi Sidhi INDL CHSL
NR. Daxeshwar Temple GHB Road
Opp. Bharat Petroleum Pande
Surat – 394221


BARODA-Blue Dart Express Ltd
S-12, Shri Rang Plaza
Near Suraj Plaza Sayajiganj
Baroda – 390 005



Jharkhand

JAMSHEDPUR-Blue Dart Express Ltd
Krishna Kunj Nr Regent Road –
Inner Circle Road Bisturpur
Jamshedpur – 831001



Karnataka

MANGALORE-Blue Dart Express Ltd
Harmony Complex
Anand Shetty Circle Attavara
Mangalore – 575 001



Kerala

THIRUVANANTHAPURAM-Blue Dart Express Ltd
TC 25 / 362 (2) Gandhari Amman Coil Road
Opp. South Gate of Govt
Thiruvananthapuram – 695 001



Madhya Pradesh

INDORE-Blue Dart Express Ltd
5/6, Gurukulam South
Tukoganj
Indore – 452 001


BHOPAL-Blue Dart Express Ltd
229 Nirmal Bhavan Zone I
Maharana Pratap Nagar
Bhopal – 462 011



Mahrarashtra

NAGPUR-Blue Dart Express Ltd
179 North Ambzari Rd
Andhra Association Building,
Near University Library
Nagpur – 440 010



Odisha

BHUBANESHWAR-Blue Dart Express Ltd
A-69 Ground Floor,
Mallick Commercial Complex,
Kharvel Nagar
Bhubaneswar – 751001



Puducherry

PUDUCHERRY-Blue Dart Express Ltd
77 Dr Ambedkar Road Near Immaculate School
Netaji Nagar
Mudaliarpet
Puducherry – 605 001



Rajasthan

JAIPUR-Blue Dart Express Ltd
Plot No C Sahkar Marg
Near State Motor Garage
Jaipur – 302 005



Tamil Nadu

COIMBATORE-Blue Dart Express Ltd
Paga Towers 8/128 to 132
Kattoor Street, Papanaicken Palayam
Coimbatore – 641 037


SHOLINGANALLUR-Blue Dart Express Ltd
89/4 Old Mahaballipuram Road
Sholinganallur
Chennai – 600 119



Uttarakhand

DEHRADUN-Blue Dart Express Ltd
Ground Floor, Khasra #506 (Old Khasra #506/4)
Mauja Niranjampur
Pargana Central
Doon – 248 001



Uttar Pradesh

LUCKNOW-Blue Dart Express Ltd
3A/5 Radha Krishna Bhawan
Park Road
Lucknow – 226 001
We are sorry that this post was not useful for you!
Let us improve this post!
Tell us how we can improve this post?