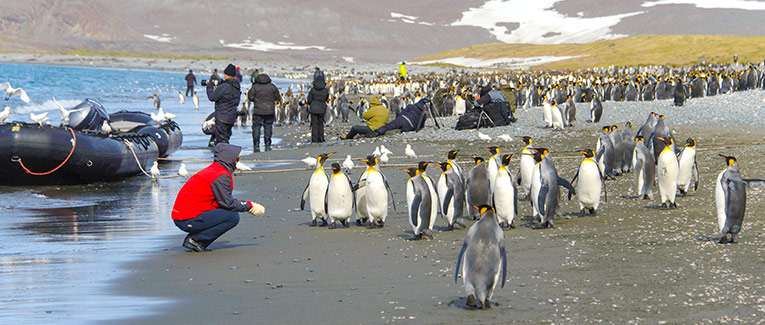 Believe it or not, you are able to visit Antarctica as a tourist. You might think that it is only inhabited by scientists and penguins, but in addition to that, there are also travelers.
As is obvious, Antarctica is a cold place. Owing to that fact, there is a long list of preparatory steps you need to complete before you can head off. Going to Antarctica isn't like going to any other cold country. The weather conditions will be something you've never experienced before.
If you're a citizen of a country that has signed the Antarctic Treaty, you will be able to travel there with permission. Most tour operators obtain permission on your behalf, but make sure to ask them that while you're booking.
You may wonder how you will get to Antarctica. You have two options, which are sailing or flying.
Sailing itself can be done in two ways; cruise ships or expedition ships. The difference between the two is the size of the ship and the activities you'll get to experience once on the continent. Cruise ships are typically larger, and may not offer as many onshore activities. On an expedition ship, you will be traveling with an intimate crowd, and you'll get to experience much more onshore.
What to Consider When Booking the Trip
• Cost
Going to Antarctica isn't cheap. Even a one-week holiday can set you back by $10,000 for one person. But, don't let this discourage you, as you will get your money's worth with this trip.
• The Itinerary
Most cruises don't have many land days in Antarctica. That sort of beats the whole purpose of the trip. Make sure you have enough days on the mainland and islands in your itinerary. You can also add activities like kayaking or mountain climbing to your Antarctica tour package.
Get all the options from your travel agent before you book the trip. The activities also depend on the season in which you go.
• Travel Insurance
The dangers of traveling to Antarctica make it prudent to have travel insurance with hazardous sports coverage. In fact, many Antarctica tour operators don't let you onboard the ship if you don't have emergency evacuation insurance.
Using Insubuy, you can compare multiple plans easily on the website. You can also consult insurance experts who will assist you while buying insurance. Once you pick the right one, you can buy the insurance on Insubuy with multiple secure payment options.
Deciding how you're getting to the lonely continent is only the first step of the process. There is an extensive list you need to check off before you set sail.
Here are a few things you'll be thankful for knowing before the trip:
Consider the Climate at the Dock
If you're going to Antarctica on a ship, then you will most likely sail from Ushuaia or Buenos Aires in Argentina. You can also sail from New Zealand or Australia, but there are less options from these ports. Most Antarctica expeditions happen during the southern hemisphere summer. While summer in Antarctica will be cold, you can't say the same for Argentina or Chile.
You are likely to spend at least a day or two at the docking port city. So, remember to pack for the climate there.
This is a good opportunity to explore the city, as once you return from your Antarctica trip, you may not have the energy to do that.
Don't Put Everything in Your Checked Luggage
The thing about ships is that they don't wait around for one person. They leave when it's time to leave. So, if your airline has misplaced your luggage and you arrive only a few hours before the ship leaves, there's a high chance that you will not make it to the ship in time. If that happens and your critical gear is all in your checked luggage, you'll find yourself in a sticky situation.
Always keep the most critical equipment in your carryon. You can always replace the items at the port, but it's better if you're not pushed to that.
Additionally, try to arrive at the port city at least one day early, so you are not pressed for time.
Be Vigilant With Your Seasickness Medication
No matter how tough you think you are, you aren't ready to brave Drake's Passage. Most ships will sail through this infamous rough patch at sea. Even the good days here can see waves that are 9-12 feet high.
Visit your regular doctor and get a prescription for seasickness medicine. You can also find seasickness medication over-the-counter in many drugstores. Make sure you have enough to last you through the trip there and back. Apart from medication, have things like ginger candy and lemon drops that can help abate nausea.
Take the medicine a couple of hours before you set sail, because once the nausea sets in, it's difficult to get rid of it.
Be Wary of the Dangers
Antarctica is a rough and barren place that is uninhabitable. With those conditions come a host of dangers for which you need to be on guard.
1. The Wildlife
Approaching animals is strictly prohibited in Antarctica, and there is a good reason why. These animals aren't used to humans. So to the animal, you're a dangerous alien it needs to protect itself from. If you do see wild animals, observe from a distance and feel free to take pictures.
2. Don't Wander Off By Yourself
There aren't search parties in Antarctica. You are so far removed from society that sending out a search party for one person is impossible. The turbulent weather conditions don't do you any favors.
Stick with your party and you'll be safe on the white continent.
You Need Sun Protection
It's a little ironic that you need protection from the heat and sun in the coldest place on Earth. But, travelers to Antarctica need to be very diligent about sun protection.
The white snow does its part in reflecting heat and sunlight into the environment. Carry a sunscreen lotion that has at least SPF 50 and wear UV protection sunglasses. Remember to slather it on any surface that won't be covered by clothing.
Bring Extra Batteries and Memory Cards
If anything deserves a place on Instagram, it's your trip to Antarctica. You'll definitely be clicking a ton of pictures on the trip. But, the many wonderful things to document may prove to be a problem if you haven't brought enough storage. Though your cruise ship may have these things in its store, it's better to keep extra memory cards on hand.
The cold of Antarctica will also drain your battery quicker than you think. So, always take multiple fully charged batteries onshore. The chance to travel to Antarctica is a privilege that many don't get. So, when you go, ensure you do it right.
We are sorry that this post was not useful for you!
Let us improve this post!
Tell us how we can improve this post?