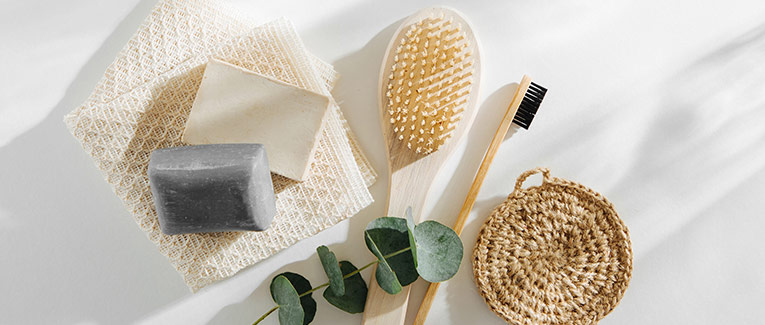 To completely get rid of plastic is nearly impossible, but even small cutbacks in plastic consumption can help. Every little step matters.
There are some very easy ways to go plastic-free while on vacation. The changes are very minimal, and you won't be inconvenienced at all.
Toiletries Can Be Environmentally Friendly
Get Healthier Hair with Shampoo Bars
Traveling with a bottle of shampoo is a disaster waiting to happen. Because of that, many people choose the dry shampoo route while traveling.
But, using only dry shampoo for long periods of time leads to unhealthy hair. It also doesn't accomplish your goal of traveling plastic-free.
Using a shampoo bar is the best option while traveling. It is compact and solid, so you can even have it in your carry-on luggage.
Bar shampoos aren't ridden with unnecessary additives like sodium lauryl sulfate. That means they won't strip your hair of natural moisture and oil. So, it is a better option not just for the environment, but also for your tresses.
If a hotel offers mini shampoos and lotions, request them to not distribute them to your room.
Keep the Stench Away With Natural Deodorant
Did you know it's recommended that you switch your deodorants every six months? So the next time you do, switch to a bar deodorant.
Aerosol cans and the plastic packaging they come in are no help to the earth. The packaging ends up in landfills, and the gasses end up in the atmosphere.
One of the main advantages of using a bar deodorant is that you get to breeze through airport security checks. You can throw it into your carryon without having to worry about milliliters and other measurements.
Bar deodorants are also healthier for your body. Traditional antiperspirants work by clogging your pores. Clogged pores lead to myriad health issues. A natural bar deodorant allows you to sweat, but it still keeps the stench away.
Dental Care Can Be Plastic-Free Too
You can try tablet toothpaste. They are similar to aspirin tablets. You need to chew into it to activate it. Then, with your bamboo toothbrush, go about brushing your teeth.
Using bamboo toothbrushes is an awesome first step to take on your quest to travel plastic-free. The brushing experience doesn't change drastically, so you won't miss your plastic toothbrush.
Another big advantage of toothpaste tablets is that you don't need water to use them. So, if you're stuck in a place without water, you can still have minty-fresh breath.
If you want to be extra environmentally friendly, you can make your own tooth powder with kitchen ingredients. Add it to a Tupperware container and take it where you go.
Cut Down On Waste with Sustainable Menstrual Products
Most women menstruate for about 40 years of their lives. Assuming they have 12 periods in a year, that's 480 periods per woman. If you're a disposable pad or tampon user, imagine the amount of waste that creates.
Biodegradable sanitary products don't cut it either. We're simply generating more waste than can be managed. That's where reusable menstrual products are revolutionizing things.
The most popular one is a menstrual cup. A single cup can be used for 5-10 years. That's waste worth 40 periods that you're eliminating. You also won't bear the recurring cost of buying sanitary products either. Buy it once and you're set.
If you're not comfortable with a cup, you can invest in reusable pads. These can be washed and reused over and over again. Again, this is a one-time purchase.
Cups are especially useful when you're on the go, since you won't need to change them as often as a pad or tampon. It will be your best friend on a day out.
Be Plastic-Free When You're Wandering About
Jute or Cotton Tote Bag for Your Shopping
You can't go on a vacation without coming back with a bag full of souvenirs. But, souvenir shops sure do love single-use plastic bags. That's why you should always carry a jute or cotton bag when you're out and about.
These bags can fold up very compactly, so when not in use, they can reside happily in your handbag. But, if you've bought way more than you should have, then these bags have the ability to take the weight.
Metal Straws? Turtles Will Thank You
Sitting down for a cold drink on a warm day is the best relief. But, what isn't the best is the plastic or paper straws that come with the drink. Eliminate those by carrying a metal straw.
Plastic straws and the chemicals in them find their way into the air, earth, and water sources. It causes the death of so many organisms. Using metal straws is an easy way to bypass that issue.
You can get collapsible straws that weigh nothing. Put them in your bag and you're good to go. Carry at least two so you can lend one to your friend if they forget.
Use a Reusable Water Bottle
Some of the most waste generated by tourists is through plastic bottles. You can't always trust the water you get in public taps, but that still doesn't justify the waste generated by single-use plastic bottles.
Always carry a reusable bottle with you while traveling. If you're going to a country with unsafe drinking water, throw a SteriPEN into your bag. This uses UV to sterilize water.
Many European countries have tap water that is fit for consumption. So, if that's where you're traveling to, you don't need to worry.
Environment-Friendly Caffeine Fix
You know those plastic or cardboard coffee cups you get when you buy coffee? They aren't easily recyclable. But, did you know that many cafes will fill up cups that you bring?
Get a thermal flask that can retain the temperature of your drink, so that it remains tasty throughout the day. If you need a refill, a short rinse will make the flask as good as new.
Snacking On the Go
Tourist-magnet places are infamous for the overpriced food items. That's why many families prefer to pack their own snacks, especially if there are children tagging along.
The biggest mistake they make is packing plastic packs of chips or energy bars. Though delicious, they aren't good for the environment and should be avoided.
Give each of your kids a lunch box with some fruits and a light sandwich. Uncut apples or bananas are excellent choices. You can also pack orange slices or blueberries. These are also much healthier than the sugary alternatives.
Where Travel Insurance Comes In
One of the most common inconveniences travelers face, particularly on international trips, is lost or delayed luggage. If your luggage appears gone for good, you're likely to replace all of your missing items with whatever's readily available, cheap, and convenient; you'll give little thought to your plastic-free pledge. By purchasing travel insurance before your trip, you can avoid this situation. It can allow you to be compensated for your lost items. This way, you can replace that metal straw, bar deodorant, and other environmentally conscious items. Not only can it help you save money, it can help you do your part to save the planet as well.
We are sorry that this post was not useful for you!
Let us improve this post!
Tell us how we can improve this post?