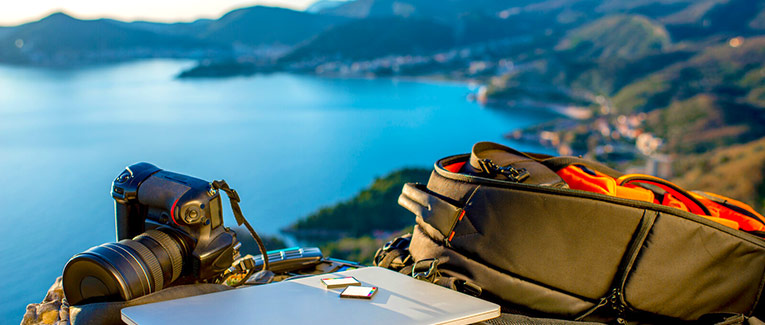 For those of us who cannot rely on an iPhone for all of our photography needs, packing for a trip is difficult. Photography equipment is heavy and expensive, and photography enthusiasts and professionals tend to have a tough time deciding what to take and what to leave.
Travel photography gear is not the same as standard photography gear. If you are a travel photographer, do not compromise on equipment. From lightweight backpacks to sturdy tripods, a travel photographer has many options.
If you are someone who would do anything to capture that one perfect shot, don't worry, we've got you covered. We have the ultimate checklist of all the items you need when you are on the move.
Naturally, a Camera
Bringing a camera is an obvious requirement, the hard part is deciding what kind of camera to bring.
Invest in a travel-specific camera. That way you don't dent your regular camera on a rugged trip. More and more travel photographers prefer mirrorless cameras as opposed to DSLRs. They are much smaller and lighter, making them perfect for traveling purposes.
For a novice photographer, a Canon EOS is a good pick. It offers good quality at a reasonable price. More advanced photographers can go for the mirrorless options such as Fujifilm XT2 or Sony ɑ5100.
You can also pick the weather-sealed camera options that both Canon and Fuji have.
The Right Lens
Once the camera type is sorted, you need to pick the lenses that you will carry. To manage the overall weight of your travel kit, refrain from carrying more than two lenses.
A wide-angle lens and a super-zoom lens should be enough to cover most of your photography needs. These work well for landscape and wildlife shots. You will not need anything more than these two, unless you are traveling for a very specific photography project.
To Tripod or Not To Tripod?
A tripod is an essential piece of equipment that helps you take quality photographs. They enable you to take long-exposure photographs and bracket your images. If you want to post-process your photos, a tripod is a must.
When you are traveling, you need a tripod that is small, yet sturdy. Most photographers swear by Manfrotto tripods. Check them out if you haven't already.
When you are buying a travel tripod, keep your luggage in mind. Don't pick anything that looks too sharp on the edges. You don't want a tripod that can poke through your bag and end up hurting you.
Don't Forget the Memory Cards
You can forget to pack your favorite t-shirt or your best lens, but don't forget to pack your memory cards. They are the lifeline of your travel photography kit.
The question is, how many memory cards are enough memory cards? Take as many as you think will last you the entire trip, or carry a laptop and an external hard drive. This will help you upload all of your photos on a daily basis and back them up.
Where's the Charger?
Another important companion is the charger. In the middle of a beautiful vista with the sun setting on the horizon, birds flying overhead, and beautiful trees all around, you don't want a camera that has run out of batteries.
To avoid such unwanted disasters, make sure you have enough battery power for your trip. Keep your charger and an extra pair of batteries. You can even set up a nightly alarm on your phone to remind you to recharge all batteries at the end of each day.
If you are traveling cross-country, pack a universal adapter plug or a USB socket plug just so you don't miss out on some great shots due to logistical reasons.
An Umbrella for Your Camera
Rain, water, and dust can severely damage your photography equipment. Even if your camera is weather-sealed, remember to carry a separate waterproof cover to protect your gear. A current favorite amongst many travel photographers is the Mudder Rain Cover.
If you don't want to shell out the extra money, you can make your own rain cover. Just find a plastic bag big enough to cover all your equipment, and seal it properly. Your gear won't look glamorous, but it will save you on a rainy day.
Other Essentials
Dust and sand often get stuck on the lens. You don't want a great shot to be ruined by spots on the camera. Carry a cleaner and a microfiber cloth for occasional house-keeping.
Get travel insurance that covers your equipment, just in case something unexpected happens. Stolen or lost equipment can dent your finances greatly. Compare plans and find one that suits your needs at Insubuy.
It's in the Bag
Now, you will want to get all of your equipment and gear into a travel bag. A good travel bag is your best friend. It's important that you get a travel-specific camera bag that has multiple compartments to fit all of your equipment. Vinta, Bagsmart, and KATA are some of the most popular brands for camera bags.
It's also a good idea to avoid using bags that look like obvious camera bags. There is a possibility that such bags could get stolen. It's best to buy camera bags that look like normal bags and don't give much away. Better safe than sorry!
We are sorry that this post was not useful for you!
Let us improve this post!
Tell us how we can improve this post?