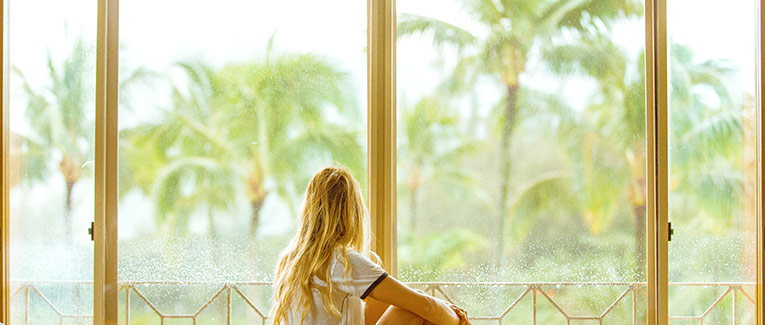 Imagine waking up to the sounds of the drizzling rain and chirping birds in a foreign country, with a splendid view from the misty window of your luxurious hotel room. You see lush green landscapes, blooming flowers, and rain-soaked streets. Isn't that heavenly?
Traveling in the rainy season might seem bothersome, but it comes with a lot of advantages. From enjoying cheaper travel deals and hotel upgrades, to experiencing blooming nature and wildlife, you can have a great time traveling in the rainy season.
Here's a list of all the reasons to plan a trip abroad in the rainy season.
1. Experience the Best of Nature
Traveling during the rainy season enhances your experience of nature. This season is popularly called the green season for its emerging green landscapes. Here's what you ought to be excited about:
• Colorful flowers
The rainy season is the time to witness beautiful blooms of flowers. Even the world's driest place, the Atacama Desert, blooms with alluring pink flowers after an unusual spell of rainfall.
The Valley of the Flowers in Uttarakhand, India, is a place where rainfall revives the valley with gorgeous meadows and flowers beds that adorn the Western Himalayas. Another example is the Hydrangea blooming in Japan, where the streets are colored in vivid shades of pinks, purples, and blues during the rainy season.
• Gushing waterfalls
Many waterfalls are at their absolute best during the rainy season. There are also seasonal waterfalls that you can view only in the rainy season.
If you need inspiration, look up high-definition images of these waterfalls in the rainy season: Kamiranzovu waterfalls in Rwanda, Temurun Waterfall in Malaysia, and any of the waterfalls of Costa Rica.
• Cleaner air
Did you know that raindrops have a cleansing effect on our atmosphere? When a raindrop falls through the atmosphere, it attracts tiny aerosol particles before hitting the ground. This process clears the air of pollutants like soot, sulfates, and organic particles. South Korea and China are even creating artificial rains through cloud seeding techniques because of the purifying quality of rain.
When visiting destinations with high air pollution, the rainy season is a better time to travel. For example, in places like with high pollution like Sumatra and Northern Thailand, it can be smarter to explore these locations in the rainy season.
2. Abundant Wildlife
In the rainy season, dry landscapes turn lush green and lakes and rivers fill up. This breathes life into the wildlife.
The availability of abundant food during the rainy season encourages animals to reproduce. So, taking a safari in the rainy season could give you the joy of spotting baby animals like zebra foals, lion cubs, elephant calves, and baby giraffes.
If you want a more spectacular show, check out information about the Tortuguero National Park in Costa Rica, which is home to 20,000 nesting sea turtles that lay eggs on 22 miles of protected beach during the rainy season.
• Watch animal migration
In Botswana during the rainy season, you can view one of the largest migrations in Africa. There are more than 20,000 zebras, and several thousand blue wildebeests, feeding and reproducing in the fertile pastures of the country.
If you are a birdwatcher or a bird photographer, you are in for a treat during this season. Botswana is home to 600 species of birds, with the rainy season being the best time to spot migratory birds from different parts of the world. Also, the Bac Lieu Bird Sanctuary of Vietnam is one of the world's largest bird sanctuaries, and is best visited during the rainy season.
3. Best Season for Romance
Rain makes everything dreamier and more romantic.
Strolling with your partner in the unknown streets while sharing one umbrella, or going on a long drive across mesmerizing rain-soaked landscapes while listening to romantic songs makes for an extremely appealing evening. Having a candlelight dinner in a beach resort during the downpour is something out of a movie.
The temperature is cool, and the atmosphere is blissful. What better time than this to spark some romance in your life?
4. A Photographer's Dream
The rainy season is the time to click exceptional travel pictures. The cloudy skies act as a diffuser, making the light even and soft. This improves skin complexion, and brings out vibrant colors and intricate details for any subject.
The rainy season offers an opportunity to upgrade your travel photography by clicking artistic pictures.
There is no better muse than rain to spice up your travel portfolio if you are a professional photographer. Even if you aren't good with the camera, anything you click might be more appealing under the charm of the rain.
5. Some Destinations are Best Visited During the Rainy Season
Not all places in the world are accessible and pleasurable during the rainy season, but some destinations are most beautiful during this time.
For example, Costa Rica gives you the best experience during the rainy season. During this time, you can view the giant Arenal Volcano, spot elusive species like the jaguar, and experience the best of whitewater rafting.
In Thailand, you can witness the rocket festival called Bun Bang Fai, which is celebrated at the beginning of the rainy season. People fire homemade rockets in the sky to initiate rains and bring water to the country's crops. That's a sight you wouldn't want to miss.
India is also a great place to visit during the rainy season. The spellbinding view of India's primary tea-growing hills of Munnar, the hiking or cycling activities around the scenic hill view of Kodaikanal, and the gorgeous Kempty falls in Uttarakhand are all a traveler's paradise during the rainy season.
6. It Usually Doesn't Rain All Day
Just because it's the rainy season, that does not mean that it is going to rain 24/7. In most of the places, it's only going to rain for few hours of the day.
Many places have a pattern for rainfall, which makes it easy to plan travel activities. For example, during the beginning of the rainy season in Costa Rica, it rains for an hour or two in the afternoon, and sometimes at night. Similarly, there are heavy rains in central and northern Thailand in the late afternoon and early evenings.
7. Other Rainy Season Perks
Due to the lower occupancy in the offseason, hotels might upgrade you to luxurious suites with breathtaking views. All they want in return is better reviews on travel sites, and publicity on Instagram. In case they haven't offered you an upgrade, you can request it. There is a high chance they will agree to it, as many premium suites are empty during this time.
Moreover, the offseason offers a great opportunity to truly experience the local culture. Due to fewer crowds, locals will have more time to talk and bond with you by sharing their personal stories.
If you don't want to deal with a bustling crowd, and would like to have all the beautiful destinations to yourself, take a trip abroad in the rainy season.
Rainy Season Travel Tips
While you obviously want to keep dry, the best way to do it depends on your activity. For more urban environments, an umbrella is a packable and portable solution. If venturing out into nature, a poncho or raincoat is essential.
Rain brings slippery mud, and unseasonable temperatures. This can increase your risk of becoming sick or getting injured. Because of this, be sure to purchase travel insurance or travel medical insurance before your trip.
Add in extra travel time. Heavy rains can lead to mudslides, floods, and road closures. Don't miss your flight or the closing time for a tourist attraction because you left the hotel too late.
Don't feel bad about staying dry inside your room every now and again. There are plenty of fun activities you can take part in without even leaving the hotel.
We are sorry that this post was not useful for you!
Let us improve this post!
Tell us how we can improve this post?