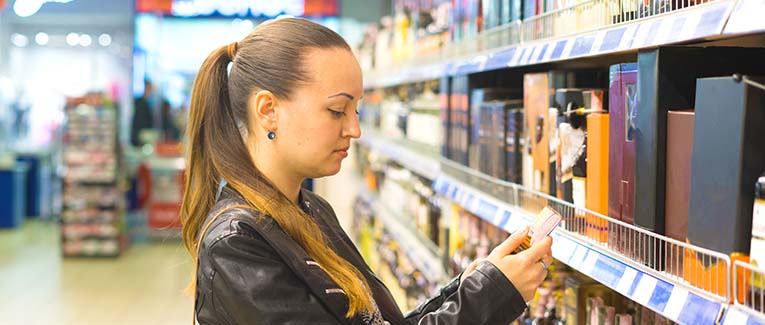 It is not that you can't carry alcohol on a plane, as the U.S. FAA allows you to carry alcohol while flying. But there is a catch. You can only carry spirits that have less than 70% alcohol content. Anything above that, you will either have to leave it behind, or have it shipped home.
The allowed quantity varies for drinks with less, or more than 24% alcohol.
What About Duty-Free Alcohol?
You can buy alcohol at the duty-free store once you are past the security check. If it is within the permitted quantity, you can carry it with you while on the plane. You cannot drink this alcohol while on the plane, though.
The bottles have to be in a transparent, secure, tamper-evident bag packed by the retailer. These bags are specially designed to show evidence of any tampering. They are mostly leak-proof and are very sturdy. Don't try tearing them, because you will not be able to pry them open without leaving a trace.
If your tamper-evident bag has a tear, you may have to leave it behind during security checks. There is no workaround. Also, remember to keep the receipt handy to show that you bought the bottle in the last 48 hours. Failing to produce the receipt can also result in you losing your drink.
How to Pack the Bottle in Your Luggage
In Your Carryon Bag
While transporting alcohol in your carryon bag, make sure that it meets the liquid restrictions. For example, in the case of the 3-1-1 rule, you will have to pack your alcohol in 3.4-ounce bottles inside a quart-sized, clear bag.
But, when carrying duty-free alcohol, the bottle does not have to adhere to the 3-1-1 rule. You can carry liter-size bottles of duty-free alcohol in your carryon as long as it adheres to the limits set by the TSA.
One person can carry up to five liters of any drink with 24% to 70% alcohol content. If the alcohol content is lower than 24%, you can carry as much as your bags can handle, so long as you purchased it no more than 48 hours prior.
Since you will be holding your carryon, light padding can prevent bottle breakage. You can wrap the bottle in bubble wrap, your clothes, or even newspaper for padding. This will protect the bottle from any unavoidable impact. Add an extra layer of protection by enclosing it in a leakproof plastic bag.
In Your Checked Bag
The checked bag's story is completely different from that of your carryon bag. You won't be there to load it into the plane's storage compartments gently. Also, take into account the movements the landing and takeoff might create. The chances of your checked bag coming into direct contact with other luggage and the floor are high. So, safeguarding your bottles is crucial.
The tamper-evident bag should hold the liquids in, in the event of breakage. But, place your precious wine or vodka bottle in another leak-proof bag just in case. This will prevent the alcohol from harming your clothes and other belongings.
After carrying out the spillage protection, you will have to pad your bottle. The padding will protect the bottle against impact. Wrap the bottle in soft clothes or a towel if you are carrying one. Newspaper and bubble wrap can work too, but why carry those when your clothes can do the trick?
When placing the bottle in your bag, make sure it is in the center, surrounded by the rest of your stuff. If the bottles are small enough to fit inside a shoe, it would be wise to store them there. You can save space while also keeping smaller bottles safe. Create barriers between the bottle and anything sturdy enough to break it.
Use rolled-up clothes to create the barrier. You should also prevent two bottles from knocking into each other using the same method.
After separating the bottles from potential harm, you will have to pad the bag with fabric. Use your clothes, towels, or even blankets to pad your luggage. Remember to surround all six sides of the bag with padding. This will help prevent breakage from all sides.
Airlines might have special restrictions concerning carrying alcohol. For example, Southwest Airlines requires a corrugated box with a leak-proof bag and professional packaging. Please get in touch with your airline to learn about such restrictions.
Alternate Packaging Ideas
Are you willing to spend more money to keep your invaluable wine bottle safe during your plane ride? There is a certain packaging material that can take special care of your bottles.
You can buy foam boxes shaped to hold wine bottles. These boxes can hold the bottle in place with substantial cushioning to protect it.
Custom foam inserts can also help keep your bottle safe. You can place the bottle in the insert and follow the previously mentioned steps to keep the bottle safe.
If you want to spend a little more, you can buy off-the-shelf products designed to protect liquor bottles. Oenophilia, Wine Diaper, and WineSkin are some popular brands that you can try.
Good Things to Know
When buying alcohol at the duty-free store, you only avoid the tax you pay in that country. Although you are still bound to pay the import duty on arrival, this is pretty low on most items.
If you find yourself with lost or damaged bag during TSA's screening process, you can apply for a claim. You can submit the claim by email to the TSA along with any evidence. The TSA will take anywhere up to six months to investigate the incident. You can file the claim within two years from the date of the incident.
Also, for lost or damaged baggage, you can benefit by purchasing travel insurance before your trip begins. With travel insurance, you can receive reimbursement for lost or damaged bags due to events that are covered by your policy.
On the off chance that your bottle does break inside your bag, do not be in a rush while removing it. Broken glass can be dangerous to remove, especially when entangled in fabric. Make sure you wear protective gloves and eyewear while cleaning up the broken glass. In addition, a lint roller can come in handy while removing glass from your clothes.
We are sorry that this post was not useful for you!
Let us improve this post!
Tell us how we can improve this post?