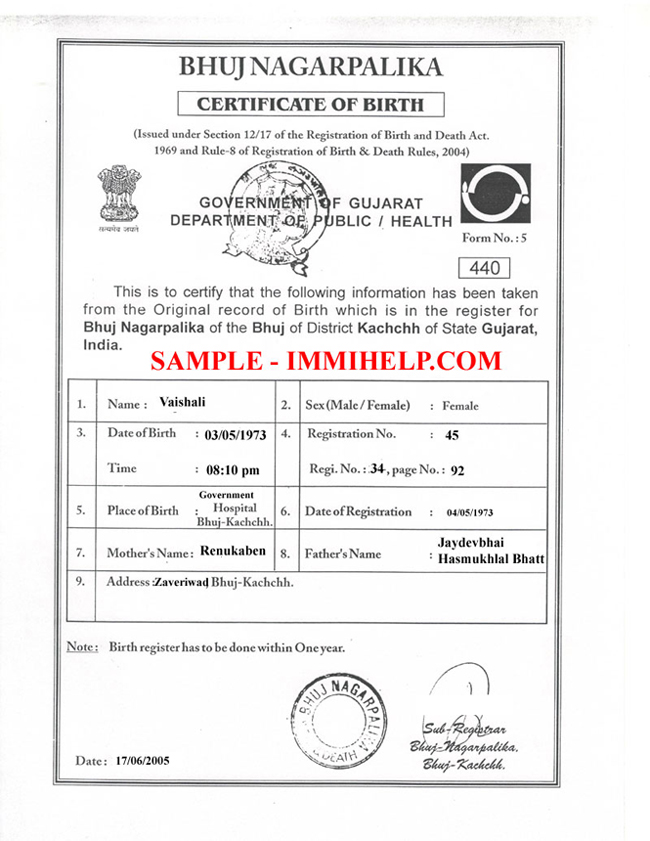 BHUJNAGARPALIKA
CERTIFICATE OF BIRTH
(Issued under Section 12/17 of the Registration of Birth and Death Act.
1969 and Rule-8 of Registration of Birth & Death Rules, 2004)
GOVERNMENT OF GUJARAT
DEPARTMENT OF PUBLIC / HEALTH
This is to certify that the following information has been taken from the Original record of Birth which is in the register for Bhuj Nagarplika of the Bhuj of District Kachchh of State Gujarat, India


1.
Name:
2.
Sex(Male/Female):
3.
Date of Birth:

Time:
4.
Registration No.:

Regi. No.: page No.:
5.
Place of Birth:
6.
Date of Registration:
7.
Mothers Name:
8.
Fathers Name:
9.
Address:
Note: Birth register has to be done within One year.
Date:
Related links:


For visitors, travel, student and other international travel medical insurance.
Visit insubuy.com or call +1 (866) INSUBUY or +1 (972) 985-4400
We are sorry that this post was not useful for you!
Let us improve this post!
Tell us how we can improve this post?